I interviewed JD Taylor—author of Island Story: Journeys Around Unfamiliar Britain—about the motives behind his extraordinary 4-month bike tour of the UK. Dan explains that the bicycle was secondary–what was important was to get out of London and see the parts of the island that have been written out of the story—JT
Listen to the interview here, or read the full transcript below:
JT: When you set out on this journey, what did you expect to find?
JD Taylor: I had been writing a lot about politics in Britain, and I was expecting that the decreases in the standard of living would really stand out. I expected that the recession and unemployment would have caused a kickback reaction of people starting to demand a more democratic way of life. That hadn't happened and I was quite surprised by that. It made me come to realize that perhaps what is most instrumental is not what is external, but the internal and state of culture and politics, particularly the rule of fear. I sensed that people were very afraid.
When I set out, I wanted to find out why people weren't doing more to take their communities into their own hands…why people weren't shocked that their children/grandchildren were going to have a much worse quality of life than they have. I sensed a confusion and inertia about what could be done. I felt like people were very disempowered.
But at the start of it, I was just completely open. I was almost confused by my own country.
JT: I see. It wasn't first and foremost a travel journey. It was really about connecting with people and trying to get out into their nooks and crannies and test this theory.
JD Taylor: Yes. When I set out the bicycle was almost the cheapest and easiest way to get around, but I could have been quite happy walking or taking the train. What was most important was to go to places that I felt people hadn't heard from or talked about for a long time. Somewhere like Burton. London just dominates politics and the media so much—the stories and the people from the rest of the island are made to feel provisional.
It was a research project, I suppose. It was also my own way of trying to understand my own island—I felt that I knew more about Europe or the United States than I did about the North of England or Wales. So I wanted to go out there and just talk to people and find out how they felt, what they thought, and why. I felt the best way to do that would be to just go on my own [laughs] with a tent and just talk to people and ask them, what is life like here?
JT: You're a native Londoner?
JD Taylor: I am a native Londoner. I am from South London, and I'd not travelled at all around the West of Britain. I had some family in Leeds in the North of England, but that was it, everywhere else was a complete mystery. I couldn't name more than about five English Counties—counties of Wales and Scotland were a total mystery; they might as well have been in Egypt or Peru. I felt almost embarrassed that I didn't know more.
JT: What stands out to me in the book is you seem to have a narrow set of questions, which is what you'd expect from a sociological project like this. But at the same time, your observations about the countryside, and the towns, and the highways and byways really come through, so was that unexpected that you would fall in love? There's a real romance that comes through as a reader.
JD Taylor: Yeah, that's really well observed. I didn't expect to get that much from the landscape if I'm honest, but I think a few days in I began to start reading something in the landscape.
I came across this really remarkable quote by W. G. Hoskins and he says that "Most of England is a thousand years old; in a walk of a few miles one can touch nearly every century in that long stretch of time." As always, I began to think, "Well how could one read the landscape now, and how could one appreciate what was there rather than just being about the motorways, the freeways, and the shops and supermarkets, and then I began to realize that people are produced by the landscape as well. The landscape isn't just buildings; it's not just trees and fields. It's the kind of people that inhabit it and speak in these dialects.
People didn't really want to talk to me about politics because that was a domain where nobody really felt that they had any agency, but they wanted to tell me about their communities. They wanted to tell me about local myths and about beautiful spots that one could travel to in a day. This information became so much more compelling that in the end the politics and the landscape become completely interlinked. The landscape was something that people loved a lot more and I began falling in love with it through their stories.
JT: One thing that comes through again and again is you have an interest in the built aspect of what you're observing, so here is another car park, here's another disgusting supermarket, here's another drab building. Maybe you could elaborate more on that? How did England strike you in terms of the built aspect not just the landscape aspect?
JD Taylor: I wanted to communicate just how ugly so much of the island has become. I felt it was necessary. Because up until, maybe about I suppose 70 or 100 years ago, so much of the landscape was fields and forests; there were far fewer roads. Up until 200 years ago, most of the population of the island were farmers, or craftsmen, or fishermen and these ways of life gave people immense satisfaction. I found that out when I talked to their children or talked to people that were still holding on to their farms and I did meet a few of them.
I wanted to almost report the damage that had been done in this quest to shuttle people into the cities to make the industrial revolution. I felt it was necessary to let people know that we've really damaged the place and that was regrettable, but also it's reversible; we can rewind the landscape. We don't need all these supermarkets, and we don't need all these roads. People don't really want them either, but they have never been consulted in the changes that happen to their community.
JT: You also bring in a lot of history, history that I did not know about – earlier rebellions 5, 6, 700 years ago. How did you come upon that knowledge? Is that part of the school-book learning when you're a child in England, or is that more specialized knowledge that you've picked up as an adult?
JD Taylor: The knowledge I found about the island's rebellious history was a mixture of things that people told me in odd places like pubs and supermarkets and a mixture of my own research. Generally, we're not educated in our own history here in Britain, beyond the First and Second World Wars.
People don't really know that much about the countryside. They certainly don't know anything about the Neolithic settlement of the island, the farming population there, and the different migrations there. The struggles that have taken place on the land – people demanding fair rights, democratic representation is not something we're educated in. I don't know how to exactly give a reason why.
Some of it I found out myself through reading. People directed me to books as I was travelling. I was blogging along the way and so even if they weren't able to put me up in their homes they would send me information for the blog. But in other places people would talk to me. I was in a supermarket in this rural part of Wales, and I was talking to a man there who was helping me put through my groceries. He started telling me about the "Rioting Rebeccas" who were a bunch of Welsh men, agricultural laborers, and they dressed up as women and would go around burning down toll gates and attacking the gentry, about a hundred-and-fifty years ago—dressed as women and dressed in costume!
JT:  Why was that?
JD Taylor: It was a protest against their poverty and their low wages. I never would have found out about it had he not told me, when I was having a quite casual conversation with him about the area.
JT:  Amazing.
JD Taylor: These histories are there and people often know about them. People are grateful to share them because it's not common knowledge even though it concerns the commons, the common people.
JT: Right there is an example of this living oral-history.
JD Taylor:  Yeah.
JT: Was that a common occurrence, where you'd pick up old stories that had been handed on?
JD Taylor: In different places, yes, it almost reflected how, I don't know, politically beleaguered a certain region was. In the Northeast of England, where there had been a lot of coal mining and the famous miners' strike of 1984-1985, people would often tell me in pubs, if I stop them by on the street, and talking to people by the roadside they would tell me things about the miners' strike, or where mines had been, or about their grandparents and how they struggled and also the difficulties of these different jobs.
There was no history in some places. At first there was a great absence; it's like people only really lived in the present and that was certainly true of the Midlands in the South of England, which are relatively more prosperous than the rest of the island. There, there wasn't really any kind of awareness of how people had lived up until about 60 years ago. I found that just as strange, just as interesting as these areas where people could tell me about life 500 years ago.
JT: Amazing! What was your biggest take away from the journey?
JD Taylor: Wherever you go people are generous and kind, they're wise and intelligent, and they're willing to help strangers and to help friends. I didn't expect that. To be honest, I thought my bicycle was going to get stolen. I thought I'd probably get run over. I thought I might get attacked. I expected bad things. I expected xenophobia and reactionary views.
What I found instead was progressive ideas about the future; people that were concerned about their children and grandchildren. People have a great deal of ecological awareness and maybe not enough hope. That really struck me—how disappointed people were with the way things have become, with the government that we'd gotten in '10, the way that we live, working far too much, not spending enough time with our loved ones.
It was a common story—people wanting a better life and not yet believing it's possible, and it left me with a lot of questions at the end. I was quite ambivalent, I guess. I knew that I'd met so many good people that really wanted and deserved a much better quality of life; collectively want to be much more democratic and equal, but at the same time no one had any clear idea about how that would happen.
I wondered if people would have been feeling similarly 500 hundred or 1,000 years ago, or if this is something that really is specific to our moment—the commons being dispossessed, wanting a better life, and people giving up on politics and politicians.
[Interviewer's note: I spoke with Dan a few weeks before the Brexit vote on June 23, 2016.]
You can hear Dan in his own voice by clicking here.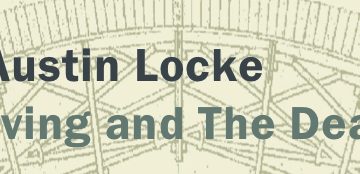 This is an extract from The Living and the Dead by Toby Austin Locke. There is a launch event at The Word bookshop (Goldsmiths) on 4th May – open to all. Facebook event here. 
What are the dwelling-places of the human? Are not our houses and huts, our tents and caves, our urban and rural environments alike, spaces of nonlife that give forth life? In particular, the urban domain which so many people now inhabit reveals itself to us as a vastly complex ecosystem of life and death, one in which the extension of the organism occurs in the most varied, layered and complex ways—in the flowing of the sewers, the surging of electricity, the streams of traffic and tributaries of streets and roads, the transmissions and circulation of information and symbolisation, the capture, release and manipulation of vast libidinal currents. "Urban space gathers crowds, products in the markets, acts and symbols. It concentrates all of these, and accumulates them." And in this gathering, this accumulation, we can identify the coming-together, the becoming-with, of life and death, the tendential connectivity of both.
However, the urban space in particular, in its position as a space of the absorption of excess and the eruption of endless accumulation, has so often become a space in which the tendential connectivity, this commoning between the living and the dead, has been concealed and marginalised under the figures of finalist-death, under the logics of opposition, rationalisation and fatalism. The continual purging of life, that is the absolute exclusion of the living, from the rationalism of nonlife appears as the impossible dream of modernism. The grand structures of the modernist dream stand within the urban as spaces of nonlife that attempt a violent silencing of the tendential interplay between life and death. As an architecture modelled on the opposition of the living and the dead, that is moulded in the image of finalist-death, the vast towers of modernism with their proud, tall straight lines and gleaming pristine surfaces deny the efficacy of nonlife other than as a rationally manipulated backdrop for life. The processes of decay and dirt are excluded from them, and every morning and evening people across the cities come to these spaces tasked specifically with cleaning away any remnants of life that might cling to these structures, with the attempted absolute annihilation of any nonhuman life form, microbial or otherwise, that might seek to dwell within these domains of finalist-death.
Of course this annihilation is never final or absolute, for no number of attempts could entirely remove the tendential connectivity of the living and the dead. The marginalisation of microbial life that manifests itself so clearly on the immaculate glass surfaces of the looming urban towers can never be total, and the continual reassertion of life within even those spaces so closely modelled on the notion of a finalist-death reveals the inescapability of the cohabitation of life and death. And what is more, the emergence of life upon these planes that sought to exclude them need not be the object of a collective neurosis of cleanliness in which life, to its own destruction, seeks to impinge upon itself. Rather, these processes of decay and degradation, of life standing forth from its attempted exclusion, can become a matter of joy and affirmation as in the Mouldiness Manifesto of Hundertwasser.
When rust sets in on a razor blade, when a wall starts to get mouldy, when moss grows in a corner of a room, rounding its geometric angles, we should be glad because, together with the microbes and fungi, life is moving into the house and through this process we can more consciously become witnesses of architectural changes from which we have much to learn.[ii]
The urban domain, rather than being built to exclude life—that is, built in the image of a finalist-death of rationalism and opposition—is inescapably decaying, and it is this very decay that is an unfolding unto death that is also the springing forth of li
fe. This springing forth of life is that of which the finalist tendencies of modernist architecture remains in denial, and which it seeks to continually exclude under the banner of rationalism. But this exclusion can never occur or find its absolute realisation, for the architectural domains from which exclusion is attempted already form elements of a vast ecology of extended organisms, that is they are already and inescapably continuous with life, as elements of an organology by which life faces death and death faces life; the living dwell and become-with the dead.
It is hoped that it is clear that in all these instances what is important is not that one builds in order then to dwell—that the spider constructs its web in order to dwell within it, that the termites build their mound in order to live inside, that the humans construct the urban domain only then to later inhabit it—it is not that building has dwelling as its goal.[iii] Dwelling, that is becoming in life and death, existing as a durative-soul in continual becoming, connection and swelling, is anterior to building. To build we must dwell with the living and the dead, and we must share our becoming with them. To build we must, so to speak, inhabit the commons of life and death, as entities that appear delimited, but are in fact spread more and more thinly across a vast expansive domain of connection, collision and association. Dwelling does not come after building, for in building we dwell. We dwell with the so-called dead entities that we assign to the realm of technics and tools, and we cannot think of these apparently dead entities without thinking of their other side, that is their life and the life with which they are continuous. We cannot think the tool and yet ignore the hand just as we cannot think the hand and seek to ignore the tool. And tool and hand cannot oppose one another as exclusory opposites, just as the living and the dead cannot stand opposed to one another each as the principle of utter exclusion of the other.
Toby Austin Locke—The Living and the Dead
Lefebvre, Henri (1991) The Production of Space, p. 101
[ii] Hundertwasser, Friedensreich (1964) Mouldiness Manifesto
[iii] Heidegger, Martin (n.d.) Building Dwelling Thinking
Soon it will be difficult to find anyone who will have admitted to doing it. Leave's leaders are dropping like flies – they can emigrate to Canada and enjoy the perks of an open society they affect to despise, leaving the foot soldiers behind to pick up a bill of opprobrium, self-harm and shame that follows from being had. No one sings "no one likes us, we don't care" and really means it. The referendum was the wrong place to make a valid point against poverty and exclusion, an exclusion even more of us will share living in a country we don't want to be identified with.
Repeater is more London-based than anything else, but we don't exist in a London bubble. Our editors and staff are based in London, Newcastle, Wiltshire, Suffolk, and Argentina; our authors all over the UK, Europe and the world. We refuse to paint over half the country as dim racists beyond salvation. Yet no-one could deny the racism of much of the leave campaign, and the damage this has done. Racism is nothing new – in London or the rest of the UK. But what may have been covered with a thin veneer before is coming swaggering into the light, emboldened.
Unity is needed right now, but that unity must not come at the price of pandering to racism and anti-migrant rhetoric. As publishers and as people we pledge to do what we can to work towards unity, to defend and boost the marginalised, to listen, to learn, and to fight encroaching fascism wherever we can.
Repeater Books