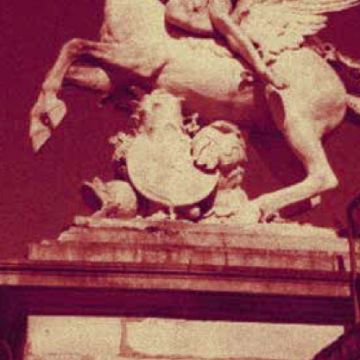 Last week I had the privilege of speaking with Richard Gilman-Opalsky about his new book Specters of Revolt. Here is a 12-minute excerpt of our conversation and the transcript is below. –John Tintera
Richard Gilman-Opalsky on Specters of Revolt [transcript]
I really want to turn our understanding of revolt upside down. I want to invert it, to turn it upside down. Rather than looking upon it as a lowly emotional outburst, I want us to see it as, in some ways, the high point for politics, for our ethical commitment to others on earth.
And within that, there is also a kind of historical concern that my book takes up and that is the idea of the revolt as not being over when it's done. This gets to the whole title of the book Specters of Revolt and its meaning.
This is why I wrote the book within the context of a hauntology—being haunted. Societies are haunted by revolts because often times something happens—a revolt, an uprising takes place over a weekend or it goes on for two weeks—maybe if it's a very intense thing it can go for three or four—and then it's over and people say, "Ah, it's over but nothing happened."
I think this is a fundamentally flawed historical understanding of each individual revolt. A revolt is always taking up the unfinished business of previous uprisings. It's never really over. Once we stop seeing it happen it doesn't mean it's done. It's only finished when the grievances it reacts against are thoroughly resolved – when the conditions that gave rise to it are transformed.
That's why I look at these more recent revolts within the US as continuations of a long history of revolts that go all the way back to the slave revolts. In fact, in the introduction of the book, I talk about the famous slave revolt of Spartacus in gladiatorial times.
When we don't have a revolt, we always know, and I believe people in positions of power know full well…there're a couple of examples in the book that I use to illustrate this…that until the society really does transform and address the conditions that give rise to revolt, times in between revolt are really "ante-revolt" – they're times before the next one.
We've started to see a new wave of black revolt, within the US, in response to police brutality, police killings of unarmed black men across the country. We saw uprisings in Baltimore, in Charlotte, in Ferguson among other places. The book is really about trying to treat these revolts with the dignity they demand and, I think, deserve. And trying to take seriously that, contrary to the typical caricature of revolt as irrational and violent, that they're actually full of exceedingly thoughtful content. And that they're more a reaction against violence and various forms of violence than they are themselves violent.
Quite a long time ago, I had taken up, for a book that was published in 2008, the example of the Mexican Zapatistas who made a revolt in Mexico on the inauguration day of NAFTA. This was in 1994, early into the post-Cold War period, when people were saying that the old revolutionary politics is dead and that it was time for a tombstone to be placed above everything under the heading revolution, transformation, criticism of capital and capitalism, and all the rest. Because the old Soviet Union and the communist projects of the 20th century were now dead and buried.
And then come, out of the mountains of Chiapas, people with virtually no power, out of the mountains, and that indigenous population threw into question the neo-liberalism of the early '90s.
Really, ever since that moment, I have been interested in what we might call revolutionary alternatives to revolution. Not the old 19th-century idea of revolution where people storm the Bastille, take the state, and govern it from above, but different ways of challenging the existing situation from below.
In the years after that, I had thought, written, researched, and taught about social movements and all kinds of challenges that were coming from everyday people. What usually was the case was that students and readers saw this as a highly impractical theoretical debate because we didn't live in a world of revolution. We lived in a world of acceptance, of acquiescence, of conventional politics, and failure.
So when 2008 came around and we started to see uprisings throughout Greece, Europe, the Arab Spring, Occupy Wall Street, and in the inner cities throughout the US, finally, at long last, it was much easier to say, "You see. This is not a pure theory trapped up in text or philosophy. This is the actual practice of people everywhere. Whenever they can do it, whenever the conditions are there they do rise up and always have."
Events in the world have forced me to take up the question anew. For myself and for a whole generation of people, there was a big question in the early '90s. And that question was, is there anything else; is there nothing but global capitalism of one form or another, is there anything else? Is there any other way of thinking about and against this newly consolidated power of capital?
In the '80s, really throughout the whole Cold War period, the idea that dominated was, there're two systems. That was the Cold War ideology. There's the system of capitalism versus the communist system. Of course, we knew for a long time — across the disciplines in the social sciences and humanities — that the Cold War ideology was a fake. It was a fraud; it was a lie.
Many of the philosophers I read, many of the sources I used, demonstrated that that period was a period not between capitalism and communism but; rather a period of contest between two forms of capitalism; state capitalism, bureaucratic and administrative capitalism, on the one hand, versus the free market deregulating capitalism of the US. And that was the capitalism that won at the end of the 1980s and the beginning of the 1990s.
In that period of the early 1990s, people were generally convinced that now there was no alternative, not even an alternative within capitalism of one form against another. It was just the victory of neo-liberal free market global capitalism and nothing else.
The indigenous rebellion in Mexico–the revolt of the Zapatistas, which in many ways was a failure but in other ways was a success–showed those of us who learn from revolts… (that's the kind of scholar I always have been, one who didn't want to teach revolt but rather to be a student of it and learn from it) the Zapatistas taught us that there were still new ways of thinking against the situation.
As I said, some of it was a failure but some of it was a success. What it did was spark what I call in the book, the "insurrectionary imagination." It didn't directly and immediately solve problems, but what the Zapatistas did do was they unjammed the insurrectionary imagination, which is the title of the third chapter of Specters of Revolt.
They got us thinking in a very big way, open and creative, about the possibility for challenging the power of capital. The interest in human psychology, in social psychology, that the health of the human person in our society, for me, comes out of a really long tradition of what is sometimes called critical theory—thinkers like Erich Fromm, Herbert Marcuse, Theodor Adorno, and other sociologists and theorists.
What they tried to do is understand the political situation and social situation—the reasons why we accept the unacceptable; the reasons why we tolerate the intolerable. Not from the old merely political and economic point of view but also from the point of view of human psychology, and the position of the person within the society, and why it is that we think the way we think about ourselves and the world.
Why it is that we can call certain things totally unacceptable—for example, growing inequality, brutal exclusions, mass incarcerations, incredible levels of violence associated with poverty and racism. Why we can say that those things, on their face, that they're totally unacceptable and then continue to accept them as if they weren't.
Psychology, when fused with political theory and the social sciences more broadly can help us to explain some of the human conditions, I think, on levels that earlier political scientists and theorists, either neglected or often times didn't have the tools to undertake.
I interviewed JD Taylor—author of Island Story: Journeys Around Unfamiliar Britain—about the motives behind his extraordinary 4-month bike tour of the UK. Dan explains that the bicycle was secondary–what was important was to get out of London and see the parts of the island that have been written out of the story—JT
Listen to the interview here, or read the full transcript below:
JT: When you set out on this journey, what did you expect to find?
JD Taylor: I had been writing a lot about politics in Britain, and I was expecting that the decreases in the standard of living would really stand out. I expected that the recession and unemployment would have caused a kickback reaction of people starting to demand a more democratic way of life. That hadn't happened and I was quite surprised by that. It made me come to realize that perhaps what is most instrumental is not what is external, but the internal and state of culture and politics, particularly the rule of fear. I sensed that people were very afraid.
When I set out, I wanted to find out why people weren't doing more to take their communities into their own hands…why people weren't shocked that their children/grandchildren were going to have a much worse quality of life than they have. I sensed a confusion and inertia about what could be done. I felt like people were very disempowered.
But at the start of it, I was just completely open. I was almost confused by my own country.
JT: I see. It wasn't first and foremost a travel journey. It was really about connecting with people and trying to get out into their nooks and crannies and test this theory.
JD Taylor: Yes. When I set out the bicycle was almost the cheapest and easiest way to get around, but I could have been quite happy walking or taking the train. What was most important was to go to places that I felt people hadn't heard from or talked about for a long time. Somewhere like Burton. London just dominates politics and the media so much—the stories and the people from the rest of the island are made to feel provisional.
It was a research project, I suppose. It was also my own way of trying to understand my own island—I felt that I knew more about Europe or the United States than I did about the North of England or Wales. So I wanted to go out there and just talk to people and find out how they felt, what they thought, and why. I felt the best way to do that would be to just go on my own [laughs] with a tent and just talk to people and ask them, what is life like here?
JT: You're a native Londoner?
JD Taylor: I am a native Londoner. I am from South London, and I'd not travelled at all around the West of Britain. I had some family in Leeds in the North of England, but that was it, everywhere else was a complete mystery. I couldn't name more than about five English Counties—counties of Wales and Scotland were a total mystery; they might as well have been in Egypt or Peru. I felt almost embarrassed that I didn't know more.
JT: What stands out to me in the book is you seem to have a narrow set of questions, which is what you'd expect from a sociological project like this. But at the same time, your observations about the countryside, and the towns, and the highways and byways really come through, so was that unexpected that you would fall in love? There's a real romance that comes through as a reader.
JD Taylor: Yeah, that's really well observed. I didn't expect to get that much from the landscape if I'm honest, but I think a few days in I began to start reading something in the landscape.
I came across this really remarkable quote by W. G. Hoskins and he says that "Most of England is a thousand years old; in a walk of a few miles one can touch nearly every century in that long stretch of time." As always, I began to think, "Well how could one read the landscape now, and how could one appreciate what was there rather than just being about the motorways, the freeways, and the shops and supermarkets, and then I began to realize that people are produced by the landscape as well. The landscape isn't just buildings; it's not just trees and fields. It's the kind of people that inhabit it and speak in these dialects.
People didn't really want to talk to me about politics because that was a domain where nobody really felt that they had any agency, but they wanted to tell me about their communities. They wanted to tell me about local myths and about beautiful spots that one could travel to in a day. This information became so much more compelling that in the end the politics and the landscape become completely interlinked. The landscape was something that people loved a lot more and I began falling in love with it through their stories.
JT: One thing that comes through again and again is you have an interest in the built aspect of what you're observing, so here is another car park, here's another disgusting supermarket, here's another drab building. Maybe you could elaborate more on that? How did England strike you in terms of the built aspect not just the landscape aspect?
JD Taylor: I wanted to communicate just how ugly so much of the island has become. I felt it was necessary. Because up until, maybe about I suppose 70 or 100 years ago, so much of the landscape was fields and forests; there were far fewer roads. Up until 200 years ago, most of the population of the island were farmers, or craftsmen, or fishermen and these ways of life gave people immense satisfaction. I found that out when I talked to their children or talked to people that were still holding on to their farms and I did meet a few of them.
I wanted to almost report the damage that had been done in this quest to shuttle people into the cities to make the industrial revolution. I felt it was necessary to let people know that we've really damaged the place and that was regrettable, but also it's reversible; we can rewind the landscape. We don't need all these supermarkets, and we don't need all these roads. People don't really want them either, but they have never been consulted in the changes that happen to their community.
JT: You also bring in a lot of history, history that I did not know about – earlier rebellions 5, 6, 700 years ago. How did you come upon that knowledge? Is that part of the school-book learning when you're a child in England, or is that more specialized knowledge that you've picked up as an adult?
JD Taylor: The knowledge I found about the island's rebellious history was a mixture of things that people told me in odd places like pubs and supermarkets and a mixture of my own research. Generally, we're not educated in our own history here in Britain, beyond the First and Second World Wars.
People don't really know that much about the countryside. They certainly don't know anything about the Neolithic settlement of the island, the farming population there, and the different migrations there. The struggles that have taken place on the land – people demanding fair rights, democratic representation is not something we're educated in. I don't know how to exactly give a reason why.
Some of it I found out myself through reading. People directed me to books as I was travelling. I was blogging along the way and so even if they weren't able to put me up in their homes they would send me information for the blog. But in other places people would talk to me. I was in a supermarket in this rural part of Wales, and I was talking to a man there who was helping me put through my groceries. He started telling me about the "Rioting Rebeccas" who were a bunch of Welsh men, agricultural laborers, and they dressed up as women and would go around burning down toll gates and attacking the gentry, about a hundred-and-fifty years ago—dressed as women and dressed in costume!
JT:  Why was that?
JD Taylor: It was a protest against their poverty and their low wages. I never would have found out about it had he not told me, when I was having a quite casual conversation with him about the area.
JT:  Amazing.
JD Taylor: These histories are there and people often know about them. People are grateful to share them because it's not common knowledge even though it concerns the commons, the common people.
JT: Right there is an example of this living oral-history.
JD Taylor:  Yeah.
JT: Was that a common occurrence, where you'd pick up old stories that had been handed on?
JD Taylor: In different places, yes, it almost reflected how, I don't know, politically beleaguered a certain region was. In the Northeast of England, where there had been a lot of coal mining and the famous miners' strike of 1984-1985, people would often tell me in pubs, if I stop them by on the street, and talking to people by the roadside they would tell me things about the miners' strike, or where mines had been, or about their grandparents and how they struggled and also the difficulties of these different jobs.
There was no history in some places. At first there was a great absence; it's like people only really lived in the present and that was certainly true of the Midlands in the South of England, which are relatively more prosperous than the rest of the island. There, there wasn't really any kind of awareness of how people had lived up until about 60 years ago. I found that just as strange, just as interesting as these areas where people could tell me about life 500 years ago.
JT: Amazing! What was your biggest take away from the journey?
JD Taylor: Wherever you go people are generous and kind, they're wise and intelligent, and they're willing to help strangers and to help friends. I didn't expect that. To be honest, I thought my bicycle was going to get stolen. I thought I'd probably get run over. I thought I might get attacked. I expected bad things. I expected xenophobia and reactionary views.
What I found instead was progressive ideas about the future; people that were concerned about their children and grandchildren. People have a great deal of ecological awareness and maybe not enough hope. That really struck me—how disappointed people were with the way things have become, with the government that we'd gotten in '10, the way that we live, working far too much, not spending enough time with our loved ones.
It was a common story—people wanting a better life and not yet believing it's possible, and it left me with a lot of questions at the end. I was quite ambivalent, I guess. I knew that I'd met so many good people that really wanted and deserved a much better quality of life; collectively want to be much more democratic and equal, but at the same time no one had any clear idea about how that would happen.
I wondered if people would have been feeling similarly 500 hundred or 1,000 years ago, or if this is something that really is specific to our moment—the commons being dispossessed, wanting a better life, and people giving up on politics and politicians.
[Interviewer's note: I spoke with Dan a few weeks before the Brexit vote on June 23, 2016.]
You can hear Dan in his own voice by clicking here.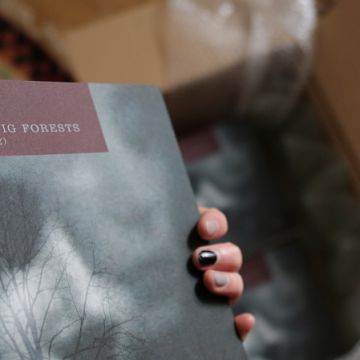 Repeater: What struck you about Susan Sontag's diaries?
Siouxzi Connor: I felt like an invader reading these things but at the same time couldn't pull myself away. I guess, in her personal life, the fact that she went through such a turn-around in her sexuality as well – publicly too.
Obviously, the public side of it was more or less towards the end of her life, not so much when she was at the height of her fame, of her productivity. But I could see this pain coming out in her dairies that I also felt with my own struggles with identity, struggles with sexuality or sexual identity, and knowing whether to make that topic apparent in my writing room.
Repeater: I'm fascinated by what seems to be a really strong strand in your art of this idea of a forest. Am I wrong in noticing that that's a thing? If I'm not, what's it all about?
Siouxzi: It really stems from my childhood. It stems from this acquired common obsession that maybe a lot of children have of always trying to visualize this sense of home. They might draw this little square with a triangle and a little pitched roof and show the little path and a picket fence sort of picture of home.
But for me, when I was a child, I was always drawing that with a forest around it, and it extended to when my brother, sister, and I were writing this little book together. I think we called it something like, "Our Place." And it was just this repetitive obsession that we had, over the years, of our childhood, where we would sit, literally, in a little wooden house that our father had built us in the backyard, amongst all the trees.
We would sit there and my sister would draw and I would write about what this perfect place was that we wanted in our future, and it was always about this house, the forest, this horses we would have, and just these childhood dreams of a utopia in the forest.
I guess that obsession is just like most childhood obsessions when it's in the background for many years. Then when I started writing my novel, I just couldn't get it out of my head, and I literally started writing the novel in a wooden house in a forest in Finland and was flooded by this — I don't know – feeling or this want for a utopia, again, like this house in the forest where everything is perfect.
All of the traditions and rituals of civilization are created within four walls. In the novel, this idea of utopia has so much to do with ritual, and how, even if there might be only two or three of us in an isolated place, we somehow create this rich culture, this rich set of traditions amongst us.
That proverbial space of the forest just keeps popping up in the novel and this book. To a certain extent it is in the films I've made too.
Repeater: I stumbled across this book a few months ago called Dreamtime: Concerning the boundary between Wilderness and Civilization by a German author, Hans Peter Duerr. What drew me to it was a search for some new way to think about freedom.
The book is very much focused on medieval religion, and the illicit rituals that persisted, and the taking of psychoactive drugs and things like that — things that were not socially permitted.
I wonder if for you when you talk about utopia it's the same thing that I'm thinking of when I say freedom?
Siouxzi: Yes, the wilderness is somehow associated with freedom as well and, you know, just this dream of getting away from the city and having freedom from culture, which is impossible.
But using the wilderness as a space for freedom and this cultural element is coming in from the outside and reminding us of who they are. Reminding us that this freedom that we have built up in the forest is actually an illusion and freedom is somehow impossible.
Repeater: That's really captured here in the title "Little Houses Big Forest."
Siouxzi: It also has something to do with the research that the book was based on – a lot of ecology and anthropology was filtered into it. I think the choice of having the big forest, little house, for example, is this idea of a our having a place in nature, and not living with this assumption of our dominance as a species—having this humility to think of ourselves or our culture as something that can be dominated by nature on a psychological level, and what that means psychologically to be dominated by nature.
Repeater: I got it. I think there's also a sense of enough in that state as well. How do we preserve ourselves in a harsh environment, but not over-preserve ourselves? A little house is big enough.
Siouxzi: Yeah. There's also this idea, this thread that keeps going throughout the book about being lost and being happy not to hold on too tightly to self-preservation. And this idea of building up this armor of culture around you, but to allow yourself to be "lost", whether it's physically in nature or whether it's in any of the other ways that we can be lost. I think of it as a luxury. Going back to that idea of freedom, it's the sense of being free in "lostness."
One really satisfying thing about the book is that it brings together so many threads from my work, in terms of writing, but then also bringing together the visuals that I've been working on in the past as well. To have both of these worlds in one place.
Repeater: Actually, I did want to ask you about being a Polaroid photographer. Is that still accurate? Are these Polaroids?
Siouxzi: The images that are in here are not Polaroids. There are two layers, one is from a black and white 16mm film I did a few years ago. The other layers is 35mm color stills that I shot around Berlin last year.
Repeater: What's the image on the cover, is that a random person from berlin?
Siouxzi: It's actually me.
Repeater: It's you!
Siouxzi: Yeah. It's from a film.
Repeater: It's well disguised.
Siouxzi: Yeah. Exactly. When I think of it as myself because it was just from this film, when I think of it as this character, even though when I look at it I don't think of it as me, it's just this other entity from this film.
Repeater: The figurative personal images are from the film and then the picture of the tree and the forest is the…
Siouxzi: 35mm.