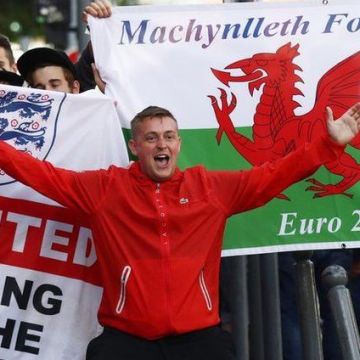 Mark Perryman previews England v Wales as competing versions of nationhood
The traditional 'Battle of Britain' match is of course England v Scotland, the very first recognised international football match dating back to 1872 and the most intense of rivalries ever since. The last time two 'home' nations met in a major tournament it was again England v Scotland at Euro 96. The spark in so many ways for the break-up-Britain agenda that was to follow the Blair government devolution referendums a year later and latterly transformed into the SNP 'tartan landslide'. Once derided by Jim Sillars as 'ninety-minute nationalists' Scots today are so busy building a nation they can call their own they haven't much time left over for their under-performing football team, ouch!
Instead it will be the Welsh who will take the field on Thursday against Scotland's 'auld enemy'. An encounter inevitably affected by the ugly scenes the weekend before in Marseille. It was the historian Eric Hobsbawm who once observed, " The individual, even the one who only cheers, becomes a symbol of the nation himself." This was sadly true of those brutalised encounters in the south of France. Though as my friend Julie Nerney who was there has pointed out the habit of most travelling England fans is to "learn where to go and not to when you travel to games. Avoiding the places where it was obvious there was a chance of things kicking off.  Knowing what the signs of a flashpoint were and extricating yourself from any situation where you might simply end up in the wrong place at the wrong time."  And thus in Marseille as Julie reports "Bars in the main square of any town are a magnet for trouble. Many sensible fans give them a wide berth." This is the hidden story behind the headlines about an episode like Marseille 2016. Meanwhile in another part of town I'd helped organise a fans' mini tournament England v Russia, another mate, John Lunt, who played describes the experience, "Had fun, we may have lost all our games, but made a few friends when others were doing their best not to."
Little of this features in how most would think of the Englishness on parade at Euro 2016. Britain is a mix of contradictions, at home right now. Bathing in the collective and transnational experience of being European via the Euros while according to the referendum polls more than half the country couldn't exit the continent fast enough For the English such contradictions are exacerbated by a very particular identity crisis. When England and Wales line-up for kick off each set of players, and fans will belt out their respective National Anthems. The Welsh, Land of our Fathers, while the English, like the Northern Irish, have to sing somebody else's. Eh? That's right us and the Northern Irish don't have an anthem as every other country does, instead we have to sing an anthem that belongs to somewhere else, Great Britain. Yet the English tenaciously cling to an anthem which isn't even ours as a source of great comfort. "Long to Reign Over Us, Happy and Glorious " in those two lines the English contradictions of subjecthood neatly summed up.
American author Franklin Foer in his book  How Soccer Explains the World  points to the range of forces of globalisation which threaten this settled subjecthood founded on an unchanging notion of what it means to be English.  Take a look at the players on any Premier League pitch, in the technical area the managers, coaches and backroom staff, the ownership of the bigger, and some smaller, clubs, the audience in the stands and via TV, the exchange of playing styles and tactics. There is very little left about our football which is precisely English.
Despite these forces of Europeanisation and globalisation however Foer makes a key point about soccer(sic) and culture; " Of course, soccer isn't the same as Bach or Buddhism. But it is often more deeply felt than religion, and just as much a part of the community's fabric, a repository of traditions." This is why England v Wales is always going to be about more than a football match.
An Englishness subject to imperial and martial tradition helps explain the ugly saliency of immigration as an issue in the Euro referendum non-debate and this reminds me of Satnam Virdee's description of 1970s Powellism.
A powerful re-imagining of the English nation after empire, reminding his audience it was a nation for whites only. In that historical moment the confident racism that had accompanied the high imperial moment mutated into a defensive racism, a racism of the vanquished who no longer wanted to dominate but to physically expel the racialised other from the shared space they occupied, and thereby erase them and the Empire from its collective memory.
The make-up of the England team might appear a powerful antidote to these forces of reaction. But unlike the Welsh, and most particularly the Scots, the English barely possess a civic understanding of nationhood, instead it is mired in the racial. A football team may project some kind of alternative sense of being English but in the absence of political forces to make that argument it's not enough. In June 2016 that couldn't be more obvious.
None of this will help us predict the score when Bale's Welshmen take on Rooney's Englishmen but it certainly helps us understand how such an encounter is framed, consumed and understood. Performance isn't something restricted just to the pitch y'know.
Mark Perryman is the editor of the new book 1966 and Not All That published by Repeater Books and available from Philosophy Football.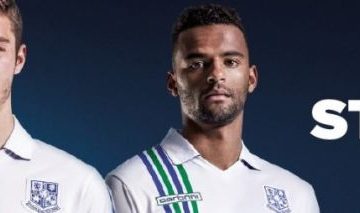 There was a point about four or five years ago, a point I'm not bothered about confirming archivally but which nonetheless definitely occurred, at which football clubs almost uniformly, if you'll allow the pun, changed the way that they marketed their new kits. Not so long ago, you'd have found a posed shot of a star player rehearsing some fabulous piece of technique or even, where the club had a meagre branding budget, a simple team photograph which could create other revenue streams from calendars and similar items. What superseded these more traditional forms of marketing was a style of image which offers the contemporary student of semiotics much to consider. Now, the background will be an electrolysed Blade Runner gloom, perhaps with little serifs of smoke indicating some recent conflagration or catastrophe. Against this will stand three to five players, one of whom will be a goalkeeper, another a winger or attacking midfielder, and yet another a looming centre half with a backwoodsman's beard and sleeve tattoos. Their arms are crossed and resolute; they are indomitable. The language used to sell the kits will be pared down to abstraction: '[Club Name] 2015 Home Kit: We Are One.' The general tone is a seriousness so ascetic it detonates into camp, unable to withstand the internal stresses on its structure of plausibility.
Nevertheless, for some it must have the appeal of gravitas or it would simply not work as an incentive to purchase. How, then, can it be explained? First, perhaps, with recourse to a certain type of pop-cultural hetero-masculinity which (re-) emerged in the early twenty-first century, initially – if I had to pick a particular moment – with the success of Peter Jackson's Lord of the Rings adaptations, but more lately underwritten and refocused with HBO's preternaturally successful Game of Thrones. In these programmes' fantasy second worlds
, manhood, if done properly and honourably, is a matter of disenchanted seriousness, a saddened and reluctant understanding of the inherently conflictual nature of existence. Any levity here can only manifest itself as grim irony – one does not simply walk into Mordor, remember – and all time between battles must be occupied with sorrowful renditions of stories of the travails of Good. The bearded, tattooed centre-half on the kit advert, then, is supposed to connote the fantasy version of ordeal, the effect of which is not limited to football's contemporary image-system. Think, for example, of how car advertising has departed from its nineties staple of secure glamour to its present mood of quasi-military exertion, its stubbled protagonists surging through sodden Scandinavian or Scottish gloom in order not, as the case would once have been, to seduce, but to be reunited with family.
The last item in this chain of images is, of course, the military recruitment film, which has become, after a fashion, more honest and explicit about the danger and brutality of conflict in the period that I'm describing. In Britain, the army are no longer particularly reticent about depicting 'live' skirmishes in their propaganda, in part because they suspect that computer games are not far from offering a comparable intensity of experience anyway, but also because of a gathering idea which automatically associates soldiering with virtuousness. Ideally, the film prompting its audience to enlist in the Marines or for the Territorial Army shows a gunfight in Helmand, or on a generically be-jungled 'African' coastline populated by similarly generic 'rebels', before portraying the hero returning to the family that his actions have (somehow) safeguarded.
What I'm trying to get at here is how advertising aimed at men has undergone an elemental shift in how it desires, and in how it seeks to channel desire. The old, but not really that old, male utopia was one of ease, of frictionless libido cruising through a collage of Eurocentric sophistication, waking in Venice amidst the accoutrements of one erotic encounter and falling asleep in Monte Carlo amidst another's. This no longer holds: it is perceived, understandably, as inauthentic and insufficiently austere for our times. Instead, the dream-work is of extended periods of sexual and romantic isolation in the still largely homosocial realms of military conflict or extreme exploration, interspersed with brief unifications with family. This is the logic to which football advertising in Britain increasingly appeals.
Clearly, nobody seriously thinks that the players of, say, Scunthorpe United visiting, say, Leyton Orient for an awayday is remotely comparable to a six-month tour of Helmand. Nevertheless, enough sticks from this metaphorical equivalence to make us think that footballers fulfil some kind of existential duty, something which exceeds the rubric of paid work, when they play for a team. It has long been the case that disloyalty has been the most atrocious crime a footballer can commit, but the economic insecurity of the historical moment seems to have amplified the notion that we have particular responsibilities to increasingly local social units. There is something especially interesting here in the way that football clubs now seem to be regarded as ends in themselves on this front, as entities more demanding and deserving of loyalty than the broad communities which they inhabit. One concrete example of the contrasting fortunes of club and community is Liverpool fans' continuing failure to resist the acts of social cleansing taking place on behalf of the club in the vicinity of Anfield: evidence that This Football Club is regarded as a point of social allegiance in almost direct tension with its area. The player, in this case, is asked to behave as an avatar of that unit's struggle in an increasingly atomised, conflictual world, and asked to buy wholesale into the 'values' of the 'project' even when those values and that project are things that have been conjured ad hoc by recently installed owners and managers whose heads have been turned by the jargon of 'smart thinking' books and TED talks.
'Sport is a battle', then, is the metaphor we are now required to live by as football fans. It came to light in a peculiarly candid way during the predictable period of recrimination following England's equally predictable early exit from the 2014 Brazil World Cup. Even before the players had set off for home Harry Redknapp, the geezerish and journalist-friendly cockney who had been passed over for the England manager's job in 2012 because of a pending court case, turned up in the press claiming that a number of English internationals were in the habit of begging their club managers to withdraw them from the national squad for friendly games. The allegation was stark: that some English players regard playing for their country not as an honour, but as an annoyance. England coach Roy Hodgson and his outgoing captain Steven Gerrard cannily took the sting out of Redknapp's comments by asking him to name names, but the matter did not drop entirely. Former England striker and current light-entertainment go-to Ian Wright wrote in his column in the Sun newspaper that any player found to have shirked international 'duty' without good reason should be required to phone the parents of a soldier killed in Afghanistan to explain their decision to drop out.
This was imagined on Twitter in plenty of bleakly funny versions of how the transcript of such a call might read. Palpably, the suggestion was a piece of attention-seeking on the part of Wright, who has never, it seems, got over his early-career rejections or his marginalisation in the 1990s England team by more rounded strikers such as Alan Shearer. However, it spoke to something in England's present-day ideological make-up, namely a resurgent patriotism of symbols which regards Englishness, whatever that might mean, as somehow under threat. The role the football player takes in this set of beliefs is intriguing. Wright was playing to the idea that the default setting for footballers is a patriotic one, that they feel a sense of pride in national symbols which extends beyond their utilitarian, team-bonding value. By linking this version of patriotic obligation to that of the soldier's, he insisted tacitly on the relative unanimity of nationalistic sentiment amongst the working-class communities that both footballers and the rank-and-file military are drawn from.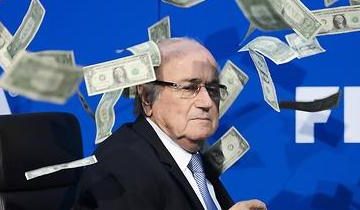 Mark Perryman of Philosophy Football is unconvinced by English football's occupation of any moral high ground vs FIFA Corruption
"I'm incredibly disappointed with the timing of what the BBC seem to be proposing with Panorama. To do it the week before the vote—I don't think it's patriotic." —Andy Anson, Director England World Cup 2018 Bid, November 2010
That's right, on the eve of England's doomed bid to host World Cup 2018, the bid director took time out to lambast the BBC for investigating FIFA corruption. Five years later, with FIFA headquarters raided by police and arrests made, the smell of English football's hypocrisy in adopting the role of the game's moral guardian should border on the overpowering. But most of this context is lost in the soft-target discourse of Blatter-bashing.
Even a cursory look at England's bid reveals the lows it was willing to sink to. Not all England friendlies are pointless, but an early summer trip to play Trinidad and Tobago for a match certainly was. The sole purpose—to buy up the island FA's valuable executive vote, the notorious Jack Warner. The sheer awfulness of this kind of practice was cruelly exposed when the planned friendly in Thailand was cancelled after Thailand failed to vote for England's bid. No vote? No game. A transaction as corrupt as they come.
I'm no fan of the Royal Family or the Tories, but when Cameron and Prince William were joined by David Beckham to do some some serious last-minute lobbying the days before the 2018 vote, we were asking a future king, the Prime Minster and a former England Captain to play footsie with some of the most corrupt individuals in world football. Just how low would England sink in the process of scrambling around for votes? As low as required.
One of my favourite memories of South Africa's World Cup 2010 was the South African fans chant 'FICK FUFA'. Africa's first World Cup, a showcase for post-apartheid South Africa left a nation fleeced to the limit by FIFA tax breaks, profiteering and sponsorship spivs. 'FICK FUFA' is the default position of football fans the world over. Another footballing memory: the Women's Football Gold Medal match at London 2012. Sepp Blatter's face appears on the big screen as he prepares to walk out to present the medals, prompting near universal boos all around Wembley. He looked shocked, shaken…don't these people know what he's done for world football? Yes, we do. Thats why we booed. He didn't bother coming back to do the medal presentation for the Men's football Olympic Final.
Football has grown enormously since the England team's one golden moment, winning the World Cup in '66 (49 years ago this July). It's gone global, but that international spread has been overwhelmingly shaped by a corporate model of globalisation. Taking the World Cup to the USA, Japan and Korea and South Africa; seeing the rise of the game in Africa, the Caribbean, the Middle East; newly formed nations post '89 finding their identity on a football pitch—all of these are essential goods of human liberation. But those positives have been squandered by the drive to turn territories into markets, commercialising the goodness of the game out of existence, stitching up inter-continental TV and branding rights to enrich those who run the game in their own interest and nobody else's.
The earlier period of European imperial patronage that once ran world football has been replaced in the post-modern era by a nakedly-monetised patronage. Football's governing class is now almost exclusively drawn from the world of commerce, and even when individuals don't fit that particular background, their values and ambitions are still entirely dictated by the commercial imperative. Of course, modern football is an increasingly expensive enterprise, though we might well ask why costs are ever rising with no obvious benefits to the supporters who follow the game, the non-elite players who form its cultural and sporting backdrop, or the development of children and youth players to create a future for the sport. Where are the supporters' voices and experiences in this organisational culture? Where are the coaches and players providing any kind of meaningful input to how the game is run? How are those who staff the game at its base (mainly voluntarily) to provide the breadth of participation—though this is in headlong decline—provided with the channels to influence the future of football?
That's the problem, a universal one. Football's bosses simply don't reflect any kind of image of the game of this sort. Blatter the soft target—however legitimate our utter contempt for the man—symbolises the ugly inside of what was once proud to be not only the beautiful but also the people's game. Simple rules, no expensive kit required, playable on almost any surface, played by any shape of the human body, male or female, and, for the lucky few, a professionalised route out of poverty the world over. No marketing plan was needed to create football's global appeal, its these values and traditions that provided it with an entire planet of fans and players. FIFA has lost all touch with this most basic appeal of football but then so has the entire sport. Cry no tears for Blatter and his cronies—they deserve every bit of ignominy we would wish upon them. But the power brokers most likely to usher Blatter out the back door are the corporates, the sponsors, the suits who see their careers and cash cow threatened, diminished by his illicit actions. These are no saviours of any remnant of the game because they remain people with next to no understanding of its popular beauty .
Mired in hypocrisy football won't be cleaning up its act any time soon. We need to turn the game upside down to do that, governed by its grassroots, internationalism replacing patronage. A first step would be the England team, and English club sides too, touring Africa in the pre-season not to flog shirts or hoover up FIFA Executive votes but because this continent has given the world game so much and been rewarded with next to nothing in return. For ninety minutes the world of football is at loggerheads with one another, its the same all over, but the essence of FIFA should be what unites us once the final whistle has been blown. The love of the game, a loyalty to what it represents, which no transfer fee on earth can buy, is an emotion that few who run modern football have any kind of recognition for, any understanding of, any affection because it stands in total opposition to the monetisation of our sport, our fandom, that they crave. While enjoying Blatter's and FIFA's tribulationsand hopefully trial—we shouldn't lose sight of the fact that football's problems won't be solved until this salient fact begins to be addressed.
Mark Perryman is the co-founder of Philosophy Football. 66 And All That, the book he is editing on the 50th anniversary of England's World Cup victory, will be published by Repeater in 2016. .