Dawn Foster reviews Paul Mason & Matt Ridley
Is the rise of technology strengthening capitalism or tearing it down? Dawn Foster reviews two new books – PostCapitalism, by Paul Mason and The Evolution of Everything, by Matt Ridley.
This piece is from the Winter 2015 issue of New Humanist magazine, which is out now. Reposted with permission. 

In 2008, as Lehman Brothers collapsed, Paul Mason was weaving between the limos, satellite trucks, sacked bankers and bodyguards outside the headquarters in Wall Street. Mason was then economics editor at BBC's Newsnight: his cameraman wanted to film him "amidst the chaos". Mason's latest book, PostCapitalism: A Guide to Our Future, written seven years on, argues that capitalism as an idea is bloated and exhausted, with little power left to continue.
Mason's argument rests on the belief that the rise of technology – specifically computers and social media – has undermined traditional capitalist structures. He writes about the emergence of the "networked individual" permanently plugged into the internet, easily able to organise online and grasp complex theories due to immediate access to knowledge. Twinned with the catastrophes of the global banking crisis, climate change and a looming demographic time bomb, this is triggering a transformation from capitalism to "post-capitalism".
Matt Ridley, in his second book, The Evolution of Everything, argues that the theory of evolution can be applied to almost every structure and concept in the world: the economy, education, government, religion, money and many others. In contrast to Mason, Ridley insists the major calamities of history are small bumps on the path to a better society, with the fittest arguments and theories surviving. Ridley emphasises the role of chance in human society. This handily gives mechanisms and institutions that inflict suffering and heighten inequality a benign veneer that absolves them of responsibility for the outcomes.
A common thread weaves through both books: that traditional and assumed power is illusory, and that certain social trends are inevitable. Both could be described as techno-utopian in their arguments, albeit from different standpoints. Mason's almost breathless belief that technology has flattened power has some purchase in the recent events and uprisings he lists: the protests in Egypt's Tahrir Square and Turkey's Gezi Park were given more attention through social media and networks facilitated online. A large-scale strike in rural China and student protests in Hong Kong, both in 2014, were organised through social networks. Whether they succeeded completely in undermining authority is harder to determine. Ridley, by contrast, sees the rise of technology as a welcome threat to the power of the state. The public funding of research in universities, for instance, is to be replaced by private money and the influence of the market.
Those warning that the "sharing economy" – where people rent homes, cars, services and other assets directly from each other online or through apps – is a threat to workers, rather than to capitalism, have often been scorned as Luddites. There's a common misconception that the Luddites were afraid of technology that could have enhanced their work. In fact, the original Luddites were highly skilled workers, who recognised that the employers introducing the machines were prioritising their profit margins, rather than workers' interests.
Mason is not ignorant of this, and his potted account of the relationship between labour, the economy and technological change is instructive. Yet his optimism sometimes crowds out the downside of the "sharing economy" and the "internet of things". Wikipedia, the internet encyclopaedia Mason repeatedly cites as an open-source knowledge project that outperforms its competitors, relies on an army of hundreds of unpaid editors across the globe. Fact-checking and scrutinising articles for balance is done patchily. Uber, the taxi app that matches users with freelance drivers, has caused protests in many major cities, as professional taxi companies lose business to the far cheaper service, whose low rates mean low pay, all the while undermining the earning power of established drivers.
It is revealing to read the two books side by side, especially on the concept of money and economics. Mason's proposals for a fairer society and banking system point out that a universal basic income – a fixed sum paid to every citizen by the state, set at a rate to cover their basic needs – could ameliorate some of the effects the rise of automation has had on the workforce, allowing more people to pursue non-paid work. It would also offer a safety net, so people could avoid being trapped in what the LSE professor and activist David Graeber calls "bullshit jobs". The idea of a basic income is politically neutral. Free-market economist Milton Friedman proposed it as a way of shrinking the state, for instance. There's little incentive for Tesco to pay higher wages if all workers are afforded a lump sum to survive on.
Ridley was chairman of Northern Rock from 2004-7, which experienced the biggest bank run in living memory at the end of his tenure. He dealt briefly with this in his first book, The Rational Optimist: How Prosperity Evolves (2010), and while it doesn't merit a mention this time, it's clear that he still believes, with bullish confidence, that his economic outlook was and is right. The roots of the 2007-8 financial crash in his view were not speculation, sub-prime loans and a lack of financial oversight in institutions – but over-regulation, red tape and the meddling of government and central banks in the finance industry. This gives Ridley's arguments a dogmatic tone; a marked contrast to Mason, who is generally regarded as on the left of the political spectrum but is informed and curious enough to explore ideas from a broad range of intellectual traditions.
Both parties skim lightly over the question of inequality, which has become an increasingly fraught topic of political debate since the crash. Ridley, in line with his "evolution" thesis, sees poverty and inequality as both inevitable and desirable. The rich earn their wealth as the poor trap themselves in poverty due to the inevitable battle of the survival of the fittest. Ridley, a Conservative member of the House of Lords, appears to see the uneven distribution and the hoarding of wealth as forms of natural selection. High achievers breed high achievers, for instance, "because of genetics". Mason is more nuanced, considering factors such as "brain drain" migration of skilled workers from poor countries to richer ones. However, his focus on the networked individual as "the new working class" overlooks the fact that most of the educated young individuals described would be from the middle class. The working class still exists, and has suffered from a stagnation in wages. Wealth inequality in many countries, including Britain, has skyrocketed in recent years but the corrosive effects this has on individuals and communities are largely unexplored in these books.
Mason's proposals for a new economy and society are more convincing than Ridley's cheerleading for freer free markets. But crucially, Mason's arguments rely on a belief that the networked individual can force institutions to give up power and reform financial systems and the labour market. Most protest movements that started after the crash have fizzled out, although many (notably Occupy Wall Street and UK Uncut) have succeeded in changing the way in which many ordinary people think about finance and the government's role in financial regulation. Yet it's not only protest movements that have access to new technology: the most networked of all are the very wealthy and the businesses they run. Capitalism's ability to use every shift in technology to increase profits and decrease wages should never be underestimated. Ridley and Mason, with different viewpoints, consider the positive and benign possibilities of technology's effect on the economy. We would do well to remember the possible pitfalls, too.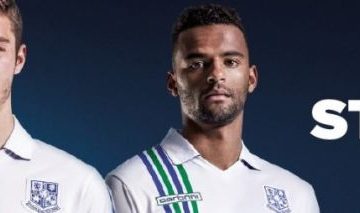 There was a point about four or five years ago, a point I'm not bothered about confirming archivally but which nonetheless definitely occurred, at which football clubs almost uniformly, if you'll allow the pun, changed the way that they marketed their new kits. Not so long ago, you'd have found a posed shot of a star player rehearsing some fabulous piece of technique or even, where the club had a meagre branding budget, a simple team photograph which could create other revenue streams from calendars and similar items. What superseded these more traditional forms of marketing was a style of image which offers the contemporary student of semiotics much to consider. Now, the background will be an electrolysed Blade Runner gloom, perhaps with little serifs of smoke indicating some recent conflagration or catastrophe. Against this will stand three to five players, one of whom will be a goalkeeper, another a winger or attacking midfielder, and yet another a looming centre half with a backwoodsman's beard and sleeve tattoos. Their arms are crossed and resolute; they are indomitable. The language used to sell the kits will be pared down to abstraction: '[Club Name] 2015 Home Kit: We Are One.' The general tone is a seriousness so ascetic it detonates into camp, unable to withstand the internal stresses on its structure of plausibility.
Nevertheless, for some it must have the appeal of gravitas or it would simply not work as an incentive to purchase. How, then, can it be explained? First, perhaps, with recourse to a certain type of pop-cultural hetero-masculinity which (re-) emerged in the early twenty-first century, initially – if I had to pick a particular moment – with the success of Peter Jackson's Lord of the Rings adaptations, but more lately underwritten and refocused with HBO's preternaturally successful Game of Thrones. In these programmes' fantasy second worlds
, manhood, if done properly and honourably, is a matter of disenchanted seriousness, a saddened and reluctant understanding of the inherently conflictual nature of existence. Any levity here can only manifest itself as grim irony – one does not simply walk into Mordor, remember – and all time between battles must be occupied with sorrowful renditions of stories of the travails of Good. The bearded, tattooed centre-half on the kit advert, then, is supposed to connote the fantasy version of ordeal, the effect of which is not limited to football's contemporary image-system. Think, for example, of how car advertising has departed from its nineties staple of secure glamour to its present mood of quasi-military exertion, its stubbled protagonists surging through sodden Scandinavian or Scottish gloom in order not, as the case would once have been, to seduce, but to be reunited with family.
The last item in this chain of images is, of course, the military recruitment film, which has become, after a fashion, more honest and explicit about the danger and brutality of conflict in the period that I'm describing. In Britain, the army are no longer particularly reticent about depicting 'live' skirmishes in their propaganda, in part because they suspect that computer games are not far from offering a comparable intensity of experience anyway, but also because of a gathering idea which automatically associates soldiering with virtuousness. Ideally, the film prompting its audience to enlist in the Marines or for the Territorial Army shows a gunfight in Helmand, or on a generically be-jungled 'African' coastline populated by similarly generic 'rebels', before portraying the hero returning to the family that his actions have (somehow) safeguarded.
What I'm trying to get at here is how advertising aimed at men has undergone an elemental shift in how it desires, and in how it seeks to channel desire. The old, but not really that old, male utopia was one of ease, of frictionless libido cruising through a collage of Eurocentric sophistication, waking in Venice amidst the accoutrements of one erotic encounter and falling asleep in Monte Carlo amidst another's. This no longer holds: it is perceived, understandably, as inauthentic and insufficiently austere for our times. Instead, the dream-work is of extended periods of sexual and romantic isolation in the still largely homosocial realms of military conflict or extreme exploration, interspersed with brief unifications with family. This is the logic to which football advertising in Britain increasingly appeals.
Clearly, nobody seriously thinks that the players of, say, Scunthorpe United visiting, say, Leyton Orient for an awayday is remotely comparable to a six-month tour of Helmand. Nevertheless, enough sticks from this metaphorical equivalence to make us think that footballers fulfil some kind of existential duty, something which exceeds the rubric of paid work, when they play for a team. It has long been the case that disloyalty has been the most atrocious crime a footballer can commit, but the economic insecurity of the historical moment seems to have amplified the notion that we have particular responsibilities to increasingly local social units. There is something especially interesting here in the way that football clubs now seem to be regarded as ends in themselves on this front, as entities more demanding and deserving of loyalty than the broad communities which they inhabit. One concrete example of the contrasting fortunes of club and community is Liverpool fans' continuing failure to resist the acts of social cleansing taking place on behalf of the club in the vicinity of Anfield: evidence that This Football Club is regarded as a point of social allegiance in almost direct tension with its area. The player, in this case, is asked to behave as an avatar of that unit's struggle in an increasingly atomised, conflictual world, and asked to buy wholesale into the 'values' of the 'project' even when those values and that project are things that have been conjured ad hoc by recently installed owners and managers whose heads have been turned by the jargon of 'smart thinking' books and TED talks.
'Sport is a battle', then, is the metaphor we are now required to live by as football fans. It came to light in a peculiarly candid way during the predictable period of recrimination following England's equally predictable early exit from the 2014 Brazil World Cup. Even before the players had set off for home Harry Redknapp, the geezerish and journalist-friendly cockney who had been passed over for the England manager's job in 2012 because of a pending court case, turned up in the press claiming that a number of English internationals were in the habit of begging their club managers to withdraw them from the national squad for friendly games. The allegation was stark: that some English players regard playing for their country not as an honour, but as an annoyance. England coach Roy Hodgson and his outgoing captain Steven Gerrard cannily took the sting out of Redknapp's comments by asking him to name names, but the matter did not drop entirely. Former England striker and current light-entertainment go-to Ian Wright wrote in his column in the Sun newspaper that any player found to have shirked international 'duty' without good reason should be required to phone the parents of a soldier killed in Afghanistan to explain their decision to drop out.
This was imagined on Twitter in plenty of bleakly funny versions of how the transcript of such a call might read. Palpably, the suggestion was a piece of attention-seeking on the part of Wright, who has never, it seems, got over his early-career rejections or his marginalisation in the 1990s England team by more rounded strikers such as Alan Shearer. However, it spoke to something in England's present-day ideological make-up, namely a resurgent patriotism of symbols which regards Englishness, whatever that might mean, as somehow under threat. The role the football player takes in this set of beliefs is intriguing. Wright was playing to the idea that the default setting for footballers is a patriotic one, that they feel a sense of pride in national symbols which extends beyond their utilitarian, team-bonding value. By linking this version of patriotic obligation to that of the soldier's, he insisted tacitly on the relative unanimity of nationalistic sentiment amongst the working-class communities that both footballers and the rank-and-file military are drawn from.
The November Lighthouse Arts Progress Bar happens tonight in Brighton, featuring Repeater faves Claire Tolan and PAN founder Bill Kouligas
We went down to Brighton last month for the Long Progress Bar – a two day version of the monthly event, and a 'festival of radical imagination' featuring talks, workshops and performances from artists, activist, musicians, writers, academics & more.
There was A LOT to take in across the two days, so we've compiled a brief list of further reading on some of the work/topics covered:
Having not had a chance to read the book yet, it was good to have the chance to hear Paul Mason talking about Postcapitalism. He posted his notes from the talk here. There was an extract and video on the Guardian back in July, and the book is out now (paperback not until June 2016) .
Holly Herndon & Jam City were in conversation about music and politics – a combination that's extended to sharing a bill at the Illuminations festival this week. We love Platform, Herndon's 2015 and have been rinsing the new Jam City EP for the last month. Read some background on the radical ideas and huge range of collaborators that went into Platform here. For more on Jam City check out this good recent Dazed interview and Laura Oldfield Ford's response to the Dream A Garden album on kpunk from earlier this year.
Mat Dryhurst presented his Saga project, which aims to give content creators control over how their work is shared/presented online. Saga has now been released, read more here.
The universal basic income movement is gaining ground, and economist Guy Standing made a strong case for it. Read an article by him making the same argument here – he's also great on changing understandings of work, and his latest book, Precariat: The New Dangerous Class (Bloomsbury, 2011) is well worth a look. For more on UBI check out the work of American sociologist Erik Olin Wright, especially his book Envisioning Real Utopias (Verso, 2010)
Lastly the Laboria Cuboniks collective presented their Xenofeminism manifesto – you can read it in full here, and a good explanation by Aria Banks here.