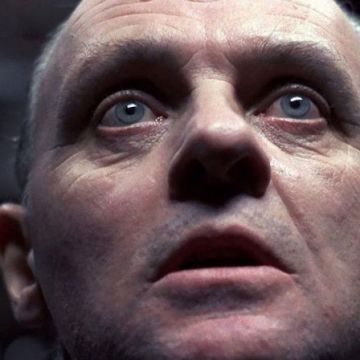 This is part one of two of 'Femme Fatales, "Female Psychopaths" and Narrative "Science"' by Tristam Vivian Adams, author of The Psychopath Factory. Adams discussed the topic of this essay in a recent episode of Very Loose Women on Resonance FM. Read part two here.
In The Psychopath Factory I make a distinction between psychopaths and sociopaths. Ordinarily, in the DSM (Diagnostic and Statistical Manual of Mental Disorders) and in culture more generally, the two terms are interchangeable. But sociopathy is distinctly distinguishable from psychopathy. Sociopaths fail at behaving socially; they might do or say the wrong thing, they might be awkward or just plainly dangerous and anti-social. Sociopathy requires an audience. The dominant consistency of sociopathy is that it is observable, it is about interaction – we know when someone does or says something they shouldn't. In a sense young children are adorably cute mini sociopaths; they don't always know what is acceptable and what isn't – they might say something a little rude or embarrassing for parents. I would class Alan Partridge, David Brent, Larry David (the character in Curb Your Enthusiasm) and Mr. Bean as comedic examples of harmless sociopathy – they are also quite childlike, their cringey blunders stem from their social myopia and self-absorption. Nonetheless, sociopathy is conspicuous.
Psychopathy is different. It cannot be detected through behaviour; it isn't obvious. Psychopathy is more about the inner world – being cold hearted or lacking empathy. If sociopathy is about the external social realm psychopathy is more about the inner psychological realm. More precisely, psychopathy is about how a hidden psychology is not reflected in behaviour. Take Patrick Bateman, Frank Underwood or Hannibal Lecter – they seem nice at first, charming even, but of course beneath their superficial manners lurks a truer personality: anempathic with dangerous impulses or uncaring narcissism.
It is this anxiety about the disjunct between behaviour and character that is fascinating for us. People say 'take care' or 'have a nice day' after we buy coffee from them – but how does one know for sure that they mean it? Most of the time we might expect that they do not mean it, it is just what people say – normalized psychopathy. Psychopathy is about the disjunct between external presentation, behaviour, and inner intents that we cannot fathom.
Of course, we are quite like sociopaths and psychopaths on some level. In terms of the former, we have all made a faux-pas at some point and accidentally offended someone – if not that then perhaps we failed at the minutiae of social code: manners and the 'correct' ways to dine (elbows off the table, don't slouch Miss Ward…) But we are psychopathic at times too – our behaviour doesn't always reflect our wants; we curb, temper and conceal ourselves sometimes. Haven't we all lied a little for the sake of politeness? Further still, we may even have lied plainly and brazenly during a job interview: 'genuinely I, myself, am personally passionate about admin' or suchlike is now a mandatory performance – its disingenuous nature more acceptable than the truth: 'I don't care about admin. I just need the money.'
The at once fascinating and unnervingly relatable facet of psychopathy is this disjunct between a person and their behaviour. This, of course, leads to an anxiety about the empathy of others – sure, they seem nice, they seem genuine: but how can one tell for sure? We do not have Voight-Kampf machines in this boring dystopia of ours, instead we have Facebook, Twitter and Tinder.
Dating sites seem to evidence an insatiable appetite for 'banter'. But banter is anything but honest or genuine… isn't it more a mode of evasive social sparring: a jolly and smirking façade? In a similar vein, social media sites like Facebook and Twitter that ingeniously monetise both relationships and loneliness, we project a life of holidays, achievements and Disneyesque Apple-pie positivity. We sycophantically like, love and praise yet omit our woe, bitterness, jealousy or vexation whilst, IRL meet/meat space we erect a wall of sarcastic (so-caustic) banter. This is normalized disingenuousness; to call it the lowest form of wit is too generous. Online selfhood qua self-promotion is indefatigably optimistic and 'fun'. We gaze affectless, icy-eyed and apathetically type 'lol'. 'Lol' is commonly accepted to mean audible laughter yet doesn't this de-abbreviated acronym of laugh-out-loud also refer to silent supine apathy? The de-abbreviated acronym of 'lol' was originally intended to signal energy and fun, yet now it is employed in a sense closer to the older homograph of lol – signalling a lack of energy, a passivity, a lateral indifference with shades of languor, lethargy and torpor. One can pivot around the term 'lol'. One can strafe to regard the antithesis of its accepted online textual staging, the z creeps in orphaned from its multiplied guise as comic shorthand for snoozing (Zzzzzz), in a term that cites, re-cites and makes legible the opposite of laugh-out-loud lol/lolz: narco-lolzzzzzz (can't we, then, now, Jacques?).
Our online self is an unblinkingly positive projection, a resolute departure from our 'true selves'. A contemporary register of this is the online dating profile that claims to adore everything: the calculated personality match trawler net pitch of 'loves laughing, going out and staying in'. In life, it is difficult to know people for sure, because people increasingly present an edited (a shopped) version of themselves. When we type lol is it a testament to the inadvertent convulsion of hilarity or the passive placeholder of sleepy isolation and interactive avoidance? When people urge us to 'take care now' is it a caring personal sentiment or a void-scripted platitude or is it a vaguely authoritative reference to the stipulations of health and safety regulations ('caution HOT beverage')? What do others really mean and feel?
TV, Film and literature are different. We get to see multiple aspects of a character's personality. We can read of, even in first person fiction, the inner world on one page whilst learning of the social interactions of a character on the next page that are at odds with their 'true' character. Film and television is particularly quick at flipping from depicting inner self to social self. Time is of the essence for the digitally twitching and attentively fickle box-set viewer. One must watch a character trick, con, and lie and know that they are doing so; if the film or show does not allow the viewer to be privy to the character's true intent then how do they know the scene they watch is one of deceit, conning or manipulation? Film and television must show the viewer that despite a character acting one way, they do not mean it – they are lying, it is a ruse.
This is the satisfying difference between the fictional psychopaths and the polite people we speak to every day. TV and film always provide a clue that someone isn't what they seem. The viewer is shown the disjunct between behaviour and intent. The psychopath's disjunct is manifested in film and TV's penchant for mirror scenes, masks and various other methods that show a character is one of façades and pre-meditated self-projection. The mirror scene trope or the mask metaphor tells the viewer in the opening scenes of a film that whilst a character appears normal they, as well as being hyper-reflexive, are hiding something. They might be charming, polite and perfectly social… but really…
The mirror scene trope in serves this purpose well. Patrick Bateman's mirror scene in American Psycho (2000, Harron) tells the viewer that the man is all show, that what he does and says is all an act, a façade, a mask. The same trick is employed in Malice (1993, Becker). Tracy Safian, played by Nicole Kidman, stares into the mirror mimicking emotions – she is practicing her façade, rehearsing the 'right' ways to react, preparing her performance for when it is needed within a social context. Friedkin's Cruising (1980) also deploys the same trick of reflectively divulging character.
Another strategy employed to convey a character's janus faced double life is the fourth wall break. Francis "Frank" Underwood, played by Kevin Spacey in HBO's House of Cards (2013), breaks the fourth wall to tell the viewer he's only pretending to be nice so he can get his way; as does Stuntman Mike in Tarantino's Deathproof (2007, Tarantino). Note the smirking irony of Underwood's preferred name 'Frank'; he is anything but. Stuntman Mike is similar – his job is to con the viewer: he's a stuntman, like magicians and actors his trade is deception. In comedy a more recent example can be found in Fleabag (2016). The eponymous protagonist, wrote and played by Phoebe Waller-Bridge, quick-fires asides to the viewer relentlessly. Fleabag is schizo-narrative, an Adderalled up oscillation of the fourth wall. The break of the forth wall is a satisfyingly plain way to show that even though a character is doing or saying one thing they mean to do another. They might seem social… but really…
Peep Show (2003-2015) depicts deceit and social performance in a different, more multi-faceted manner. The show is essentially multiple first-person perspectives replete with inner monologues. A character strolls about, forcing smiles and convivial greetings one second, but in the next moment we hear their inner thoughts – often derogatory – about the acquaintance currently being charmed or ingratiated to.
But the simplest example of this showing a character one way whilst also depicting them to be opposite is in Silence of the Lambs (1991, Demme). Hannibal Lecter, played by Anthony Hopkins, is perfectly polite – but we are primed before hand, peripheral characters explain just how bad he is. As FBI Agent Clarice Starling, played by Jodie Foster, is walked through the labyrinth of the prison holding Lector she is informed of the abhorrent nature of his crimes by Dr Chilton (Anthony Heald). The spiel is as much for Clarice's benefit as it is for the viewer. Moments later Clarice stands before Lecter. He is softly spoken, polite and eloquent. He stands in stark contrast to both the incarcerated 'degenerates' in the neighbouring cells and the history of his crimes recounted moments previously.
Certain interactive antisocial behaviours in film and TV also tell the viewer a protagonist isn't entirely what they seem to be. The opening scene of House of Cards shows 'Frank' Underwood killing a wounded dog with his bare hands. Right from the start, we see that despite his stately magnanimity and deep southern crooned charm Underwood is a cold man. In itself the act is sociopathic, Underwood shouldn't kill a domestic animal quite so readily and with such ease. However, only the viewer is privy to this act – the other characters remain unaware of such behaviour. This strategy is a step away from the mirror scene, fourth wall break or diegetic priming. We see a character act in different ways in different contexts. The two-scene trick evokes their mercurial personality.
Often the two-scene trick involves the protagonist being antisocial, or nonconformist, with someone who is not involved in the main narrative thread. Most commonly this involves an out-of-hours sociopathy. By day the characters are polite conformists, but at night they indulge in whatever wants they have, be they nonconformist, misanthropic, antisocial or dangerous. These are the TV equivalents of the boring office suit whom by day talks the pseudo-Deleuzian late capitalist jargon of business speak – all abstractions and metaphors – but whose nights are antitheses whiled away feverishly fretting a Burzum din or writing atrocious modernist poetry or similar avocation.
TV and film must depict both sides of someone's double life: the viewer must be shown how a character might seem fine at work, but after hours, when a conning charm is not necessary, they might do something unusual or 'bad'. This is the troubling parallel between Stella Gibbons and Paul Spector in BBC's excellent The Fall (2013-2016). Both lead, for most of the first season, double-lives. Spector is a counsellor and family man by day but a rapist and torture-murderer by night. Stella is a shrewdly demure and sensitive detective, knowing to bite her lip when dealing with institutional and personal sexism by day, yet at night she is portrayed as being sexually independent, and, in notable juxtaposition to the heteronormative machismo of the police force, bisexual. The mode commonly employed in TV and film to convey a psychopath often involves some slight slips into sociopathy, of doing something 'wrong', to allude or hint that their truer personality, the person behind the niceties and charm, is anti-social, non-conformist, heartless or anempathic.
But, again, is this not how we behave on a 'daily basis'? In an office one might feign or cultivate an interest in something that, had one not had to ingratiate oneself to the many others treading water in the open-plan jungle of pointless work, wouldn't interest one otherwise. The reflexive double lifer, the Ripleyesque pretender ('I just love Jazz!'), is essentially a fantastic and exaggerated version of our working selves – the self that performs passionate enthusiasm for customers and clients by day but lives a private life by night, whinging about managers or colleagues, indulging in niche interests, fringe pursuits and underground cultures.
Continued in part two here.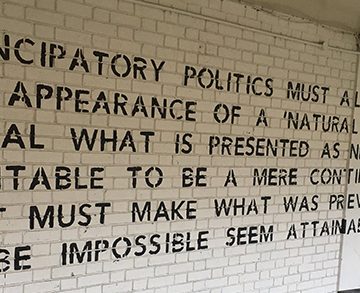 Friday, March 31
7pm
NYU Tisch School of the Arts
721 Broadway, Room 674
New York, NY
Please join Repeater Books for an evening in memory of Mark Fisher. Dan Fox, Tariq Goddard and Sukhdev Sandhu will share their reflections on Mark's work and legacy. The audience is invited to share their thoughts on Mark Fisher's impact. Mark Fisher was, among many things, a co-founder of Repeater Books with whom he published his last book, The Weird and the Eerie, in January 2017.
Sukhdev Sandhu is the author of Other Musics (2016), writes for The Wire, Bidoun and The Guardian, and directs the Colloquium for Unpopular Culture at New York University.
Dan Fox is based in New York, USA. He is co-editor of frieze magazine, co-founder of the Junior Aspirin Records label, and his writing has appeared in numerous exhibition catalogues and in publications including Bulletins of The Serving Library, Dot Dot Dot, The Guardian, and Financial Times. His book 'Pretentiousness: Why It Matters' (2016) is published by Fitzcarraldo Editions (London) and Coffee House Press (Minneapolis).
Tariq Goddard is the author of six novels, and the former publisher of Zero Books, and now, Repeater.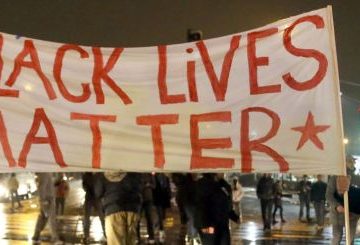 This is an edited extract from Richard Gilman-Opalsky's Specters of Revolt: On the Intellect of Insurrection and Philosophy From Below (out now). He will be speaking at Five Leaves bookshop, Nottingham (UK) on 16th March (more details/FB event)
The Ferguson Revolt Did Not Take Place
Black people desire to determine their own destiny. As a result, they are constantly inflicted with brutality from the occupying army, embodied by the police department. There is a great similarity between the occupying army in Southeast Asia and the occupation of our communities by the racist police. The armies were sent not to protect the people of South Vietnam but to brutalize and oppress them in the self-interests of the imperial powers.
—HUEY P. NEWTON, "A Functional Definition of Politics" (1969)
We don't need anybody to agree with our tactics, right? We're disrupting business as usual. That is the whole idea. We're not going to stand in a corner and protest, because nobody pays attention to that. We are going to disrupt your life. You are going to know that business as usual in America and the world is not going to continue while black people —unarmed black people —are literally being shot and killed by law enforcement in the street every day.
—MISKI Noor, Black Lives Matter Minneapolis (2015)[ii]
The Ferguson revolt did not take place; the Baltimore revolt is proof.[iii] The Ferguson revolt did not take place because it has occurred and is still happening in different ways in other places. In so many uprisings, from Shays' Rebellion in 1786 to the many North American slave revolts of the 18th and 19th centuries, to the race riots of the 20th century, from Springfield, Illinois in 1908 to Watts, Los Angeles in 1965, to current insurrections in Ferguson 2014 and Baltimore 2015, to the Black Lives Matter disruptions at the Mall of America and Minneapolis airport in Minnesota in December 2015, there is always some part of the event that expresses disaffections carried over from the previous ones. Revolts are nodal points in the elaboration of a transformative "politics" that exceeds them. To historicize revolt by marking its beginning and its end is to cut it off from itself, to misunderstand it. In particular, the fixation on the end of revolt disguises that old quotidian hope for a retour à la normale.
Riot and revolt are difficult to predict. And yet, as soon as they break out, the reasons for their occurrence are easy to see. The hardest part of processing riot and revolt in an intellectual register is always: not why they happen, but why they do not happen (until now). They are difficult to predict because of the remarkable capacity of societies to bear the unbearable, to suffer the insufferable.
Historians have a difficult time with the continuity of discontinuous events. But we can find a close connection between any two coordinates in the history of black revolt in North America. In the recent examples of Ferguson and Baltimore, the linkages are clear (i.e. killer cops, poverty, racism). Yet, historical accounts always want to identify the start and end dates of each uprising, especially because discrete and isolated events can be treated as local aberrations, not expansive fabrics of discontent.
What if Baltimore does not begin with the case of Freddie Gray? What if Baltimore does not end in Baltimore (which we discover when it is taken up again in six months, in one year, in two years, in another city)? Each revolt is itself, as Deleuze and Guattari claimed, "an unstable condition that opens up a new field of the possible."[iv]
But what exactly is possible here beyond the possibility of posing old questions in new ways? First of all, the whole question of revolt is thoroughly imbricated with selective concerns about violence. Violence pervades and disfigures everything from the start. Every revolt, every riot, is haunted by the figure of violence. On April 28, 2015, The Wall Street Journal declared that "violence breaks out" in Baltimore.[v] That is the basic treatment: "Violence breaks out" whenever black people revolt against racist violence. For The Wall Street Journal, there is no violence when the cops kill black people, there is no violence on Wall Street, let alone any consideration of the violence of capital more broadly. The article could have been written by the Baltimore Police Department, and the fact that it wasn't is indicative of the depth of the problem. Bakunin's basic understanding of revolt from 1872 far exceeds the understanding from The Wall Street Journal in 2015. Bakunin said: "To revolt is a natural tendency of life. Even a worm turns against the foot that crushes it. In general, the vitality and relative dignity of an animal can be measured by the intensity of its instinct to revolt."[vi] Contrary to racist caricatures of insurgents as wild animals, revolt is —for the human animal —a modality of indignation, a measure of dignity.
Nonetheless, ideological and idiotic depictions of "violence" remain effective and reliable mechanisms for the disqualification of the critical content of revolt. Georg Lukács explained that "the radical and mechanical separation of the concepts of violence and economics" are the result of the fetishization of economics as a nonviolent and legal field, and the fetishization of violence as always outside economy and law.[vii] Revolt exposes the "invisible" violence of economy and law, challenging that separation. Economy and law establish themselves as the normalization of the non-violent order, so anything that opposes them is identified and condemned as violence and disorder. Voltairine de Cleyre had it right when she observed the violence of the social order: "watch a policeman arrest a shoeless tramp for stealing a pair of boots. Say to your self, this is civil order and must be preserved… Aye, I would destroy, to the last vestige, this mockery of order, this travesty upon justice!"[viii] What the revolt invites, encourages, and makes possible, is to worry less about "violence" to capital (its inanimate objects and commodities), and more about the violence of capital. A broken window, looted food, a burning bank, a burning car, are violence from the perspective of property law. From what perspective, however, is the police killing of Amadou Diallo, Oscar Grant, Abner Louima, Michael Brown, Eric Garner, Walter Scott, Freddie Gray, Tamir Rice, Laquan McDonald, Jamar Clark, and so many others, called violence? So many others indeed: On August 9, Michael Brown became the 668th person killed in the US by the police in 2014, and he was far from the last. Police killed over 1,000 people in the US in 2014, and in between every killing you do hear of, there are hundreds of others you don't. Someone is killed every day by police in the US. In fact, it's usually several each day.[ix]
It is therefore necessary to reject all efforts to reduce each revolt to the stories of the murdered individuals who trigger them. We all know that the "Arab Spring" was not about Mohamed Bouazizi, the Tunisian street vendor who lit himself on fire in December of 2010. We must try instead to see the violence in the conditions that made self-immolation appear sensible to Bouazizi. Can we ask, as Bouazizi's sister asked: "What kind of repression do you imagine it takes for a young man to do this?" Treatments of particular cases matter, but even "justice" in a verdict, as sug- gested by the indictments of the six officers responsible for the death of Freddie Gray, resolves none of the everyday violence of capital and law.
Everyday violence indeed, and one which it is necessary to confront as an overwhelmingly racist violence. Angela Davis points out: "The sheer persistence of police killings of Black youth contradicts the assumption that these are isolated aberrations." She refers to "an unbroken stream of racist violence, both official and extralegal, from slave patrols and the Ku Klux Klan to contemporary profiling practices and present-day vigilantes."[xi] In light of this everyday violence, which is of course not the only form of violence, revolt is patient, revolt is kind. Revolt may even appear too moderate, too restrained, and too peaceable.
Professional academics are typically part of the problem. We need less intellectual analysis of revolt, and more consideration of the active intellect of revolt, revolt as analysis itself. Can we only hear the demos when it speaks in ballots? One participant in the Baltimore revolt answered in the midst of the uprising: "They tell us when we 'vote' we are being heard. No THIS is an example of us young people being heard!"[xii] That revolt does not need to speak through experts, elections, figureheads, and analysts is a lesson that even the most sympathetic political scientists are slow to learn.
Academics can be helpful only if they possess a deep and abiding understanding —as did Socrates and Jacques Rancière —that intelligence is not the private property of professionals. Discourse in the form of text can be useful indeed. Rancière's beautiful book, Hatred of Democracy, diagnoses the hatred of democracy that hides behind the professed love of democracy.[xiii] I propose the following variation on Rancière's theme:
Those who condemn the riots secretly love them — the purported hatred of the "violence" of the riots conceals a special love for that "violence." They love the riots they condemn, for their own reasons, most of them racist. The riots are made to serve as evidence for what liberals and conservatives already think about politics, race, class, and capital.[xiv] This is particularly clear with the media, but can also be seen throughout society (universities included) in the surrounding conversation.
Deleuze and Guattari claimed that what "we institutionalize for the unemployed, the retired, or in school, are controlled 'situations of abandonment'."[xv]275 This is also true of impoverished black communities throughout the US. Institutionalized abandonment and everyday violence are always more the causal factors of revolt than the personal immorality and intellect of participants.
In the Baltimore revolt of 2015, there was an early celebration of a black mother, Toya Graham, who discovered her son participating in the uprising. She chased him down in the street, grabbing him and hitting him in the head, scolding him loudly. Forget the National Guard, said her fan club, send in the moms to tame the revolt. Graham knows well what the police do to young black men like her son, but she was not applauded for concern over his well-being. Rather, she was applauded for berating and beating him in the streets. The message in her celebration was clear: Black people in revolt are like out-of-control children, and what they really need is the paternalistic power of containment.
Meanwhile, capital hides behind the scenes of revolt, staying aloof and quiet. But what of the peculiar silence of capital? Even those who acknowledge the class dimensions of the problem often do not acknowledge that capital has nothing to offer impoverished communities that face a dilapidated opportunity structure with no future.
Over 63% of Baltimore's population is black, but the median income of the black population ($33,000) is roughly half that of whites in the city. Maryland is the richest state in the country, which exacerbates the already abysmal conditions of life for the poor. Young black men in Baltimore were unemployed at the star- tling rate of 37% in 2013. Compare that with 10% unemployment for white men of the same age. One-third of Maryland residents living in the state's prisons come from the mostly black communities of Baltimore.[xvi]
Impoverished black people in the US don't need to be taught how to stand up for themselves. Everyday life shapes and informs the knowledge and experience of the disaffected, and indicates that "the field of the possible lives elsewhere."[xvii] You cannot simultaneously reproduce everyday life and transform it. Revolt understands that basic logic.
Thinking about May '68, Deleuze and Guattari argued: "There can only be creative solutions. These are the creative redeploy- ments that can contribute to a resolution of the current crisis and that can take over where a generalized May '68, amplified bifurcation or fluctuation, left off."[xviii]
Baltimore 2015 takes over where Ferguson 2014 left off, keeping Ferguson (and Springfield 1908 and Watts 1965) on the list of unfinished business. But the creative solutions and redeployments that Deleuze and Guattari call for may still be premature. Creativity is a productive activity, but there is still much to abol- ish. Perhaps the abolition of racism calls for creative solutions, and perhaps abolitionists need to get more creative. Yet, we cannot create new worlds without transformation, and transformation implicates abolition. Hegel and Marx understood well that there is an abolitionist force in the negations of transformation. The abolition of old forms of life, political institutions, and social structures implies the creation of new ones, implies creativity. There is always an abolition of old understandings in the creation of new ones, even if, in Hegel's sense, the new understandings carry forth much from the old. And there is always an abolition of the present state of things in the construction of a new state of things, even if some things stay the same.
Those who condemn the revolts actually love them because they get to condemn a "violence" that justifies the violence they defend, the violence they love. Critics of revolt do not, therefore, fear the violence, but rather the transformative potentialities of revolt, its abolitionist (and creative) content. Their wager and hope is that nothing they love will be abolished, that the present state of things will be defended against every revolt. And if the existing order is maintained against revolt, as it often is, that existing order will be haunted by the specters of future revolt. Defenders of this present capitalist society know well that surviving a revolt is not busting the ghosts, is not laying them finally to rest. The conditions that give rise to revolt, left unchanged, also leave the abolitionist impetus in place. If the imprecators of upheaval tremble, perhaps they know: Efforts to realize abolitionist dreams continue on where previous ones leave off. Nothing is over and done.
Specters of Revolt: On the Intellect of Insurrection and Philosophy From Below is out now. 
Newton, Huey P., "A Functional Definition of Politics, January 17, 1969" in The Huey P. Newton Reader, ed. David Hilliard and Donald Weise (New York: Seven Stories Press, 2002), p. 149
[ii] Noor, Miski, "Interview on CNN with Carol Costello about the Black Lives Matter Protest Planned for the Mall of America" (12/22/2015), accessed January 11, 2016, http://archives.cnn.com/trANSCrIPtS/1512/22/cnr.02.html .
[iii] This short chapter is a détournement of Gilles Deleuze and Félix Guattari's shorter essay, "May '68 Did Not Take Place" in Hatred of Capitalism: A Semiotext(e) Reader, ed. Chris Kraus and Sylvère Lotringer (Los Angeles: Semiotext(e), 2001).
[iv] Deleuze and Guattari, "May '68 Did Not Take Place," op. cit., p. 209.
[v] Calvert, Scott and Maher, Kris, "Violence Breaks Out in Baltimore After
Freddie Gray's Funeral," accessed May 6, 2015, http://www.wsj.com/articles/violence-breaks-out-in-baltimore-as-freddie-gray-is-laid-to-rest-1430169131 .
[vi] Bakunin, Mikhail, "On the International Workingmen's Association and Karl Marx," accessed January 7, 2016, https://www.marxists.org/reference/ archive/bakunin/works/1872/karl-marx.htm.
[vii] Lukács, Georg, History and Class Consciousness: Studies in Marxist Dialectics (Cambridge, MA: The MIt Press, 1988), p. 240
[viii] de Cleyre, Voltairine, The Votairine de Cleyre Reader (Oakland and Edinburgh: AK Press, 2004), pp. 71-72
[ix] Killed By Police, accessed February 8, 2016, http://www.killedbypolice.net /.
Reuters, "Peddler's martyrdom launched Tunisia's revolution (1/19/11)," accessed January 8, 2016, http://af.reuters.com/article/libyaNews/idAFLDE70G18J20110119?pageNumber=2&virtualBrandChannel=0&sp=true
[xi] Davis, Angela Y., Freedom Is a Constant Struggle: Ferguson, Palestine, and the Foundations of a Movement (Chicago: Haymarket Books, 2016), p. 77.
271 Ibid.
[xii] The 2015 Baltimore Uprising: A Teen Epistolary (New York: Research and Destroy, 2015), no page numbers
[xiii] Rancière, Jacques, Hatred of Democracy, trans. Steve Corcoran (London and New York: Verso, 2006).
[xiv] In short, liberals and conservatives hold in common that procedural and electoral politics and reform are sufficient, that racism is a shrinking or minor difficulty, that socio-economic class positions are more-or-less negotiable through hard work and upward mobility, and that capital is either neutral or good, respectively.
[xv] Deleuze and Guattari, "May '68 Did Not Take Place," op. cit., p. 211
[xvi] Malter, Jordan, "Baltimore's Economy in Black and White," accessed 
January 8, 2016, http://money.cnn.com/2015/04/29/news/economy/baltimore-economy/index.html
[xvii] Deleuze and Guattari, "May '68 Did Not Take Place," op. cit., p. 211.
[xviii] Ibid.