Happy Christmas from Repeater Books — Peace on Earth/Little Drummer Boy, an extract from Ashes to Ashes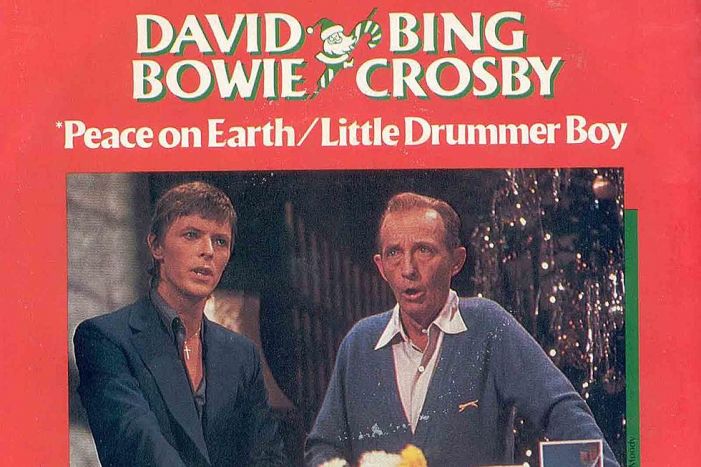 Happy Christmas from Repeater Books. We'll see you in the new year.
To celebrate the holiday season we publish an extract from our forthcoming book Ashes to Ashes: The Songs of David Bowie 1976-2016 by Chris O'Leary, publishing in February 2019.
Peace on Earth/Little Drummer Boy
(Kohan, Fraser, Grossman ["Peace"], Simeone, Onorati, Davis ["Drummer"].)
Recorded: 11 September 1977, Elstree [ATV] Studios, Clarendon Road, Borehamwood, Hertfordshire. Bowie: lead vocal; Bing Crosby: lead vocal; uncredited musicians: piano, bass, drums, strings. Produced: Frank Konigsberg.
First release: 20 November 1982, BOW 12/ PB 13400 (UK #3).
Broadcast: 11 September 1977, Bing Crosby's Merrie Olde Christmas.
Where he'd done little to sell Low, Bowie agreed to do promotions for "Heroes" in autumn 1977. Days after the Marc Bolan taping, Bowie appeared on a Bing Crosby Christmas special. Its premise had Crosby, in Britain for Christmas, encountering a few stars like Twiggy and Ron Moody. Landing Bowie gave the show a shot in the arm ("Bing was no idiot," said Ian Fraser, who co-wrote music for the special. "If he didn't know [who Bowie was] his kids sure did.") Bowie would get to plug "Heroes" in exchange for singing a Christmas carol with Crosby.
But he balked at the selection, "Little Drummer Boy." "I hate that song," he reportedly said, though scriptwriter Buz Kohan said Bowie's biggest complaint was that "Little Drummer Boy" wasn't a good showcase for his voice. Kohan, Fraser, and his co-composer Larry Grossman dashed out a counterpoint song in little over an hour on a piano in a studio storage room. "Peace on Earth," with its mawkish totalitarian sentiments ("every child must be made aware/every child must be made to care") at least gave Bowie the soaring melody he wanted.
At the time, Bowie said he'd been charmed by Crosby, who died that October after suffering a heart attack on a Madrid golf course (it was a strange period where everyone who Bowie appeared with on television died soon afterward). "He was fantastic," Bowie said in 1978. "That old man knew everything about everything. He knew rock and roll backwards, even if he didn't know the music… I'm glad I met him." His memories had soured by 1999, however, when he described Crosby as "look[ing] like a little old orange sitting on a stool… there was just nobody home at all, you know? It was the most bizarre experience. I didn't know anything about him. I just knew my mother liked him." A worse-for-wear Crosby, squatting in a mansion, gets a visit from a freeloading hip neighbour (Bowie namedrops Harry Nilsson). They duet on a pair of Christmas songs and it sounds beautiful. The magic of television.
There was no plan to release "Peace on Earth" ("we never expected to hear about it again," Kohan said), so the sixteen-track master tape was erased — for its issue as a single in 1982, RCA had to use the on-line mix, in which Bowie and Crosby's vocals were picked up by a boom mike. A Christmas hit in Britain in 1982, the duet had a second life in America thanks to MTV, which ran the Bowie/Crosby performance throughout the holidays. It looked like your grandfather meeting Han Solo. The internet canonised it, culminating in a word-for-word parody by Will Ferrell and John C. Reilly in 2010. What had been one-off TV fodder is now a Christmas tradition: one day soon, if not already, kids in holiday pageants will play the Bing and Bowie roles.