In this second instalment of Repeater's short guide to radical independent bookshops, we interviewed Irene (she/her) and Lee (they/them), booksellers and coffee-makers from Rubicund bookshop in Falmouth.  
What is the origin story of Rubicund? 
Rubicund is run by Irene and Lee. We wanted to create a space that housed the type of books that we liked to read and was a good place for exchanging ideas. We both have backgrounds in visual arts and made coffee for a living, so forming a place like Rubicund made sense to us. We also liked the idea of sharing knowledge outside of institutions like the university, and our plan was to offer workshops, screenings, and talks when we first visualised this project. Due to the pandemic and the size of the space we can't offer that right now, but we have been working with satellite venues to make these things happen! 
What is your mission? Do you have a particular set of values?
Our mission is to offer literary resources to our town that are not available in mainstream outlets. We think that it is important to have access to radical literature in a physical space, where you can meet other people and discuss ideas. We value creating a safe space where people can grow, meet others, and not be judged.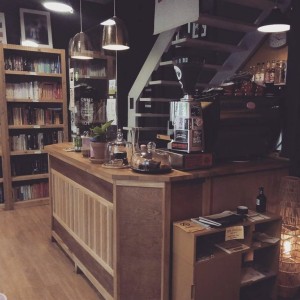 Do you specialise in specific genres or titles?
We stock a variety of genres and titles, but we specialise in non-fiction with an emphasis on left-wing political books. We mostly stock recently published literature in our shop and lending library so that we can be all up-to-date! Our most populated shelves hold books about queer studies, race & migration, politics, and social science. We also have a section dedicated to anarchist books, which we believe is the only one in town!
Your café is 100% vegan. Is being eco-friendly important to Rubicund, and does this translate into the running of the bookshop? If not, is this something that you hope to implement?
It is important for us to be eco-friendly in every aspect of the shop as much as we can. When it comes to books, it is difficult for us to control how they are made, but we are very happy with how all of our suppliers use eco-friendly or recycled packaging and we very rarely see a bit of plastic! In terms of coffee suppliers, we decided to work with Dear Green because of their transparency and company ethics. As well as roasting delicious coffee, Dear Green have 100% traceability, are at the forefront of eco-friendly packaging, and are involved in several social projects.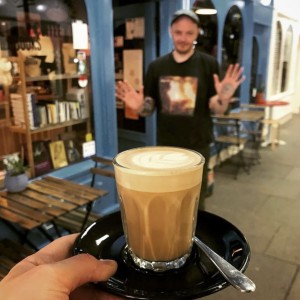 You run a lending library. How does this work? 
We do indeed! Anyone can sign up for a yearly membership for 15 pounds and can borrow books from our upstairs library. Their membership gives them a discount in our café too. Every time a new member signs up, we use the money to buy more books to grow the library; the more members we have, the more titles that are available to all!
As an independent bookshop in a market dominated by mainstream booksellers such as Waterstones, have you ever faced the possibility of closure? Why do you think independent bookshops are important?
Rubicund is only over a year old, so luckily we haven't faced the possibility of closure. We think that independent bookshops are essential for the growth of a community as they offer spaces for discussion and connection. Knowing that someone personally chose every title in the shop makes people feel extra invested in the collection and comfortable when talking to the booksellers about the books. An independent bookshop will always be more devoted to a town's community, events, and goings-on than a mainstream outlet; it is very important that these spaces are maintained and cherished.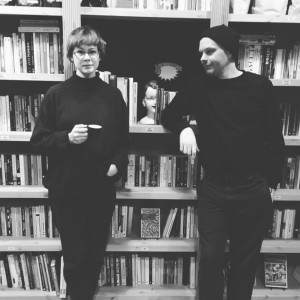 How would you summarize Rubicund and its work in 3 words?
Work in progress. 
You can find out more about Rubicund by clicking here.
Interview by Immy Higgins. 
Featured image credit: Rubicund