So, the election results are in and it's 1992 but with "Ed Sheeran and Rudimental rather than Rufige Kru". Depressing? Yup. But where do we go now? Below is an extract from kpunk's most recent post, outlining some potential strategies we can adopt in the face of the election results. Read the whole post here.  – TS
I present below a number of strategies, practices and orientations, starting from the most immediate (something groups can do right now) and moving towards the more remotes. The list is of course not exhaustive; and I can't claim credit for coming up with any of the strategies myself. The point is to share them, add to them, elaborate them.
The chief obstruction to all of these steps is what, in a trenchant and clear-eyed analysis, Ewa Jasiewicz calls "time poverty":
Our time is under attack. Work will be intensified, worse paid, and more casualised – if we don't have it, we'll be working to have it; mandatory and supervised job searches and workfare will see people forced to spend their time locked into coerced, computerised distraction. A real, diverse, working class self-representative movement needs to include people facing and living these experiences, but how will that happen when we're too tied up working?

Access to time and our own labour is key and will determine participation and the ability to organise. If we can't have our own time to organise, we can't organise, we can't meet each other, we cannot find each other. Work and the benefits regime – which is work under different conditions and profit margins – are key sites of struggle. Solidarity will need to step up if we are to win workplace disputes and strikes, refusals of workfare and support for people getting sanctioned, so that people have more control over their time and labour.

All our commons are under attack. The condition of time poverty and its roots – intensification of labour, welfare repression, criminalisation and incarceration – have to be recognised as major obstacles to movement, diversity and power. These obstacles need to be tackled if we want to overcome the ideology of wage labour as a determinant of human value on a popular level.
The problem is that, in order to struggle against time poverty, the main resource we require is time – a nasty vicious circle that capital, with its malevolent genius, now has … This problem is absolutely immanent – writing this and the other posts I have completed this week has meant that I have fallen enormously behind on my work, which is storing up stress for the next week or so.
The first thing we must do in response to all this is to put into practice what I outlined above: try not to blame ourselves. #it'snotyourfault We must try to do everything we can to politicise time poverty rather than accept blame as individuals for failing to complete our work on time. The reason we feel overwhelmed is that we are overwhelmed – it isn't an individual failing of ours; it isn't because we haven't "managed our time" properly. However, we can use the scarce resources we already have more effectively if we work together to codify practices of collective re-habituation (setting new rules for our engagement with social media and capitalist cyberspace in general for example).
Any way, here goes:
1. Talk to fellow workers about how we feel This will re-introduce care and affection into spaces where we are supposed to be competitive and isolated. It will also start to break down the difference between (paid) work and social reproduction on which capitalism depends.
2. Talk to opponents Most people who vote Tory and UKIP are not monsters, much as we might like to think they are. It's important that we understand why they voted as they did. Also, they may not have been exposed to an alternative view. Remember that people are more likely to be persuaded if defensive character armour is not triggered.
3. Create knowledge exchange labs This follows from what I argued a few days ago. Lack of knowledge about economics seems to me an especially pressing problem to address, but we could also do with more of us knowing about law, I suspect.
4. Create social spaces Create times and spaces specifically dedicated to attending to one another: not (yet more) conferences, but sessions where people can share their feelings and ideas. I would suggest restricting use of handhelds in these spaces: not everything has to be live tweeted or archived! Those with access to educational or art spaces could open these up for this purpose.
5. Use social media pro-actively, not reactively Use social media to publicise, to spread memes, and to constitute a counter-media. Social media can provide emotional support during miserable events like Thursday. But we should try to use social media as resource rather than living inside it at all times. Facebook can be useful for discussions and trying out new ideas, but attempting to debate on Twitter is absurd and makes us feel more stressed. (He says, thinking of the time when, sitting on a National Express coach, perched over his handheld, he tried to intervene in an intricate discussion about Spinoza's philosophy – all conducted in 140 characters.)
6. Generate new figures of loathing in our propaganda Again, this follows up from what I argued in the Communist Realism post. Capitalist realism was established by constituting the figure of the lazy, feckless scrounger as a populist scapegoat. We must float a new figure of the parasite: landlords milking the state through housing benefit, "entrepreneurs" exploring cheap labour, etc.
7. Engage in forms of activism aimed at logistical disruption Capital has to be seriously inconvenienced and to fear before it yields any territory or resources. It can just wait out most protests,but it will take notice when its logistical operations are threatened. We must be prepared for them cutting up very rough once we start doing this – using anti-terrorist legislation to justify practically any form of repression. They won't play fair, but it's not a game of cricket – they know it's class war, and we should never forget it either.
8. Develop Hub struggles Some struggles will be more strategically and symbolically significant than others – for instance, the Miners' Strike was a hub struggle for capitalist realism. We might not be able to identify in advance what these struggles are, but we must be ready to swarm in and intensify them when they do occur.
Summer is coming
The Lannisters won on Thursday, but their gold has already run out, and summer is coming. What we saw in the debates dominated by Nicola Sturgeon was not a mirage – it is a rising tide, an international movement, a movement of history, which has not yet reached an England sandbagged in misery and mediocrity. Comrades, I hope (ha!) for the sake of your mental health and your blood pressures that you didn't see the right wing tabloids over the weekend (tw for class hatred): middle England crowing over its "humiliation" of "Red" Ed. Well if they think Ed was Red, wait until they see the coming Red Swarm. Outer England has been sedated, but it is waking from its long slumber, carrying new weapons ….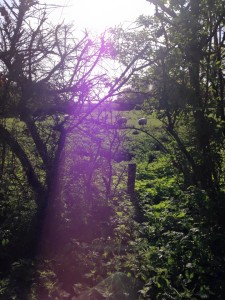 Flatford on Wednesday morning
***
Also, a request to anyone with Labour connections…
Can anyone who has any influence in the Labour Party please ensure that as many people as possible read the pamphlet Jeremy Gilbert and I wrote last year? It was specifically designed to counter the Blairite monopolisation of the rhetoric of modernisation, so it has many arguments that can be weaponised in the current struggle to stop Blairism coming back from the dead.
Mark Fisher blogs as/at kpunk. He is the author of Capitalist Realism & Ghosts of My Life (both Zer0). His next book will be published by Repeater.