We got early copies in the office of Grace Blakeley's STOLEN: How to Save the World from Financialisation, and have decided to whack it on sale before its official publication on 10 September, with free ebook!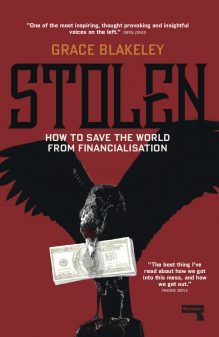 Stolen: How to Save the World from Financialisation
For decades, it has been easier to imagine the end of the world than the end of capitalism. 
In the decade leading up to the 2008 financial crisis, booming banks, rising house prices and cheap consumer goods propped up living standards in the rich world. Thirty years of rocketing debt and financial wizardry had masked the deep underlying fragility of finance-led growth, and in 2008 we were forced to pay up.
The decade since has witnessed all kinds of morbid symptoms, as all around the rich world, wages and productivity are stagnant, inequality is rising, and ecological systems are collapsing.
Stolen is a history of finance-led growth and a guide as to how we might escape it. We've sat back as financial capitalism has stolen our economies, our environment and even the future itself. Now, we have an opportunity to change course. What happens next is up to us.
Praise for Stolen:
"The best thing I've read about how we got into this mess, and how we get out." — Frankie Boyle
"One of the most inspiring, thought provoking and insightful voices on the left offers a route map out of this crisis – and this is a must read anyone who wants to change the world." — Owen Jones
"A clear, accessible and informative guide to left economics, showing how we got to this era of capitalist crisis, environmental catastrophe and insurgent socialist revival. Grace Blakeley offers radical solutions to an exploitative and unfair system." — Bhaskar Sunkara, Jacobin
"Grace Blakeley is one of the sharpest of a new generation of economic and political thinkers, with a gift for clearly and eloquently explaining how we got to the crisis point we're in, and why only radical transformation will get us out. A must-read for today's activists on both sides of the Atlantic." — Sarah Jaffe, author of Necessary Trouble: Americans in Revolt