In this fifth instalment of Repeater's short guide to radical independent bookshops, we spoke to Ross (he/him), Owner and Manager of Five Leaves Bookshop in Nottingham. 
Your bookshop is connected to the small independent Publishers Five Leaves Publications. What is your origin story?
Five Leaves started as a publisher in 1995 and continued happily for many years. However, I always wanted to return to my first love – bookselling. In 2013, I made the jump; we still publish, but on a pretty part-time basis now. The bookshop is the most important part of the business and employs several staff. 
What is your mission? Do you have a particular set of values?
You mean apart from world peace, gender equality and abolishing capitalism? In the shorter term, we want to change the world for the better one book at a time. Or at least provide a setting in which people can either just buy books for the hell of it or buy books that reflect their lives and maybe challenge them.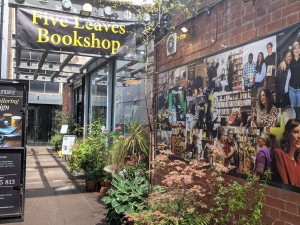 Do you specialise in specific titles or genres? How do you decide what to buy-in and sell?
All of the staff can get involved with buying books and develop their interests. We've built a good contemporary poetry section and a nature/climate change area out of staff interest. We also set up Feminist Book Fortnight (which will return after Covid), again out of staff interest. This involved sixty bookshops in Britain, Ireland and Italy. 
We're mostly paperback on the literary end. Some sections we've had since we started – LGBT, black writing/black lives, anarchism, but other areas come and go. At the moment, we are seeing a big growth in speculative fiction and mythology so we are trying to create more space for those areas.
Do you host events and, if so, what do you have coming up?
Pre-Covid we ran about 100 events a year, across the whole of the shop's interests, and a radical bookfair. We moved events online during the worst of Covid. We are now starting to look at live events again, but won't really get going on them until next spring. In November, however, we have a live poetry reading, a talk on science, and a book launch on Kinder Eggs. Yes, you did read Kinder Eggs. At our last event Paul Mason spoke about fascism, so you can see how wide-reaching we are!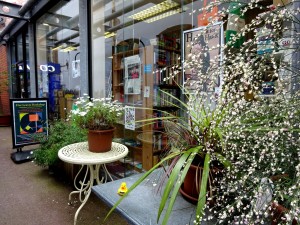 How do you develop a relationship with your local community? Do you have regular customers?
We've done many joint events with all sorts of groups, ranging from trade unions to the local Cathedral (we organised a day school on Graham Greene who converted there). Many of our customers have been coming for years but, post-lockdown, we have received a lot of new customers, primarily young women. Despite the age and cardigan-wearing attire of some of us, we appear to have become THE cool place to buy books.
Five Leaves is responsible for jointly organising a celebration of indie publishing in Leicester (called States of Independence) each year, for initiating the Bread and Roses Award for Radical Publishing, and for hosting its own mini-festival, Bread and Roses, which in 2017 included the first Nottingham Radical Bookfair. Why are events and awards such as these so important?
We set up States of Independence prior to the bookshop and moved out after ten years, leaving others to carry it on. Similarly, we were involved with Lowdham Book Festival for twenty years, and this will continue without us under the sole control of The Bookcase in Lowdham village. Our own Bread and Roses will return next year, having rested for the Covid years. We like books to be talked about and for our authors to meet their readers, but our events go way beyond the mainstream publishing publicity circuit. We like small audiences as well as big ones. It's the quality of the experience that matters, as long as we sell the odd book (although ideally more as staff have wages and our landlord his rent!) 
How would you summarize Five Leaves Bookshop and its work in 3 words?
Independent. Radical. Two will do!
You can find out more about Five Leaves Bookshop by clicking here. 
Interview by Immy Higgins. 
Featured image credit: Five Leaves Bookshop 
Five Leaves Bookshop also recommend: 
The Engineers and Contractors: Victorian innovations and construction methods for the Great Central Railway by Jeff Sheard: a local writer and the Railway Magazine gave us as the supplier. No complaints! 
Abolishing the Police ed. by Koshka Duff and Cat Sims: out of all the books we mentioned this is the one most likely to appeal to Repeater fans. This is not a book just about transforming justice, it's more challenging than that.