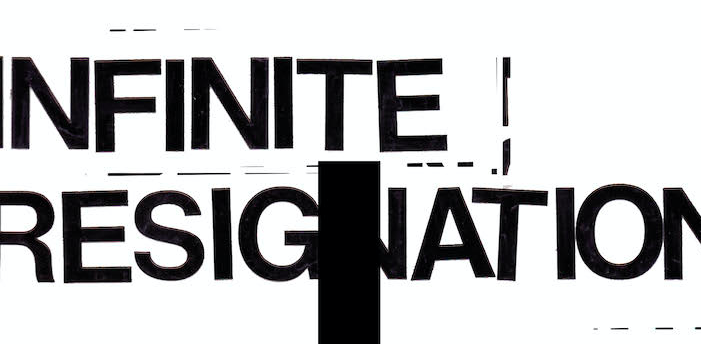 Frozen Warnings: A Playlist
Repeater asked me to create a playlist as a soundtrack for my book Infinite Resignation, published this year. To be honest, I don't have the energy to write elaborate exegeses for each bespoke selection detailing its rarified nuances and subtleties. So I simply listed music that I've been listening to recently— sometimes while writing, other times while reading, thinking, resting, waiting, having a coffee, doing nothing, keeping busy, staring at the slowly-turning day and night. If listened to straight through it should take almost exactly 24 hours.
I refrained from including Yoshi Wada's hour-long Earth Horns with Electric Drone, Morton Feldman's 6-hour String Quartet No. 2, all of Francisco López's Untitled pieces played back-to-back (or simultaneously), pop songs slowed down 4000%, or those 12-hour YouTube ASMR tracks of the starship Nostromo. Not sure what unifies it all. Music that slows and stretches out time; the faintest traces of melody submerged within somber textures; impersonally-sculpted, harrowing, subsonic environments; music with a lyrical, black gravity to it; stray sounds lethargically diving under it all into some other nebulous region; nighttime emptiness and melancholic opacity; bilious, rumbling vastness of dying stars. Doubtless I've forgotten to include many things that I'll remember later on… and then, in assembling such vain lists of "favorites" I realize that in fact all music is simply the dub version of the vast and immanent silence that surrounds and engulfs it, and this suffices.
1. King Woman, "Wrong," from the EP Doubt (2015)
2. Chihei Hatakeyama, Requiem for Black Night and Earth Spiders (2016)
3. Lustmord, Dark Matter (2017)
4. The Haxan Cloak, Excavation (2013)
5. Joy Division, "Passover" from Closer (1980)
6. Slow Walkers, Slow Walkers (2013)
7. Brian Eno, Music for Prague (1998)
8. Bach, Goldberg Variations, Variation #15, performed by Joanna MacGregor (2010)
9. Thomas Köner, Daikan (2002)
10. Eliane Radigue, Kyema, Intermediate States (1992)
11. How To Disappear Completely, Mer de Revs (2017)
12. Gregorio Allegri, Miserere (c.1630), performed by Tallis Scholars (1980)
13. Christina Vantzou, No. 4 (2018)
14. Celer, "Of My Complaisance," from An Immensity Merely to Save Life (2012)
15. Lycia, "Antarctica," from Quiet Moments (2013)
16. Dirk Serries, "Microphonics XXIII: There's a Light in Vein," from Microphonics XXI-XXV
17. Deathprod, "Dead People's Things," from Morals and Dogma (2004)
18. Grouper, Cover The Windows And The Walls (2007)
19. Nurse With Wound, from Soliloquy for Lilith (1988)
20. Keiji Haino, So, Black is Myself (1997)
21. April Larson, "The Second Throne is the Loneliest," from The Second Throne (2018)
22. Joy Division, "Autosuggestion," from Substance 1977-1980 (1988)
23. Celestino, "Rest in Alaya," from Beyond Enemy (2017)
24. Rafael Anton Irisarri, The North Bend (2010)
25. Federico Durand, "Navidad en el Bosque," from La Niña Junco (2017)
26. Bach, Goldberg Variations, Variation #21, performed by Joanna MacGregor (2010)
27. Harold Budd, As Long As I Can Hold My Breath (By Night), arr. Akira Rabelais (2004)
28. Sarah Devachi, All My Circles Run (2017)
29. William Basinski, Nocturnes (2013)
30. Saåad, "New Helicon," from Deep/Float (2017)
31. Nico, "Frozen Warnings," from The Marble Index (1968)
32. Robert Rich, Perpetual (2014)