In this fourth instalment of Repeater's short guide to radical independent bookshops, we spoke to Nik (he/him), Co-manager of Housmans Bookshop in London. 
Housman's has a fascinating history. Could you give us an overview?

Housmans opened in 1945 in the aftermath of World War Two. There was a lot of popular anti-war sentiment in the country, with our sister organisation Peace News selling up to 40,000 copies a week during this period. The shop's reason-for-being was to promote and make available literature of the peace movement, books that sought an end to war and the deeper causes of war. 

The shop's roots actually go back further than that to 1936, to an incarnation of the shop as a mail order service run by the Peace Pledge Union. So the shop is very much born of the radical pacifist tradition. Over the years, the range of books that Housmans stocks has broadened to take in a full spectrum of left-wing political positions, whether expressed in fiction, non-fiction, poetry or art, but our ethos remains grounded in the traditions of nonviolent revolution.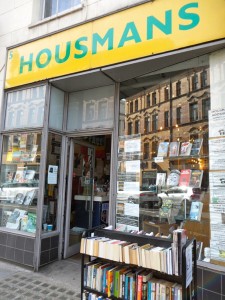 Housmans is part of a bigger building at 5 Caledonian Road which has been home to so many wonderful campaigning groups that broadly reflect the struggles of any particular time. For example, in the 1960s there was a lot of CND and Committee of 100 activism coming out of the building. In the 1970s, it became a hive of LGBT activism; the Gay Liberation Front had offices here and the London Lesbian & Gay Switchboard also operated from the shop's basement. Housmans also put up visiting miners that were striking during the 80s, and so on.

Over the decades the shop itself has certainly had its share of highs and lows, and I'm happy to say that the last decade or so has been a particularly strong period in the shop's history – a golden age perhaps. We are reaching more people than ever.
Do you specialise in any specific titles or genres?

Certainly our specialism is in radical non-fiction, although we also have a really unique stock of fiction, poetry, art and childrens' books. Our stock is primarily influenced by traditions of pacifism, anarchism, socialism, feminism, anti-racism and radical queer politics. We work hard to stock titles from small publishers and also have a really wide range of interesting magazine, periodicals and zines.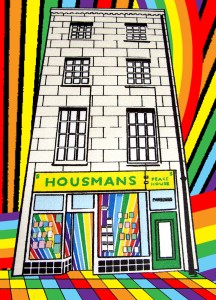 You have a fantastic bargain basement. Where do you get these second-hand books from?

About a decade ago we invited our supporters to donate unwanted books for our second-hand section and it has become a really important resource of affordable and high-quality titles. We sell all donated books as cheaply as possible; the vast majority at £1, some at £3, and rarely over £5.

We have also had some sizeable collections donated by well-known authors and activists, such as Tariq Ali, the estates of Stuart Hall, Doreen Massey, Mike Marqusee, and, most recently, Dawn Foster.
Do you run events and, if so, what do you have planned?

We have a continuous programme of events, usually one a week but sometimes more. These used to be in-store but at present are taking place online. Do check out our website for the latest listings and the Housmans Youtube channel for an archive of some recent events.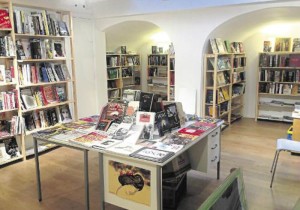 Housman's has faced serious opposition in the past – the IRA bomb in 1974 that blew up the pillar box directly outside the shop, the letter bomb 4 years later, and the libel actions brought against the shop in the 1990s – do you still face such opposition, even if on a less violent level, today?

The threat is always there, and risk levels run in parallel with the ebb and flow of the far right in the UK. Certainly, we know that we are on their collective radars. Happily, in recent years nothing worse has happened than the odd shouty man trying to be intimidating. However, we have to be ever-watchful.
How would you summarize Housman and its work in 3 words?

Books not bombs!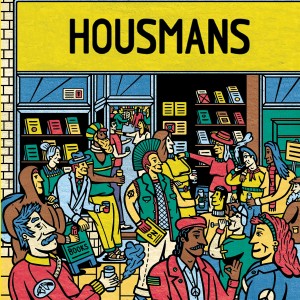 You can find out more about Housmans by clicking here. 
Interview by Immy Higgins. 
Featured image credit: Housmans