Happy International Women's Day!
With this year's theme being#BreakTheBias, we wanted to highlight a small selection of some of our favourite Repeater books by women – which you can find in our 50% off IWD 24-hour flash sale…
In her powerful debut work Lean Out, acclaimed journalist Dawn Foster unpicks how the purportedly feminist message of Sheryl Sandberg's book, Lean In, neatly exempts patriarchy, capitalism and business from any responsibility for changing the position of women in contemporary culture. It looks at the rise of a corporate "1% feminism", and at how feminism has been defanged and depoliticised at a time when women have borne the brunt of the financial crash and the gap between rich and poor is widening faster than ever.
Surveying business, media, culture and politics, Foster asks whether this "trickledown" feminism offers any material gain for women collectively, or acts as mere window-dressing PR for the corporations who caused the financial crash. She concludes that "leaning out" of the corporate model is a more effective way of securing change than leaning in.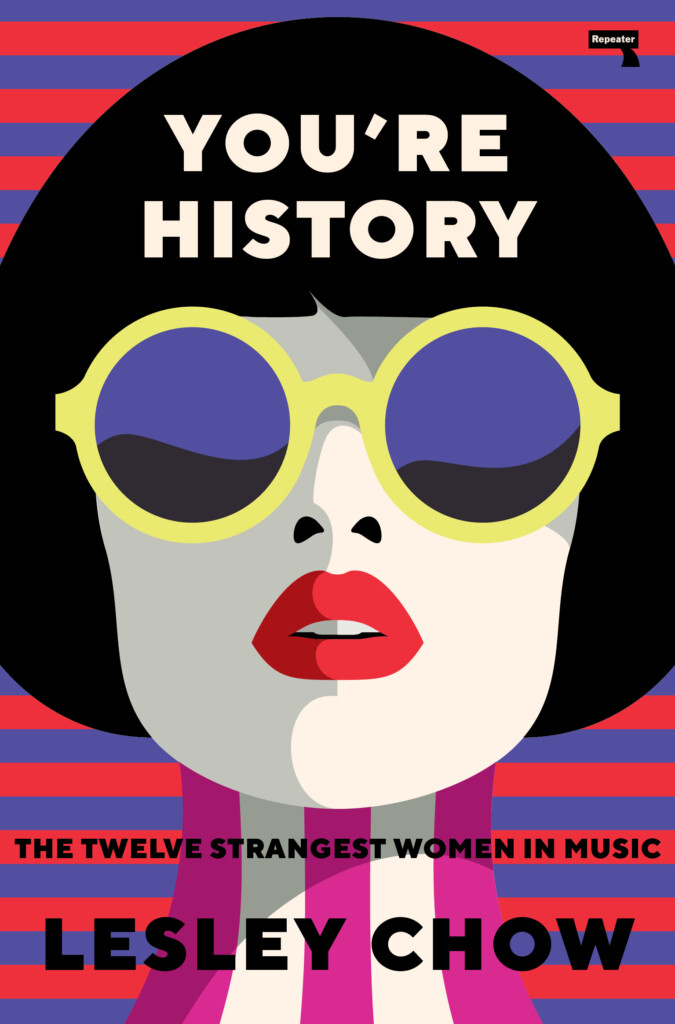 You're History: The Twelve Strangest Women in Music, by Lesley Chow
Instead of rehashing biographies, Lesley Chow dives deep into the music of pop's greatest female pioneers, identifying the ecstatic moments in their songs and finding out what makes them unique.
You're History is a love letter to pop's most singular achievements, celebrating the innovations of women who are still critically underrated. It's a ride that includes tributes to Chaka Khan, Rihanna, Neneh Cherry, Sade, Shakespears Sister, Azealia Banks, Janet Jackson, Kate Bush, Michelle Gurevich, TLC, Taylor Swift and Nicki Minaj.
Abortion remains legal in the US, but access has been slowly eroded since prohibition was ruled unconstitutional nearly fifty years ago. Simultaneously abortion remains culturally stigmatised – it is kept secret and presumed shameful. But feminist activists are working to increase access and challenge this stigma. Numerous organisations and campaigns are challenging abortion stigma using the internet and social media and intersectional feminist sensibilities.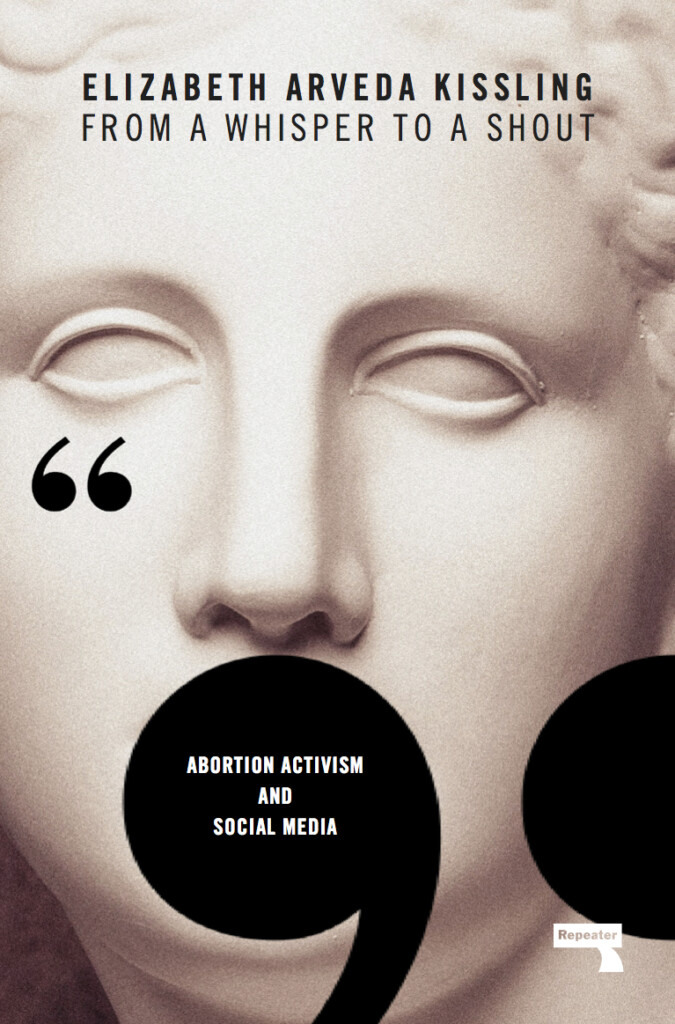 From a Whisper to a Shout: Abortion Activism and Social Media, by Elizabeth Kissling
From A Whisper to a Shout takes a closer look at four of these organisations – #ShoutYourAbortion, Lady Parts Justice, #WeTestify, and The Abortion Diary – and how they are integrating feminist tactics, social media, and political strategies to challenge abortion stigma and promote abortion access.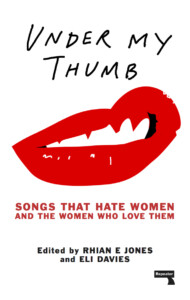 Under My Thumb: Songs that Hate Women and the Women Who Love Them, edited by Eli Davies and Rhian Jones
Under My Thumb: Songs that Hate Women and the Women Who Love Them is a study of misogyny in music through the eyes of women. It brings together stories from journalists, critics, musicians and fans about artists or songs we love (or used to love) despite their questionable or troubling gender politics, and looks at how these issues interact with race, class and sexuality. As much celebration as critique, this collection explores the joys, tensions, contradictions and complexities of women loving music – however that music may feel about them.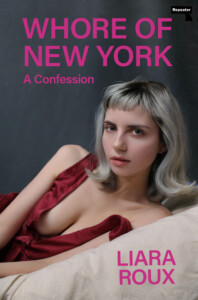 Whore of New York: A Confession, by Liara Roux
As a child, Liara's inquisitive, instinctive, and rebellious nature was frequently problematised in a world designed around the requirements of their neurotypical, cis, heterosexual male colleagues.  Coming of age in an oppressively restrictive home, they shuffled tarot and explored self-portraiture to rationalise the injustice of chronic pain, toxic lovers, and the cruel silence of divinity.
Critiquing capitalism's mechanisms of exploitation, the conservatism of Western medicine, and the politics surrounding sex work, Whore of New York: A Confession is a candid study of artistic awakening, and both spiritual and sexual growth after abuse, seen through the eyes of a proud outsider.
Justify My Love: Sex, Subversion, and Music Video, by Ryann Donnelly
Through an autobiographical reckoning with the author's life in a band and collaboration with past lovers, and a close analysis of the erotic iconography of music videos, Justify My Love tells the subversive history of this medium, from the inception of MTV in 1981 through to the 2010s.
Covering everything from Lady Gaga and Beyonce to Nine Inch Nails and George Michael, Justify My Love shows how subversion became mainstream, and how marginalised voices shaped some of the biggest music videos of the last thirty years.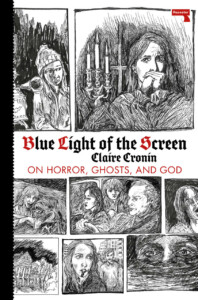 Blue Light of the Screen: On Horror, Ghosts and God, by Claire Cronin
A creative-critical memoir of the author's obsession with the horror genre, Blue Light of the Screen embeds its criticism of horror within a larger personal story of growing up in a devoutly Catholic family, overcoming suicidal depression, uncovering intergenerational trauma, and encountering real and imagined ghosts.
As Cronin writes, she positions herself as a protagonist who is haunted by what she watches and reads, like an antiquarian in an M.R. James ghost story whose sense of reality unravels through her study of arcane texts and cursed archives. In this way, Blue Light of the Screen tells the story of the author's conversion from skepticism to faith in the supernatural. Part memoir, part ghost story, and part critical theory, Blue Light of the Screen is not just a book about horror, but a work of horror itself.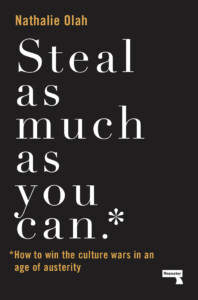 Steal as Much as You Can: How to Win the Culture Wars in an Age of Austerity by Nathalie Olah
Tory austerity has created suffering for millions, as well a generation beset with financial insecurity and crisis. Yet our TV, film, music, art and literature have never looked so rich, or so posh. During a period of immense struggle, the experiences of the majority have been pushed to the margins of our collective culture by the legacy media and its satellite industries – making it hard, if not impossible, to challenge those in power.
Steal as Much as You Can is the story of how this happened, exploring the rise of affluence in mainstream storytelling, and the corrosive effects of neoliberal and postmodern culture. By rejecting the established routines of achieving prosperity – and encouraging us to steal what we can from the establishment routes along the way – it offers hope to a bright and brilliant generation whose potential has suffered under these circumstances. A generation who, through no fault of its own, has become increasingly frustrated by our increasingly unequal society.