In this ninth instalment of Repeater's short guide to radical independent bookshops, we spoke to Alex (he/him), Owner of La Biblioteka in Sheffield. 
What is your origin story? How did you come to be at your current location in Sheffield?
I moved from London to do a MA at Sheffield and there was nowhere to get the magazines that I was after, whether a niche architecture or design title or even Love or Dazed magazine. I was going down to London to see friends and coming back with bags of magazines. I decided to order 2 or 3 and sell 1 or 2 and make my money back; that's how La Biblioteka started. 
As soon as we made the decision, we got some magazines in and within a week we were at a design market, selling all the magazines that first day. We began doing markets and moved into pop-ups. After we received a tiny grant to kick something off, we found a place to open a bookshop; we thought that it would last 6 weeks and we were there 3 years. We opened in May 2016 with a partner, also a beneficiary of the grant scheme, and started selling books, primarily focused on design, fairly shortly after opening. Our partner left at the end of that year and we took on the books ourselves.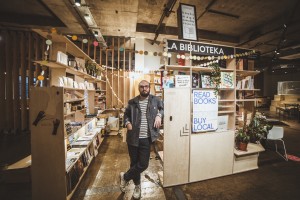 We then moved to our current venue that is on the edge of the city centre, traditionally a market area but long-ago demolished. It is a mixed-use office space and we are in the food hall, alongside a café, food traders, and a beer shop. The location benefits us because it's certainly a destination place. It's broadened our audience and, in a way, it's also broadened our offering in terms of the fact that we have become a bit more general in what we sell. 
However, it is still a down-on-its luck, outer-inner city centre. The area is seen as the flashpoint for regeneration but it's not coming yet! Without going into the internal politics of how it's run, let's just say that it's been interesting being here.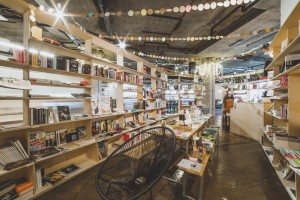 What is the mission of La Biblioteka? Do you have a particular set of values?
I was working and teaching at Sheffield university in the architecture department and we started the bookshop because we were looking at how to make the city-centre better, in whatever small intervention we were capable of. I got really fed up with a lot of ivory tower nonsense and, with just a grand in my pocket, I wanted to do something to actually benefit the local environment. I thought that there was no better way than with a small bookshop. Throughout history, they have been a point of connection between different communities and a site for the dissemination of knowledge, information and inspiration. These are lofty goals but that was the mission. We formed quite quickly, starting with only 30 books on the shelf and then growing whenever we had available money. 
Selling books is no mean feat, and it's tough both making and selling them, but I want to think about how I can, through the medium of books, do something positive for the city-centre.
During the pandemic, I had a lot of time to think about what we are doing. I'm not quite sure what the next year will bring, but I want to re-focus on our original mission. We are kind of cruising. Selling books is no mean feat, and it's tough both making and selling them, but I want to think about how I can, through the medium of books, do something positive for the city-centre.
Recently, John Lewis, the main shop in town, closed. This was very depressing for the city as a whole because the shop was part of the city's psyche and for it to go was a big thing. There is now a lot of conjecture about what that building might be and whether to create a public space. About 3 years ago, the council bought the building and leased it back to John Lewis, but the pandemic sharpened the company's thinking about consolidation. Now, the council owns a really large 60s building right in the city-centre.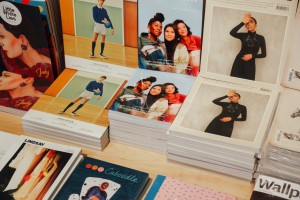 Do you specialise in specific titles or genres? How do you decide what to buy-in and sell?
I like to say that we only stock good books and try not to offer expected titles just for the sake of selling well; we are probably similar to a lot of independents in that regard. Maybe I should be more savvy and buy more David Walliams, but even in the slow days I still remind myself that I only want to stock books that I highly value. There is a level of quality-control and, as with most independents, this is a reflection on the bookseller and owner. The books that we stock are what I'd like to read if I had time, and this can be very varied, across both fiction and non-fiction.
You stock a wide range of magazines. Are these popular with your customers? 
Without looking at numbers and reports, I would say that magazines have certainly gone down as a proportion of what we sell. In general, and this is perhaps a reflection on moving to this space, we have lost some of our kiosky, quick-magazine vibe. In part however, magazines have also changed. They've crept up in price and production values, which is a good thing, but, thinking as a consumer, there might be a judgement when thinking about buying a book at 15 pounds or a magazine at 15 pounds. 
There is still an appreciation of magazines and, as a format, there is a lot to be said for it.
We are just up the road from the arts school so quite a lot of students visit during the week. There is still an appreciation of magazines and, as a format, there is a lot to be said for it. They are a truer reflection on the times than books. They are, at most, annual or bi-annual, but they can reflect important changes in design, language, and themes. Often you will find a few magazines touching on the same theme of the zeitgeist, but framed through different lenses of, for example, food or travel. 
Magazines have more opportunity to capture the times that we live in. For example, The Face magazine reflects the 80s and Dazed the 90s; magazines are almost more able to be associated with a time than books.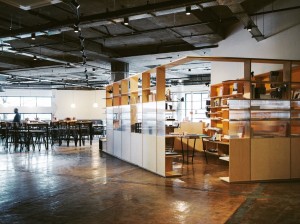 Do you host events and, if so, what do you have lined up?
We do, but it's been a bit slow to get started after the pandemic. We did an event with The 20th century society last week for the Festival of Britain. We also did a poetry event outside in a courtyard a couple of months ago. Previously, we did events with Julian Hoffman on his book Irreplaceable and with Johny Pitts – a Sheffielder himself – who had a soft-launch here at the Caribbean cultural centre. 
One of our last events before lockdown was with Japan Now North. You can see that we host a huge mix of events; everything from a workshop for map-drawing of the Peak District to a flower-arranging workshop to launch an insta-famous flower shop in the city. 
Ideally, we are hoping to do more events in the future. Amelia Horgan, author of Lost in Work, is pencilled in for November. We will be doing it with one of the small local unions here, hosting a talk and a Q & A.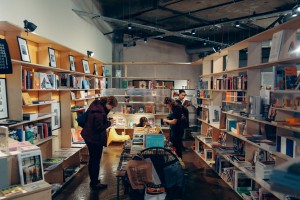 Why do you think independent bookshops like La Biblioteka are so important?
Independent bookshops encourage a plurality of ideas and offer exposure for smaller publishers and smaller writers who are probably stocked at bigger chains but don't get much promotion. We like to have a lot of things out on tables and facing out on shelves. We change shelving a lot to have curated picks and this can be selected as timely, such as the Japanese fiction display that we held throughout the Olympics. 
You can pay to get some shelf-time on Waterstones and you can't here, but people appreciate that slightly different look because we have a smaller space. If a book has come into the shop, people know it's worth reading because we don't have a lot of space. 
If a book has come into the shop, people know it's worth reading because we don't have a lot of space. 
We have customers who are here for food and weekend browsing. Then we have those who come on every Sunday to see what's new that week. We also have people who we religiously see on November 1st and they'll finish all of their Christmas shopping in one go; then we will probably see them again the following year!
People who came the first week we opened 5 to 6 years ago are still coming back which is great, and some have even worked for us. We've built strong relationships with our customers.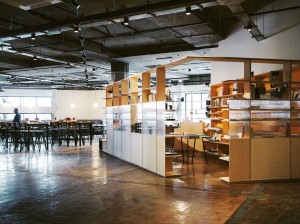 How would you summarize La Biblioteka and its work in 3 words?
Small, open and inclusive.
You can find out more about La Biblioteka by clicking here. 
Interview by Immy Higgins. 
Featured image credit: La Biblioteka