It's been a wild year, but you know that already. To mark the end of 2020, Team Repeater would like to offer you the gift of book recommendations; from Norwegian satire, to Mexican witchcraft, to Posadism, UFOs and Apocalypse Communism; there's a little bit of something for everyone here..
All of our lists are available to browse and purchase on our Bookshop.org site – available here.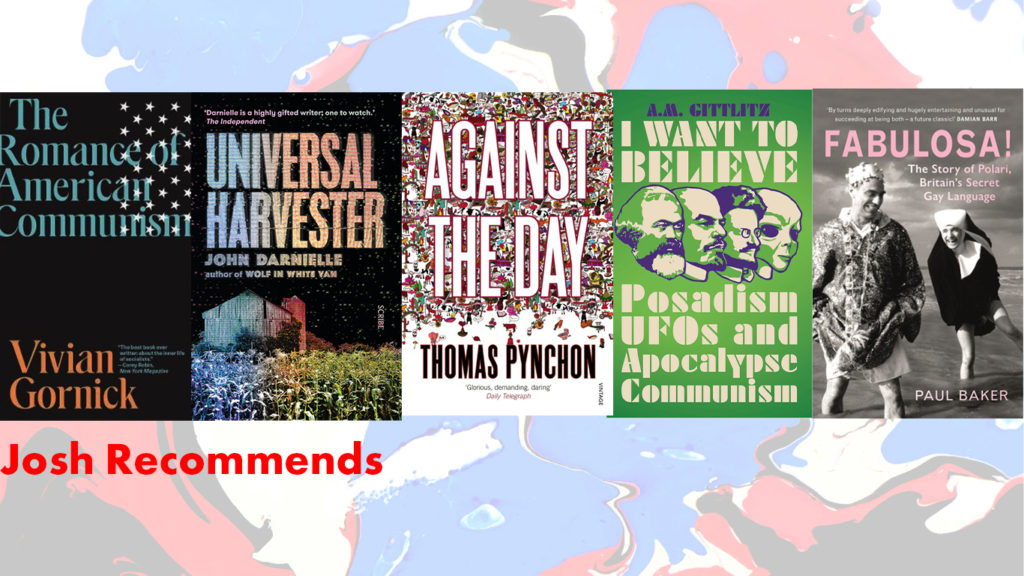 Josh
I Want to Believe: Posadism, UFOs and Apocalypse Communism by A.M. Gittlitz (Pluto)
Yes, there's the memes, the UFOs, the communicating with dolphins, and the advocating for nuclear apocalypse, but this book is also a really interesting and intricate history of South American Trotskyism, with J. Posadas as its centre.
Fabulosa!: The Story of Polari, Britain's Secret Gay Language by Paul Baker (Reaktion)
A fascinating and touching linguistic radical history about how language can be used to resist oppression and foster solidarity.
Universal Harvester by John Darnielle (Scribe)
This gripping postmodern thriller set amongst the video rental stores and farmlands of rural Iowa shows Darnielle continuing his appreciation of the lost and the ordinary from his songs with the Mountain Goats into his fiction. 
The Romance of American Communism by Vivian Gornick (Verso)
A wonderful book that grapples with the lived experience of "being a communist" like no other I've read.
Against the Day by Thomas Pynchon (Vintage)
After years of repeated false starts and broken promises to myself, I finally read the whole thing this year. A mammoth novel that travels across space and time to tell a sort-of historical story with hundreds of characters and multiple plot lines, including striking workers, cowboys, a boy scout troop travelling the world by blimp, magicians, secret societies and conspiracy theorists, etc., etc., etc., etc…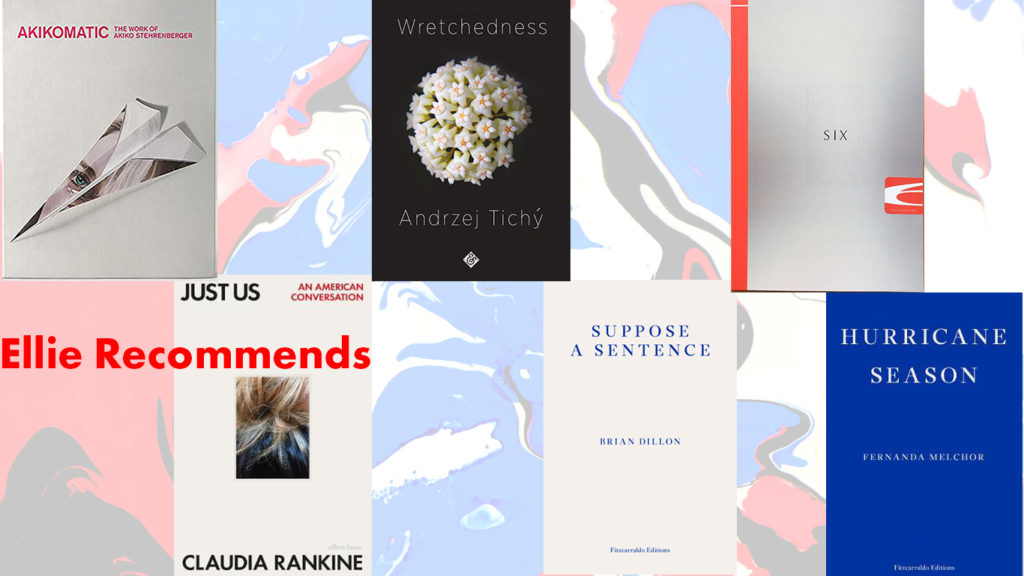 Ellie
Wretchedness, Andrzej Tichy transl. Nichola Smalley (And Other Stories)
A book so good I wrote 25% of my dissertation about it. This is a displaced and disorienting patchwork of polyphonic narratives, masterfully translated from the Swedish. 
Just Us: An American Conversation, Claudia Rankine (Allen Lane)
An important medley of cultural artefacts which collectively, experimentally explore Blackness and the implications of blonde hair in contemporary America. Urgently and ingeniously composed.
Suppose a Sentence, Brian Dillon (Fitzcarraldo Press)
Written in any other style by anyone other than Brian Dillon, this book's pitch – a chronological ode to the author's favourite sentences – would likely fail to pique my interest. Just totally, joyfully brilliant.
Hurricane Season, Fernanda Melchor (Fitzcarraldo Press)
I read this book cover-to-cover on a wooden palate in my garden on a very hot day, which, in retrospect, was conducive to the process and atmosphere of reading. An intense read, best consumed hastily whilst hungrily eyeing up your neighbour's barbeque. 
Six Poets (Toothgrinder Press)
This anthology was given to me in a brown paper envelope over a distantly-shared bottle of wine outside the Cutty Sark. Dicing up the blank page with eruptions of mysteriously fonted language, I return to this collection when I want to feel better. 
Akikomatic: The Work of Akiko Stehrenberger (Hat & Beard)
I rarely buy Art books, but Akiko Stehrenberger's riotous fever dream of psychedelic cinematic watercolours is my favourite exception. If I could figure out a way to display each and every image in this book, I totally would. A great Christmas gift for film lovers.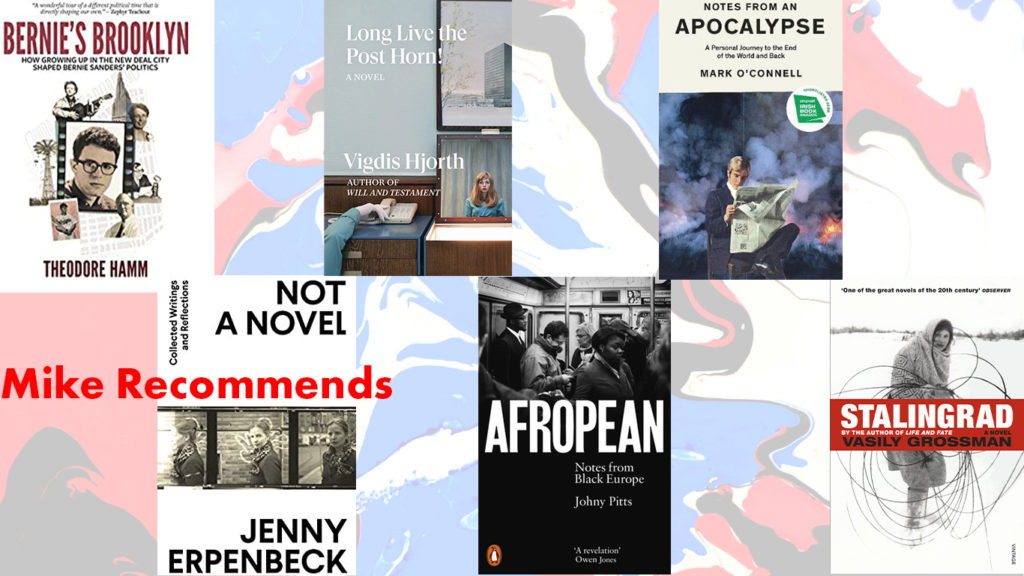 Mike
Afropean: Notes from Black Europe, Johny Pitts (Allen Lane)
This account of an interrail trip navigates the complex histories of race and class in Europe, attentively exploring the ambiguities of identity and experience. It's also a fascinating journey through the streets of Europe with a very likeable companion.
Stalingrad, Vasily Grossman (Vintage)
I finally returned to and finished Grossman's Stalingrad, translated and published in English for the first time last year. As with his most famous novel Life and Fate, its sensitive, humanistic treatment of a range of characters caught up in war is done incredibly movingly. Even at 1088 pages, I didn't want it to end!
Long Live the Post Horn!, Vigdis Hjorth (Verso)
One woman's journey of self-discovery and her mission to save the Norwegian postal service? Long Live the Post Horn! is really a lot more than that, and I was enthralled by this jaunty, delightful book about fighting the privatisation of the post.
Bernie's Brooklyn: How Growing Up in the New Deal City Shaped Bernie Sanders' Politics, Theodore Hamm (OR Books)
As well as a lively history of New York municipal politics and socialism in the New Deal era, this small book explores the lives of an ensemble cast of figures, from Arthur Miller to Eleanor Roosevelt to Woody Guthrie, and speculates on the impact of postwar Jewish Brooklyn on the future Vermont senator.
Not a Novel, Jenny Erpenbeck (Granta)
I love Jenny Erpenbeck's novels so I was overjoyed to finally get to read her essays this year. I'm halfway through at the moment.
Notes from an Apocalypse: A Personal Journey to the End of the World and Back, Mark O'Connell (Granta)
Mark O'Connell's investigation into those making advance preparations for societal and ecological collapse was the book to read in the indefinite lockdown. As well as an engrossing tour through missile silo bunkers, compounds and exclusive camping retreats, Notes is a sharp study of the wealthy individuals keen to put their survival ahead of the rest of us, and a moving reflection on the allure of pessimism and the value of hope.