In this twelfth instalment of Repeater's short guide to radical independent bookshops, we spoke to Ana (she/her), Bookseller at The Calder Bookshop and Theatre in London. 
You are named after writer and publisher John Calder. What is your origin story? 
This was John Calder's publishing firm before it was our bookshop and theatre. He was a big person in the 20th century when it came to publishing key luminaries, such as Samuel Beckett. He also had his own theatre troupe as well, so the legacy is double; we've carried on the book tradition and we've established our theatre in the back of the shop which we try our best to nurture all the time. There's people rehearsing in it right now because we rent it out! The shop has been established since 2011 so Calder was around for the transition period as far as I understand it, passing away just before I joined. 
What is the mission of The Calder Bookshop and Theatre? Do you have a particular set of values? 
We like to put on plays and to enrich the creative atmosphere in the area, which is already quite high. It matters a lot to us that we provide a budget space for young companies to try and get off the ground. We want to spread good ideas, promote things that we care about, and be an accessible space for people. We do have regular groups that use the theatre space and we also get new regulars all the time. It's lovely to get to know everybody. The theatre is the entire back of the shop but it's almost incognito so you wouldn't really know it was there if you weren't already aware. We have our name on the window, but it's high up and feels like a secret.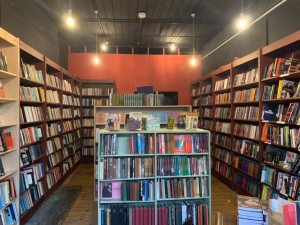 Do you specialise in specific titles or genres? How do you decide what to buy-in and sell? 
I manage all the new orders, communicating with people who come in to sell or donate their secondhand stock. There has been a running list of things that we keep in stock, including particular theatre favourites. We sell new theatre plays and new theatre studies, and there's a list of authors that we continually have in stock, like Paulo Freire, and we've got a million copies of Peter Brook's The Empty Space for the beginning actor.
We have a big range of secondhand plays too and we're really, really proud of how we've built up that stock over the last couple of years; it's like half the shop now. We have a smaller section that contains books on theatre studies and guides for a variety of theatrical people, including the director, the actor, someone who is interested in voice, or someone who is interested in movement. We also stock books on social history, politics and philosophy. I'm always on the lookout for things that I think are interesting or topics that I'd want to engage with that are not necessarily linked to theatre. 
You put on theatre productions and film screenings in your theatre. How has this been affected by the pandemic? Are you starting back up again? 
We completely stopped everything during the pandemic. Some theatres tried to continue, broadcasting things like one man shows, but I didn't really feel that this was in the spirit of how we do things. We've been starting to get back up now. Obviously we're renting out the space again, which has been amazing because it feels like life is back! It's always strange to be in the shop without the sounds of people doing their arts in here. Outside we have people sitting at tables which weren't there before the pandemic so that's kind of been a boon. 
It's always strange to be in the shop without the sounds of people doing their arts in here.
It's been slow to re-start film screenings and we've only had two official ones but they've gone really well. Our next one is on October 27th. My co-worker is also putting on a talk and we're hoping to keep reviving these. They are often responses to current events, so have a slightly political nature, and this weekend it relates to culture and politics again because it's about the surprisingly political nature of Asterix and Obelix. We're also in the process of trying to put on a new play too. We've always produced our own stuff, but this one will hopefully be an original play, and we're aiming to put it on by the beginning of the spring.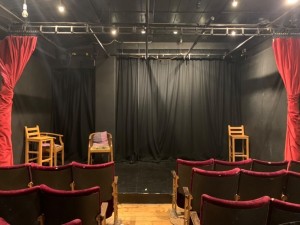 Do you host other events and, if so, what do you have lined up? 
We do host them but for people who want to promote their book on their own initiative. We're always happy to be a venue for people coming forward with their new project, even if, because of our very specialist nature, we wouldn't stock the book. We've never really hosted something with an author who is working specifically with us, but that would be nice. 
Typically, pre-pandemic, we screened film series that have to do with the run of a particular director or film or are from a certain region of the world, and we intend to continue this in the future. These screenings are typically successful and popular. Right now, we are screening one or two every month because I think it's good to take it slow. We are choosing films that we hope will lift an audience a little bit out of their perception of the world; films that are often vaguely fantastical or contain a sort of twist that makes you reflect on how our society ticks. Last week we screened the full cut of Metropolis and the week before that we screened Russian Ark. 
Why do you think independent bookshops like The Calder Bookshop and Theatre are so important? 
It's complicated and simple. I worked for one of the long arms of the Waterstones octopus and it was not an unpleasant experience but the company is completely its own creature. Over the last three years, I've watched three independent bookshops in the area close their doors and now we're the last in the neighbourhood. 
How we intersect with a customer's day is sort of a product of magic.
I'm not sad or happy about the state of things because people in the end have access to books, but I think that the loss of the space of independent bookshops is perhaps the more difficult reckoning. People will happen upon us, and they have entirely their own interaction with what we represent. How we intersect with a customer's day is sort of a product of magic; they'll tell us about where they've been in the day, what they've been up to and what's going on in their lives. How we exist for them is unique to everyone and I think that's really special. I really enjoy it when people come to us and they say that they've been living on the street for 15 years and didn't realise we were here because it's almost like they've found a special pocket of the woods that they haven't yet explored. 
People from neighbouring businesses will walk over to browse and have a chat. Because we're in Waterloo, and it's an area that's getting developed very quickly, we also get little clumps of tourists descending. It's nice to be a point of contact for them because it's at once a very touristy but  very unusual area to find yourself in as a tourist. There are the theatre crowds that visit of course, especially because the Young Vic is right across the street, and we have some really interesting interactions with them which is why we stay open so late. Our social media manager is very good at starting conversations and she's been talking to the Young Vic, potentially about a collaboration with the café which is a sweet idea. We're open to anything! We're here for the community so of course we'd love to work together.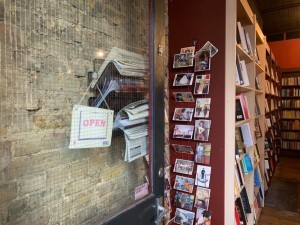 How would you summarize The Calder Bookshop and Theatre and its work in 3 words? 
Dreams for reality! We have the theatre and we have the bookshop that we try to fill with ideas about politics and philosophy as well as theatre, and it's never not been fascinating to me that the relentless dreaming, wishing and hoping of Londoners, our team and our visitors does make the cogs tick differently and change how we live.
You can find out more about The Calder Bookshop and Theatre by clicking here. 
Interview by Immy Higgins. 
Featured image credit: The Calder Bookshop