In this tenth instalment of Repeater's short guide to radical independent bookshops, we spoke to Lali (they/them), Owner of Portal Bookshop in York.
What is your origin story?

I've always loved books, and after working in a couple of bookshops which were quite restrictive about what they bought in and promoted, I realised that there was a need for a little more variety! I loved visiting Gay's The Word in London and Category Is Books in Glasgow, and decided to provide something similar in York. Portal opened five months before the first Covid lockdown, but the local and online communities were so supportive that I managed to come through and reopen better than ever earlier this year.
What is the mission of The Portal Bookshop? Do you have a particular set of values?
I champion overlooked and diverse books and authors, and show people the vast array of LGBT+ representation out there now. It can be hard to find yourself in media if you're anything other than white, straight and cisgender, and not seeing anyone like you can make you feel alone or like there's something wrong with you. I grew up under Section 28, where even acknowledging the existence of gay people wasn't allowed, and I never want anyone else to go through that! I stock non-fiction that helps people (in the community or not) understand queer existence and history, and I give away a lot of important books when getting the information out is more important than a profit (anyone who needs a Trans Teen Survival Guide, just message me!) Things are better than they were, but we have a long way to go, so I'm promoting queer books and doing everything I can to support people.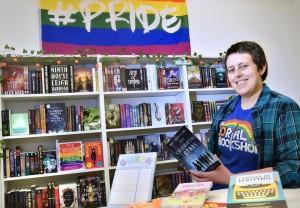 Is there a meaning/inspiration behind your name?
People always talk about books being portals to other worlds! The shop is an escape in itself, like stepping into a very rainbow alternate dimension – and I love portal fantasy, so that's always been the dream!
Do you specialise in specific titles or genres? How do you decide what to buy-in and sell?
People recommend books to me all the time, which is helpful! I do as much research as I can find time for, and I try to make sure that the books I stock are good and honest representation, and not funding anyone actively working against the community. I won't buy books by people who promote hate and exclusion.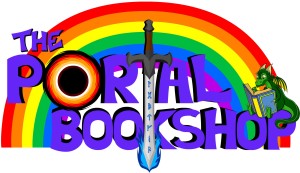 How do you develop a relationship with the local community in York? Do you have regular customers?
I love my regulars! I have a wall of thank you cards and well wishes (someone even gave me a plant!) which keeps me going when I'm exhausted, and chats with familiar faces always help. Plus, my favourite thing is recommending books to people, so getting to know what someone likes is immense fun. I love being able to provide someone with the perfect book. And they all bring their friends!
Word of mouth has been incredible, with existing writing groups and book clubs turning out to support me, and the university LGBT+ societies and local queer groups and charities all promote and work with me. It's been amazing. I'm still a one-person operation, so the admin of arranging all the collaborations can be overwhelming, but so many people want to help, so I'm getting there! I put up posters for upcoming local events, and try and get to things myself to support them. It's not always easy to do so much socialising (I'm autistic) but it's always worth it.
Why do you think independent bookshops like The Portal Bookshop are important?
Indies are much more free to promote less mainstream authors (which makes it possible for more authors and ideas to survive in the publishing ecosystem), and to cater to each customer as individuals. Chains can do it to some extent, if they've got booksellers who are passionate and know their stuff, but they're also tied up with sales targets for specific books. Indies don't have to answer to head office! We can connect with the local community in a more personal way, and we can focus on a niche that chains don't value.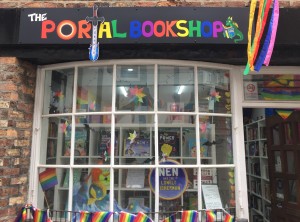 How would you summarize The Portal Bookshop and your work in 3 words?
Queer, nerdy and kind!
You can find out more about The Portal Bookshop by clicking here. 
Interview by Immy Higgins. 
Featured image credit: The Portal Bookshop