Part 1
Philippa Snow's Which as You Know Means Violence: On Self-Injury as Art and Entertainment (Repeater Books, 2022) opens with the titular line Hunter S. Thompson left on Jackass creator Johnny Knoxville's answering machine regarding a visit to Baton Rouge: "I might be coming to Baton Rouge… and if I do I will call you, because I will be looking to have some fun, which as you know usually means violence." Snow takes up this line and comments that fun, for most people, does not mean violence. She then explores self-injury in art and entertainment (the limits between these categories are, of course, synthetic and cultivated by a number of presuppositions and attitudes– not least snobbery).
A juxtaposition posed early on is Chris Burden's 1971 'Shoot' with the oeuvre of the Jackass collective. Burden called the act "a sort of American tradition of getting shot." Snow asks if Jackass was a 'kind of commentary on the directionless, uninsured and broke American slacker's own tradition of, metaphorically speaking, getting kicked extremely forcefully in the balls'. This line feels a little trying for the interlude of 'metaphorically speaking'. And perhaps, by posing this question, one may be mistaken in reading it as rehearsing certain attitudes towards popular entertainment and art: that the former's cultural significance, criticality, and status as cultural commentary warrants argument—needs the charity of a case to be made—whereas White Cube performance art's significance on these levels is taken as a given, something it is entitled to. This is not too far from the truth; it is important that popular culture such as television is given the same serious consideration as art. This is precisely the poise of Which as You Know Means Violence: On Self-Injury as Art and Entertainment.
This difference in regard to—linear—high and low culture is not a demarcation Snow supports in any way. Her strafes between performance art and popular TV richly contribute to a dialogue that dissolves snobbish presuppositions around the cultural significance of popular entertainment. It is one of the book's strengths, and the moves Snow makes throughout are both engaging and thought provoking. Another strength is that Snow's questions simmer away for some time after the book is put aside; certain lines are very sticky and many of the contrasts she poses are haunting, they have an afterlife.
Nonetheless, in dealing with popular culture there are some isolated moments of overreach (such as the 'tradition of, metaphorically speaking, getting kicked extremely forcefully in the balls') that do feel a little too charitable or ambitious.
Snow's opening gambit of framing Jackass as commentary isn't wholly persuasive and leaves questions hovering over the pivots of argument. Is being metaphorically kicked in the balls—or being downtrodden—the immediate trait of Slacker culture? Or is this seam of culture better distilled as heroic anti-materialism and freedom of the individual(s) that refuses to kowtow to a culture pathologically inclined to reward work and strife with moral, ethical and social capital? Secondly, wasn't Knoxville frequently kicked in the balls? The literalism of equivalence doesn't mean it cannot be a commentary (in this case a commentary on a culture of being exploited and downtrodden), but it does make the insight at this juncture feel a touch glib, or flat.
Perhaps a comparison Snow could have offered is the counterposing of Santiago Sierra's 'Línea de 160 cm tatuada sobre 4 personas' with Bumfights. 'Línea de 160 cm tatuada sobre 4 personas' is a performance piece. Sierra is documented as tattooing a 160cm line across the backs of 4 female sex workers. The women were paid to be part of this performance. This was not the only ink–for–pay piece Sierra produced that situated art and the body at the crux of economic inequality. Sierra said: 'The tattoo is not the problem. The problem is the existence of social conditions that allow me to make this work.'
Bumfights was a video series featuring the homeless of west coast America performing stunts for meagre pay and frequently fighting one another. The most notorious of performers was Rufus Hannah, an alcoholic veteran. Hannah was filmed running head–first into stacks of milk crates, riding shopping trolleys down a flight of stairs, ramming his head into steel doors (with such force he suffered a seizure), and beating Donald Brennan (also homeless) to such a degree the latter's leg was broken in two places. In a life–imitates–art–imitates–life Möbius loop both Hannah and Brennan had 'BUM FIGHT' tattooed on their bodies as part of the 'show', Hannah on his knuckles and Brennan on his forehead.
The glaring difference is that the Bumfights creators did not make a statement concerning the obvious inequalities the sordid production exploited. Although the matter of commentary, the ontological status of being 'a commentary', does not need to be formally declared or claimed (there is a greater message beyond the text), it does need to be apparent either by virtue of context or presentation or some diegetic symbolism, allusion, signifier or reference. If one struggles to find evidence of some effort towards commentary, at least some minimal aesthetic gesture or reference in the glyphs of language, beyond metaphorical equivalence, well, it probably is not commentary but rather declared as commentary by third party retrospective analysis. This isn't to say a historiographical revision isn't appropriate or erudite or urgent, but it is a difference between declaring something was and still is and is now seen as. This isn't crystalline in Snow's text, and it doesn't have to be.
Snow takes a more exploratory approach that gives the reader ample context and space to consider the question of commentary. It is in offering rich contextualisation where her writing is most engaging.
Early in the text Johnny Knoxville's persona (his real name is P.J. Clapp) is framed as being heavily informed by the writings of Thompson – a 'scruffy metaphor: a walking, talking, self-abasing national id.' Knoxville mailed his early effort of self-destructive shenanigans—'a prototype for (…) early Jackass' in cult skate magazine Big Brother—to Thompson, received a phone call in return, and the pair met later. Snow quotes Thompson's question about what one should say about
a generation that has been taught that rain is poison and sex is death? If making love might be fatal and if a cool breeze on a summer afternoon can turn a crystal blue lake into a puddle of black poison right in front of your eyes, there is not much left except TV and relentless masturbation. It's a strange world. Some people get rich, others eat shit and die.
Knoxville is of this generation. Snow's take is that the Jackass collective achieved the former by means of the latter, all watched by 2.4 million viewers on MTV. Snow then takes a turn to reference J.M Barrie's Peter Pan, of course the perma–puerile teen tenor of Jackass smacks of suburban neoteny. Jackass was juvenile. Snow writes: 'Notionally and geographically, it exists halfway between Venice Beach and Never-Never Land, making its bloodied knees and noses feel like natural by-products of its arrested, unpoliced development.'
It is here where thinking of Jackass as commentary folds into regarding the show as more of a register, a symptom of trauma. It is also around here where Snow provides Knoxville's account in GQ magazine in 2005 of his father's antics, antics germinal to his later endeavours.
"I'd be passed out, and [my father]'d take a hot dog and put it in the microwave for 20 seconds to get it lukewarm, then run it through my mouth. When I woke up, he would act like he was zipping up his pants." Big Phil Clapp, a used car salesman and an inveterate prankster, is a mythic figure in retellings of the early life of Johnny Knoxville: a doting–family–man–cum–emotional–terrorist whose love language was hazing, he encouraged his delicate, sickly son (…) to punch strangers in the groin as soon as he grew tall enough to land a blow. Clapp's unconventional parenting style clearly imprinted on the boy, convincing him that pranks and stunts could be a bonding exercise, a reinforcement of love between two men.
This passage immediately recalls the paternal parenting style of the late owner of Never-Never Land Margo Jefferson detailed in On Michael Jackson: 'There's a freaky Till Eulenspiegel quality to some of the abuse. He put on ghoulish masks and scar[r]ed his children awake, tapping on their bedroom window, pretending to break in and standing over their beds, waiting for them to wake up screaming.'
The disturbed sleep pranks of the father might be one consistency across Knoxville and Jackson, but it is the afterlife of these pranks that is most curious. Both Knoxville and Jackson continued the pranking in their adult lives. Recall the destiny of sons marked out in the final scene of Kubrick's The Shining. Danny's escape from the maze of his father's rage is to literally walk in his footsteps… like father, like son. Knoxville is at once suspended in adolescent cryostasis and the afterlife of his father, the puerile jokes and antics of Jackass not only return to boyhood but re-enact the act of the father. The figure of Till Eulenspiegel resonates with the shenanigans of Jackass on another level. Till Eulenspiegel's pranks were distinctly scatological in nature, often tricking others into smelling or touching his faeces. The glee of a duped other's revulsion at bodily waste was another puerile caper frequented by the Jackass crew.
But perhaps the more obvious shared theme between Jackson and Knoxville is self-destruction. Knoxville is a suburban skater turned homo-erotic perma-teen frat-boy self-abuser and Jackson was a damaged funk soul child prodigy turned damaged funk soul child prodigy in a man's body. Self destruction is the theme writ large in both figures… David Stubbs observation in "The "King" is dead; long live everything else" in the The Resistible Demise of Michael Jackson (edited by Mark Fisher), that Jackson's work was ridden with an inordinate degree of imploding rage, is perhaps the most profound summary of the blurs between Jackson's work, persona, and pathology as a solo artist. The jabbering staccato scatting, the gnashing barks and yelps of his vocal idiosyncrasy are infused with imploding rage… As a child star Jackson was funky, afterward he was trapped in a funk – imploding rage. Viewing Knoxville and company's physical self–abuse or being willingly abused by one another, it is hard to shake Snow's reading of the show as deeply connected to his early years with his father. This is one particularly persuasive sheen Snow adds to Jackass. The antics of these goofy bros with a penchant for violence and pain are symptoms. Reading Jackass as symptom is not limited to individual biography and pathology, Snow takes this premise much further and situates Jackass as symptomatic of a traumatic time in United States history, arguing that the show was a distinct register of post 9/11 nihilism and trauma.
Bloody, dumb, aggressive, screwy, simultaneously masculine and childlike, drenched in vomit and semen, it is strange to think of Jackass as having first aired in 2000 in light of its nihilistic attitude to modern American manhood, life, and work — it too obviously resembles a post-9/11 show, with its giddy violence sometimes mirroring the helpless, hopeless mania that follows serious trauma.
This is typical of Snow's prose, she has a knack for dexterity, imagery and a moreish élan. However, situating Jackass as distinctly post-9/11 feels very bold, for there was ample self-injury in popular entertainment in the years before 9/11. Which as You Know Means Violence: On Self-Injury as Art and Entertainment led me to reconsider much of the pre 9/11 violent cultural material that has stayed with me since adolescence like the stains and scars of wheeled teenage misadventure.
Before 2001 alternative sport cultures like skating, BMX, mountain-biking and dirt-bike riding were steeped in self-injury. Skating, at times indistinguishable from Slacker culture, was certainly dominated by a will to nihilistic self-destruction. Many of the Skate videos contained stack edits, a montage of all the mishaps caught on film during the making of the video. Due to the physics of grinding handrails, a significant proportion of these showed the fall of many young men (and it was almost exclusively young men) broken by their bollocks or coccyx. BMX publications and videos were much the same and contained crash or stack reels – notably not 'FAIL' as they might be dubbed in today's social media nebula.
Mountain biking was no different, particularly in the early years of the subgenres of downhill and freeride (the aesthetic of which borrowed heavily from both Skate and Motocross). Magazines like Grip, Ride and Dirt had a punk deconstructed aesthetic. Many mainstream mountain bike magazines had 'readers share' style injury of the month competitions whereby the most gruesome looking biking injury would win a pair of knee pads, a T-shirt, or some other prize. Scars were cool. Brooklyn Machine Works marketed their flat pedals on the damage they would do to you. Their 'Shinburger' pedals were highly prized pieces of CNC'd aluminium fashioned to resemble a meat tenderiser with row after row of spikes. Many freeride mountain bike videos contained crash reels. Bleeding elbows, forearms, heads and shins would be proudly displayed. The Australian Mud Cows video series is a typical showcase of young, vaguely stoner, vaguely slacker, skaters-on-a-bike self-destruction in the woods culture… jumping over bonfires, casing the landing ramp lip and piling face first into dirt. The UK video series Sprung was similar. For a 14 year old Billy Elliot of the Midlands these cultural materials were appealing in many ways. Not only were they alternative and counter-cultural (sports available in 90s West Midlands: Aston Villa, Wolverhampton Wanderers or West Bromwich Albion) but heroized individual self-destruction and injury with a dose of Skate, Punk and Slacker aesthetics. The videos also afforded ample space for my other pastime: fire.
The racing idols of this period of downhill mountain-biking were Shaun Palmer, Steve Peat, Rob Warner and Missy Giove. Shaun Palmer, the miserable champion, riding (and winning) races between sponsorship wearing jeans and a Slayer T-Shirt, his forearms inked to the max. His style was closer to freeride motocross. Steve Peat, —'Sheffield-Steel', 'Peaty'— was more laddish, all the lagered bravado of a Gallagher but on wheels with 10 inches of suspension. Rob Warner was similar, but with a more Skate/Slacker infused style. Downhill wasn't about fitness, and it wasn't even about being fast most of the time, but about going big: having 'the balls' to huck oneself and one's bike off enormous jumps, cliffs. Josh Bender epitomised this, he didn't race but launched himself off cliffs in the Utah desert, often crashing. Back on track, Missy Giove was just as striking as Palmer, and hugely successful in races too – she was pierced, inked, openly gay, wore chains and like Palmer came with a good deal of hassle and trouble for her sponsors. But they were commercial gold, it was the alternative appeal of these characters and attitudes towards riding that made downhill mountain biking what it is. All these athletes were disruptive in style on and off the bike, and in varying ways they all portrayed a dose of nihilism, a serious, heavy metal, punk, or a skate-slacker infused sensibility. They were not clean living, not good examples, and not sponsor friendly. They were not always 'great ambassadors' for the sport: they were anti-heroes, putting the bad ass in ambassadors. Careering over boulders and slashing through gravel, they were rock stars. More traditional and conforming racers such as Nicholas Vouilloz may have more medals, but he didn't shape the scene in the same way, and certainly didn't appeal to young self-destructive teens in the way these thrash metal and grunge informed riders did.
In freestyle motocross much of the scene emerged from the guerrilla riding of Metal Mulisha and Crusty: Demons of Dirt. Brian Deegan the freestyle motocross rider and Metal Mulisha founder turned up at X-Games competitions wearing all black, heavily tattooed and sported 3 inch spikes on his shoulder pads – opposite the garish positivity of Travis Pastrana, this surly nihilism was conspicuous. Like a goth at a golf club. The self-destructive culture of this seam of American petro-gothic nihilism was most vividly embodied by Seth Enslow. Enslow made a career on the Crusty: Demons of Dirt video series, attempting ludicrous jumps—launching himself off sand dunes into the abyss only to collapse in dust and bent metal open landing— and almost always crashing horrifically. Much of the Crusty videos feature dreadful motorbike crashes and accidents, fire, antics, and, broadly, self-destruction, and were soundtracked with thrash, hardcore, punk and metal. In these videos nihilism and will to self-annihilation is a dominant theme but with none of the light boyish jest, the prankster goofiness, of Jackass.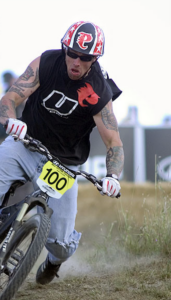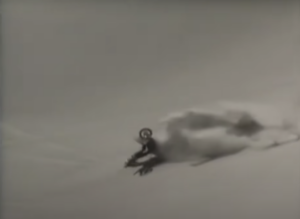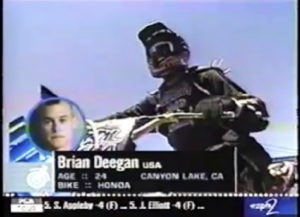 Part 2
Later in the book Snow considers self-abuse in art and entertainment in terms of gender. Contrasting performance artists such as Marina Abramović, Lene Adler, Nina Arsenault with Chris Burden and Ron Athey and entertainment such as Jackass with Rad Girls, she highlights that often self-abuse in performance art and entertainment is deeply gendered in articulation. For example, Abramović's performances tend towards a tone of silent endurance, a feat of stoicism, stamina and sufferance where notably the performer's voice is absent and vulnerability (in terms of what the public might do towards the performer) are the dominant characteristics. Snow contrasts this (and others) with artists like Burden (and others) whose work does not have these tendencies, but tend towards more authorial ego, more spectacle and notably short-lived stunts rather than long form feats of stoic suffering. There are other differences Snow draws out in exploring gender in performance art and entertainment, the text fizzes with thought and insight along these terms.
One of the richest readings is the careful and sustained analysis of a scene in Jackass called 'The Human Barbecue' where Knoxville dons layers of fire retardant clothing, straps meat to himself, and lays on a barbecue. The exploration of this scene owes much to "This Performance Art Is for the Birds: Jackass, Extreme Sports, and the De(con)struction of Gender" by Robert W. Sweeny. Sweeny, Snow tells us, recalls the line Knoxville delivers after the stunt. He 'samples a piece of barbequed meat, and states, wearily: 'This performance art is for the birds'"' Snow works through a number of interpretations—riffing on 'birds' = women— and culminates at a fourth level.
She writes:
There is, too, a fourth interpretation of the phrase, albeit one that requires limbering for a stretch: if the bawdier sketches that appeared on Jackass often veering into convivial homoeroticism, Knoxville's flaunting of his body in The Human Barbecue feels like a different kind of queering altogether. One might argue—if one happened to be open to wild leaps of logic, favouring spirited interpretations over sane ones— that the scene not only challenges his masculinity, but feminises him, his passivity and nudity and coy deportment all reminding us that usually, it is women who are naked, coy, and passive in TV shows and the movies.
She later summarises and poses the thought that perhaps: 'Jackass, with its knowing winks about the performativeness of heterosexual male bonding (…) [offers] a neat study of the falsely masculine'. This framing of Jackass —particularly 'The Human Barbecue' scene—as a form of performatively queered male heterosexuality, is persuasive. It recalls a mid-aughties British stunt and prank show very similar (perhaps consciously so) to Jackass: Dirty Sanchez. The show ran for 4 series and featured a mostly Welsh cast of skateboarders. Part of the marketing for the show drove home the sentiment that it was more extreme than its American counterpart. The DVD featured an endorsement from MAXIM magazine: "Makes Jackass Look Like The Teletubbies". Dirty Sanchez was more extreme at times. Stunts tended to focus of pain endurance, abusing one another bodies (often hitting one another and dropping objects on one another) and the ingestion of things such as cups of sweat, cigarette ash, bodily fluids, and suchlike. Many of the stunts were derma-centric. Skin was slapped, caned, whipped, burnt, amongst other things. The shows also featured a healthy dose of the men kicking one another in the nuts and elaborate variations thereof. At times, in comparison with Jackass, Dirty Sanchez felt more focussed on pain rather than stunts. It also felt more overtly homoerotic at times.
Returning to Snow's line about Knoxville's passivity as a register of a de-masculinised role in 'The Human Barbecue', saying 'performance art is for the birds', and also the show's 'knowing winks about the performativeness of heterosexual male bonding', it should be noted that many of the most disturbing and/or discomfiting stunts and de-masculinising roles were often filmed soon after or not long before a direct address to camera (in both shows). Perhaps these moments can be read not as a break of the fourth wall—for these are stunt documentaries, ostensibly there is no illusion or fiction, no diegesis—but as a peripheral framing of the stunt as performance, as something the actors are going along with for the sake of ego, banter, one-upmanship etc. This formulation brings to mind, and runs along similar philosophical lines, as the brief but wonderful reference Agamben makes in Profanations to Chloë des Lysses (a 'porn star'). des Lysses
has herself photographed in the act of performing or submitting to the most obscene acts, but always so that her face is fully visible in the foreground. But instead of simulating pleasure, as dictated by the conventions of the genre, she affects and displays — like fashion models — the most absolute indifference, the most stoic ataraxy.
Agamben's focus at this turn is the nullification of expressivity, that's not entirely pertinent here. What is pertinent is the distance this gaze creates. Like des Lysses, when one of the Jackass crew or Dirty Sanchez gang make that brief address to the audience, it serves—intentionally or not—to remind the audience that the stunt of getting kicking in the balls, roasted on a fire pit, whipped, waxed, hit, pinched, caned or some other torture-stunt variant, is a performance.
Snow is evidently more than aware of the liberties she takes, broadly it is the ambitions and posed 'stretches' and 'spirited interpretations' that are the most engaging turns in the text. These passages not only provoke thought and add a certain lingering sheen of question to the art and entertainment she explores, but also, resonate further with a little more digging. Snow admits the line 'this is for the birds' is not present in the current edit of the clip now available on YouTube. Ultra-rigour is not what is on offer here, rather it is the energetic interpretations. When watching the scene, her comments around a 'different kind of queering' unfurl into ever more significance and relevance (as the digression to Agamben above is no doubt a register of). When watching 'The Human Barbecue' one cannot help but notice that Knoxville is so heavily clad in fire protection he cannot move, he must be dressed like a gilded cage princess, or a bizarre Kardashian fashion stunt. He can barely walk unaided and must be walked over to the fire pit, and, madly, also be helped up, lifted and pulled away by others. He is like a doll, except he can speak with an unsure voice, his eyes darting nervously, and, of course, he can feel and fear pain. Indeed, it is these rather ambitious flights (as Snow declares them to be) in Which as You Know Means Violence: On Self-Injury as Art and Entertainment that are so rewarding and resonate.
The third chapter broadly moves between Harmony Korine's Fight Harm (where Korine, a slight, skinny, successful director, artist, and writer is filmed picking fights with others larger than himself) and analyses of Buster Keaton's work and life. Broadly, this chapter establishes the seriousness of their work, the commitment to getting hit and pratfalls as a deeply profound form of art. Many of the strafes work between cruelty and comedy, madness and seriousness, pain and ecstasy. These are not novel avenues to draw out in an exploration of comedy, but what is is the close biographical framing of some very 'stupid' stunts… stunts that immediately elicit a smirk; stunts that are funny, but also, really, not funny. When Snow quotes Korine as explaining the risk and madness of Fight Harm as 'really high comedy' there is an obviously dismissive quip one could make: Korine was high. But there is also Snow's delicate framing of Korine as a desperate searcher for sublime comedy. Both Korine and Keaton were desperate, desperate for a higher ultimate comedy, a fall, a stunt, and, also, desperate, with troubled lives. For Korine, Snow implies that meaningless violence is comedy ('Korine reaffirmed the deathlessness of his commitment to the joke — the joke being senseless violence — by describing his new tragicomic psychedelic stoner film').
Snow suggests that Korine's Fight Harm was 'the most extreme, most logical progression of a genre — slapstick humour — that relied on the twin pleasures of relief and schadenfreude', that elation stems from the fact for the viewer it is not themselves being pulverised. She also references Shelia O'Malley's lines: "A perfect pratfall is the definition of generosity towards an audience because its sole purpose is to make an audience laugh" and "When someone else falls, in a moment that is supposed to be dignified, we experience a catharsis. There is an element of: 'Oh my God, I am so glad that is not me.'
These lines provoke many questions. One question is that of empathy. Hold my beer, I'm going to 'use' neuroscience… Studies exploring postural mirroring, emotional contagion, motor mimicry (likely the underlying driver of TikTok dance crazes, for it can't be the music ;-)) mirror neurons (all echoes and reflections, the Droste of existence) and so on evidence what many of us have always known. When we see another fall we 'feel' their pain 'Oooh, I really felt that' we say in condolence to the unfortunate. Similarly, one might wince, cringe, or start when one sees another's pain (from self-abuse or accident). Liesbet Gourbet's, Kenneth D. Craig's, and Ann Buysse's essay "Perceiving Others in Pain: Experimental and Clinical Evidence of the Role of Empathy" explores this. Their reference to the 'vicarious traumatization' of health workers in burns units (referencing Palm, Polusny, & Follette) is particularly interesting in terms of how emotional contagion can hamper or expedite the ability of caregivers to do just that. Disgust is one of the 'stronger' and better evidenced types of preconscious empathy/autonomic emotional contagion, as anyone that has viewed Martin Creed's 'Sick' films such as 'Work No. 837' will queezily know.
Numerous studies examine empathy in terms of observation of physical pain and immediate pre-conscious responses, such as heart rate, dilation, cortisol, adrenalin, FMRI. This is not cognitive empathy, but an immediate pre-conscious autonomic response. It is not ruminated over, not a moral question, it is something one cannot help. Very much like laughter. Laughter is not language, humans without language (often as a result of damage to the part of the brain largely responsible for language) can still laugh. Empathic winces for the fallen and laughter operate in a space siloed from conscious thought and language. This is curious—and Snow does reference the nature of laughter briefly with some lurches to archaic references like Hobbes—but not as curious as one of the comments Snow provides from Korine regarding the uncompleted film Fight Harm. "I really wanted to make a perfect comedy, and I thought that pure violence, and the repetition of violence, would [achieve that]. I thought it would just build. I thought the repetition of the violence would just negate it, and it would just build and build into something humorous."
Zupančič's chapter 'Repetition' in The Odd One In: On Comedy opens with the famous line of Marx from The Eighteenth Brumaire of Louis Napoleon:  'Hegel remarks somewhere that all great world-historic facts and personages appear, so to speak, twice. He forgot to add: the first time as tragedy, the second time as farce.' Lines later, she writes that repetition is 'among the most prominent comic techniques.' But not just comedy:
It might not be too much of an exaggeration to claim that the discovery of repetition, or of a specific dimension of repetition, is the Event that inaugurates so-called contemporary philosophy and gives meaning to its designation. There is Marx and The Eighteenth Brumaire; then there are of course Nietzsche, Kierkegaard, and Freud, all of whom turned to the concept of repetition in order to work out some crucial aspect of their thought. And then there is Lacan's return to Freud, in which he promotes repetition in one of the "four fundamental concepts of psychoanalysis" (in his 1964 seminar); and there is, of course, Deleuze and his "return to Nietzsche," so to speak, in what could be called his most monumental and philosophically intriguing work, Difference and Repetition (first published in France in 1968).
There are, of course, important, even irreconcilable, differences between these projects, but there is also one important point that they all share: repetition is viewed, posited, elaborated as fundamentally different from the logic of representation.
Repetition, as Lacan preaches, is what defines the difference between human and animal understandings of signification. For the human animal repetition of the same signifier—e.g. War is war, or Brexit means Brexit— brings additional meaning, the former word does not mean the same, does not have the same sense, as the latter. For the non-human animal repetition is of no import (we are told). Good-boy means good-boy the first and the last time. For human animals meanings can be emptied out or complexified by repetition. Following this thought, one can appreciate that Korine, in Fight Harm, getting punched in the face might be tragicomedy in one instance, but by repetition it folds into comedic farce. Something entirely different.
This is one of the affect-sublime aspects of much of the entertainment explored by Snow in the book and other self-abuse and injury (e.g., extreme sport crash reels) touched on in Part 1. As we watch reels of crashes or view aghast the repeated and increasingly intense pain the 'boys' from Jackass or Dirty Sanchez inflict on themselves and their co-stars in the name of high jinks, absurdity unfurls, and tragedy bruises into farce. Are we watching comedy/entertainment operating qua fusion of autonomic affective emotional contagion and simultaneously, on another level, a production aesthetic of seemingly meaningless repetition leading to a cognitive appreciation of absurdity? Or, to parse the thought another way, on one level we have the empathic wince of affect, the autonomic vectors of observing another in pain and the pre-language reaction of the laugh— but then the repetition brings something else… something farcical, something absurd, whereby the tragicomic shades to a different meaning altogether. The shade of the bruise is apt here, for it is at once corporeal (and resonates with, to impose a Germanic pun, the welts Snow explores), but also neatly encapsulates the impression of something, long gone, but persisting to cause pain and leave a mark. Like the 'shinny' imprint of Brooklyn Machine Works' 'Shinburger Pedals'.
Two moments of Snow's text touched on earlier—that status of popular entertainment shows, contra performance art, such as Jackass being regarded as commentary and the biographical background of Knoxville and his prankster father Big Phil Clapp—would've been rich avenues to explore in terms of repetition.
Jackass' status as commentary with conceptual significance contra more 'highbrow' productions (such as performance art pieces), is touched on much later in the book, and with squarest address, in this third chapter that focuses mostly on Korine and Keaton. Snow writes: 'Whether the practitioner believes his or her bad idea to be conceptually significant rather than simply an amusing, violent goof is one way for an audience to determine whether they are watching art or entertainment.' She then provides a quote from Knoxville who says that "Performance art is one thing"…
and performance artist is another. Performance artists are always so goddamn self-important, intellectualizing everything they do. I don't intellectualize anything I do. I'm kind of uncomfortable with that term ["performance artist"] because it comes across as highbrow, elitist, pompous and not entertaining. We're just trying to make you laugh. We're like the Three Stooges, except we're doing it for real.
Ironically, this comment of Knoxville's feels like many artist's sentiments when asked to conceptually 'unpack' the tensions and torsions their work explores. Perhaps Knoxville protests too much? And understandably, for it is precisely the ambiguity of just being made to laugh by a bunch of perma-adolescent men pranking and self-abusing and the broader status of the stunt as comment, which is a considerable part of its significance and profundity as, indeed, comment.
One may be tempted to ask… when does a stunt become art? Does a stunt intended as comment (on gender or American culture for example) become indefinable from stunt-based performance art? Notably, and one assumes this is the import to be taken by Snow breaking Knoxville's comment out in this way, he is not saying Jackass is not performance art, rather that he dislikes and does not consider himself to be a performance artist. Is the goofy stuntman precluded from creating an odd performance art piece?
Returning to the question of minimally evidenced intention of performance art vs stunts—of which I offered the exaggerated contrast of Santiago Sierra's moral comment and the mute and amoral videos of Bumfights—one suggestion could be that repetition itself is the minimal evidence of a performance or stunt being commentary on something broader and more conceptual than being kicked in the balls.
Jackass is repetitious. Within scenes the men will generally subject themselves to repeats of abuse or egg each other on to subject themselves to abuse their peers have experienced just moments previously. The viewer not only knows the stakes but knows the results (consciously and immediately—wincefully—not). This repetition is what differentiates the acts from classic stunts which are goal focussed and the excitement is the uncertainty of success, injury, or death. Diegetically, when we see the Jackass crew proceeding to sequentially launch themselves off various precipices and through skate park gauntlets anxiety or desire for success or failure are not the dominant impressions, rather it is the absurd repetition of bizarre cavalier lunacy that leaves a mark. For the viewer it is the procession of uncomfortable viewings of the same doomed stunt that smarts – that differentiates some Jackass scenes from tomfoolery and high-jinks to perhaps some comment on something to do with being young men in America.
The repetition can, of course, also be considered in crudely psychoanalytical terms. Are Knoxville and co living out, enacting, and performing beyond the principles of pleasure a doom-loop of repeating the Pranks-of-the-Father? Can conceptual comment not find its drive in pathology and biographical experience… Perhaps this is an uncomfortable and uncommented facet in the Jackass oeuvre? There is an intriguing psychosexual dynamic, a vaguely Paul McCarthyesque cocktail of gaudy Americana (Santa Suits), cheap foodstuffs, power tools, heavy machinery, obscurely homoerotic dermal abuse, bodily fluids, and skateboards.
Snow's book explores self-abuse in entertainment erratically and enthusiastically. It's exhilarating in the number of connections, imports and allusions it dances with. At times the conversation feels chimerical, it shifts about and juggles three rather than one linear argument. Threads are left hanging, and other questions emerge like a hydra head… it's slightly frenetic, and doesn't always make sense, but its impact is—like getting kicked in the balls—serious.