This is an edited extract from David Stubb's 1996 & the End of History– available here and currently just £4.50 including UK postage in our half price World Cup sale.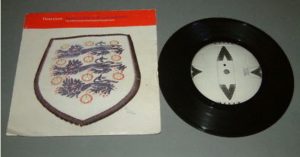 1995 may have been the year that Britpop burst through, but 1996 was the year in which it loomed largest and was most overbearing, Oasis in particular, despite not releasing an album that year. 1996 was still a year of Conservative g overnment, but so commanding was Tony Blair's lead in the polls it was clear he was Prime Minister elect. It was possible, in 1996, for him to bask in the unspoiled glow of his triumph in bringing the long Tory nightmare to an end, untarnished by the many compromised decisions he would make almost immediately on taking office in 1997, beginning by accepting a £1 million donation from Formula 1 supremo Bernie Ecclestone, only months later to grant exemption to the motor racing organisation from a general ban on cigarette advertising. All of that was to come; in 1996, he was still practically an honorary Oasis band member.
1996 was also the year of Euro '96, in which English footballing hopes were bound up with the worlds of both comedy and music. It wasn't just Baddiel and Skinner's collaboration with The Lightning Seeds, "Three Lions", but the sanguine, laddish, retrograde mood engendered by Britpop and Loaded. It wasn't just football that was coming home, but the general sense that after the dark Seventies and the fragmented Eighties, Britain (led by England, of course) had rediscovered its mojo, the spring in its step, the spirit of Hurst and McCartney, the white heat of a bygone era.
Continue reading "Football's Coming "Home"—David Stubbs on Euro '96, Three Lions and 90's football lads"