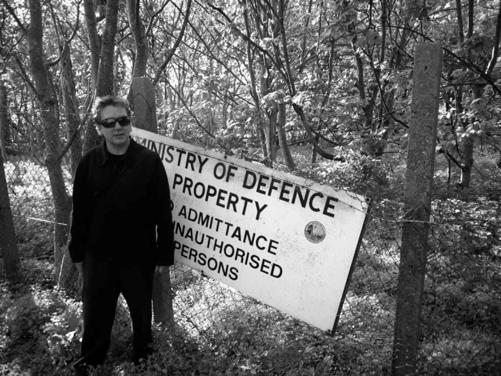 In his book The Dream and the Underworld, James Hillman discusses two placements of the hero. One is as the Herculean ego, very much our standard perception today, operating in the glare of the daylight. The second is the idea of the hero dwelling in the underworld, bound to tragedy, and remembered by monuments to their struggles with the vicissitudes of life. Accepting that Mark's untimely and awful death positions him as the latter, it therefore seems right to celebrate two lasting qualities of his personality.
INCLUSIVITY
This was at the heart of Mark's sensibility, and from my first contact, via e- mail, to our first meeting, it was obvious that he was keen to include me in both his social circle and his cultural project. We met in 2006, shortly after he moved to Suffolk for the first time, connecting on the back of a shared love for the eerie geography of M.R. James. It was fascinating to see someone drawn to other shapes along the estuaries. One particular photo entry in his blog stood out, documenting the rotting carcasses of old boats on the banks near Woodbridge. Though I had been in Suffolk a decade, I had never "seen" them as Mark had. We were on the same wavelength but wore different binoculars. I was invited to dinner; hospitalities were reciprocated and we began to socialise.
Mark joined the Bawdsey Radar Group, and I took my family along to their open day, where Mark was broadcasting a sound piece in one of the units. Here was a different configuration of Mark's comfort with inclusivity, gaining confidence with enthusiasts and former staff at the base. He'd later incorporate their fascinating archive into On Vanishing Land. There was nothing ironic or arch about his interest in Bawdsey, certainly no public service broadcast, but part of a personal dive into local history and a desire to recognise unsung heroes of World War II — it was mostly women who were stationed at the radar base. There was clear mutual respect between Mark and the group.
Late in 2007, Mark asked to me speak at his "Weird Symposium" at Goldsmiths. Though I was not academically affiliated, I think it was a testament to Mark's inclusivity that I felt entirely welcome and appreciated. I also met half a dozen or so people who became good friends, and I think that Mark's injection of inclusivity was a vital fuel for those on an autodidactic path.
But I think this nurturing generosity was a broader concern of Mark's that created a space for free-ranging conversation, both on his blog and in person: a democracy of subject matter that was key to dismantling snobbery. At its simplest, being able to discuss art and sport with equal gravity. It's possible for philosophy to apply to all areas of the playing pitch. This inclusivity of interest makes it so much easier to swap ideas, and find unexpected, shared fascinations. On one occasion, over at my place, Mark spotted a copy of Judy and Fred Vermorel's Starlust on the bookshelf and asked to borrow it to discuss with some students. Again, inclusivity here reveals itself as a willingness to pull in vagrant strains of culture and treat them as vital raw material for a new anthropology.
SENSITIVITY
Revisiting the k-punk blog today is a disconcerting experience, because the writing is so incandescent, the narrative hypnotically organic and the voice still discernible. Within a few paragraphs, you begin to read it in his voice. These blog entries were very much "routines", similar in a way to the letters of William Burroughs that became The Naked Lunch. However, I also had the pleasure of working with Mark on a few projects where he revealed remarkable sensitivity as an audio-visual conceptualist and communicator. In 2013, Mark and Justin Barton offered me the opportunity to help produce the visual component for their On Vanishing Land show and to engineer his field recordings for interludes in the soundtrack of the main essay. These became interspersed between the curated pieces by the likes of Raime, Gazelle Twin and Ekoplekz.
To gather sounds and images, Mark and I revisited the locations he and Justin had walked and written about: Bawdsey, Sutton Hoo and Felixstowe Port. It was near sunset when we walked around Landguard Peninsula, where the fort decays into World War II watch towers. A Ballardian landscape that Mark seemed inexorably drawn toward. The port here is a creaking, slow-moving, endless procession of mega-capitalism, and as we tried to steer the microphone to capture and isolate all these sounds, Mark noted something to the effect of, "I was thinking, if only we had the apparatus to really pick this up, but we have… it's our ears".
It's a comment that I think about often. It's obviously typical Mark, witty and lucid, but also a recognition that the human is the most sensitively attuned organism — all technology flounders to achieve our perception.
When we came to put together the video collage for On Vanishing Land, Mark's direction was to continually lower the sound signal, until it was almost imperceptible. Similarly, for the slide sequence, we devised an achingly slow fade to and from white, between the images, stretching the transitions ever more at Mark's request. As we did so, we both started to see almost phantom white negatives of the preceding and emerging images in the sequence. I think this reflected Mark's desire to invoke a kind of hallucinatory absence and an interest in technology as the subtlest touch or even some filter to hollow out brash realities and evolve an ambient epiphany. I also recall him playing a penny whistle into one of the concrete vents at Bawdsey, in homage to M.R James, a recording that we stretched into a long, siren cry, one that delighted him; both eerie and therapeutic. I look back and think there was a psychological aspect to these creative directives, that reality might have been emotionally overwhelming for Mark, as a result of however the internal apparatus of senses are calibrated. What I thought was a striving for an aesthetic effect was also a desire to quieten down the world. To listen to the silence. Depression might have its root in a damping and protective mechanism, but the ensuing silence has an awful tendency to turn on itself. The inner critic becomes the dark siren of depression.
Amidst the many and justified eulogies, I think these two qualities — his innate sensitivity and his inclusivity — were attributes, bravely worn, in the hyper-connected world. They might have not been the steel shields needed as one cuts their way through an increasingly combative public sphere, but they are attributes that continue to inspire, involve and raise consciousness.
*
The Repeater Book of Heroism, from which Andy Sharp's essay on Mark Fisher is from, is out now.