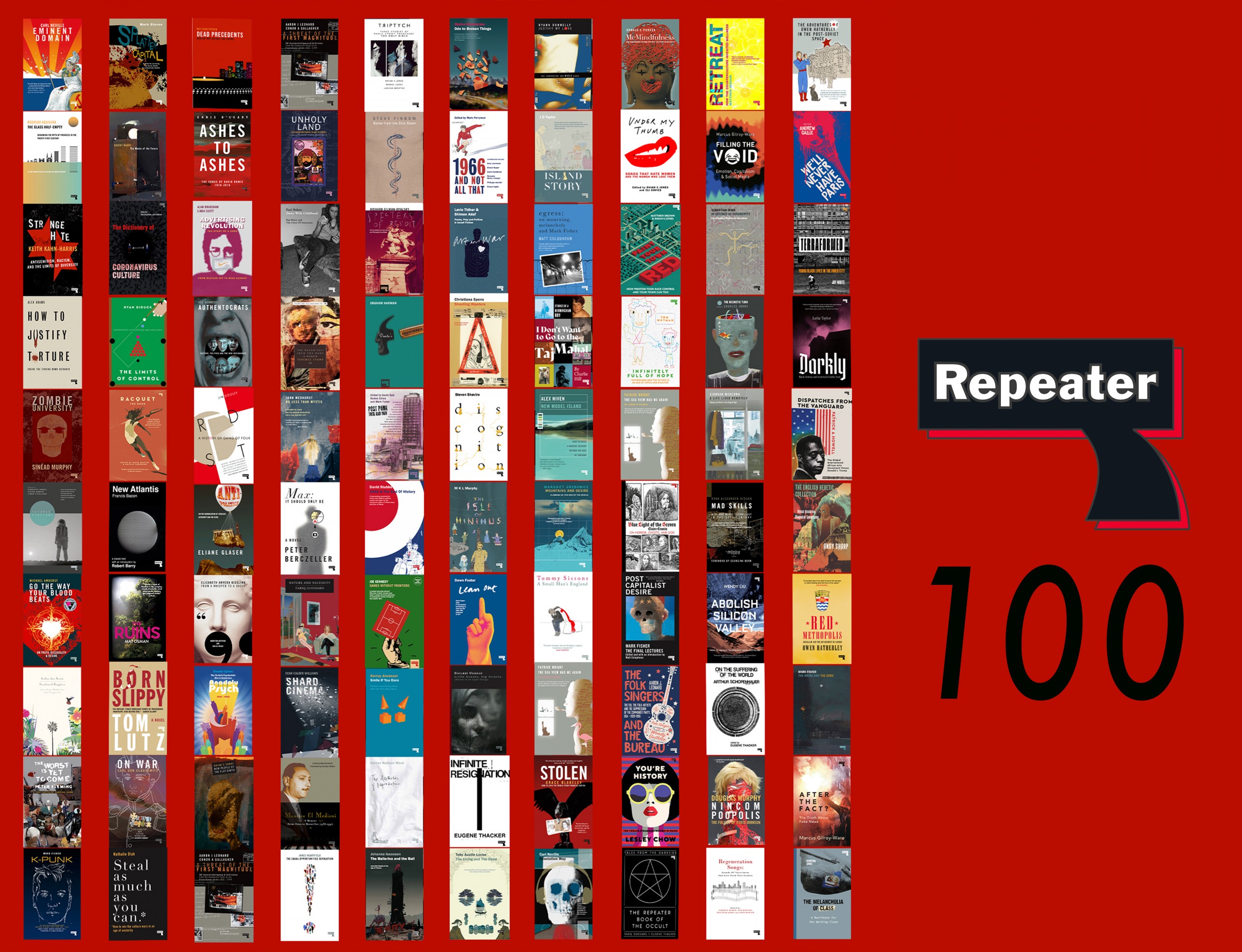 Back in July, we celebrated our 100th birthday (of sorts) with the publication of Cynthia Cruz's The Melancholia of Class – a multidisciplinary polemic which incorporates memoir and philosophical critique into a wider study of subcultural working class icons – showing how we can resist assimilation and break the barricades of an oppressively middle-class world.
Cynthia's book joins 99 other titles which we've published. In order of publication, these include:
LEAN OUT
THE ISLE OF MINIMUS
DISCOGNITION
SHOOTING HIPSTERS
ART AND WAR
1966 AND NOT ALL THAT
ODE TO BROKEN THINGS
THE BALLERINA AND THE BULL
RESOLUTION WAY
ISLAND STORY
THE AESTHETICS OF DEGRADATION
SMILE IF YOU DARE
GAMES WITHOUT FRONTIERS
1996 AND THE END OF HISTORY
POST PUNK THEN AND NOW
THE LIVING AND THE DEAD
DANTE'S BROKEN HAMMER
IN DEFENCE OF SERENDIPITY
SPECTERS OF REVOLT
THE PSYCHOPATH FACTORY
LITTLE HOUSES, BIG FORESTS
THE WEIRD AND THE EERIE
NOTES FROM THE SICK ROOM
TRIPTYCH
THE MUSIC OF THE FUTURE
SPLATTER CAPITAL
FILLING THE VOID
THE EQUAL OPPORTUNITIES REVOLUTION
A MEMOIR: FROM ORAN TO MARSEILLES
SHARD CINEMA
NATURE AND NECESSITY
MAX
NO LESS THAN MYSTIC
THE OCEAN FELL INTO THE DROP
DOWN WITH CHILDHOOD
NINCOMPOOPOLIS
FUTURES AND FICTIONS
THE NEUROTIC TURN
ZOMBIE UNIVERSITY
UNHOLY LAND
UNDER MY THUMB
A THREAT OF THE FIRST MAGNITUDE
NEW PEOPLE OF THE FLAT EARTH
GO THE WAY YOUR BLOOD BEATS
A LIFE LIVED REMOTELY
MAD SKILLS
THE TURKISH PSYCHEDELIC MUSIC EXPLOSION
FROM A WHISPER TO A SHOUT
ANTI-POLITICS
DECOLONIAL DAUGHTER
RED SET
AUTHENOCRATS
INFINITE RESIGNATION
ADVERTISING REVOLUTION
REGENERATION SONGS
THE ADVENTURES OF OWEN HATHERLEY IN POST-SOVIET SPACE
K-PUNK
THE WORST IS YET TO COME
ASHES TO ASHES
DEAD PRECEDENTS
JUSTIFY MY LOVE
WE'LL NEVER HAVE PARIS
STRANGE HATE
MCMINDFULNESS
HOW TO JUSTIFY TORTURE
STOLEN
STEAL AS MUCH AS YOU CAN
DARKLY
NEW MODEL ISLAND
ON WAR
BORN SLIPPY
THE RUINS
THE GLASS HALF-EMPTY
EGRESS
ABOLISH SILICON VALLEY
TERRAFORMED
EMINENT DOMAIN
RETREAT
NEW ATLANTIS
RACQUET
DISPATCHES FROM THE VANGUARD
THE FOLK SINGERS AND THE BUREAU
POSTCAPITALIST DESIRE
I DON'T WANT TO GO TO THE TAJ MAHAL
THE LIMITS OF CONTROL
THE ENGLISH HERETIC COLLECTION
BLUE LIGHT OF THE SCREEN
THE DICTIONARY OF CORONAVIRUS CULTURE
RED METROPOLIS
AFTER THE FACT?
THE SEA VIEW HAS ME AGAIN (HB)
ON THE SUFFERING OF THE WORLD
A SMALL MAN'S ENGLAND
THE REPEATER BOOK OF THE OCCULT
YOU'RE HISTORY
INFINITELY FULL OF HOPE
MOUNTAINS AND DESIRE
PAINT YOUR TOWN RED
THE SEA VIEW HAS ME AGAIN (PB)
In celebration of this landmark, as well as our brand new website, here's some special Repeater photographic ephemera from the archives…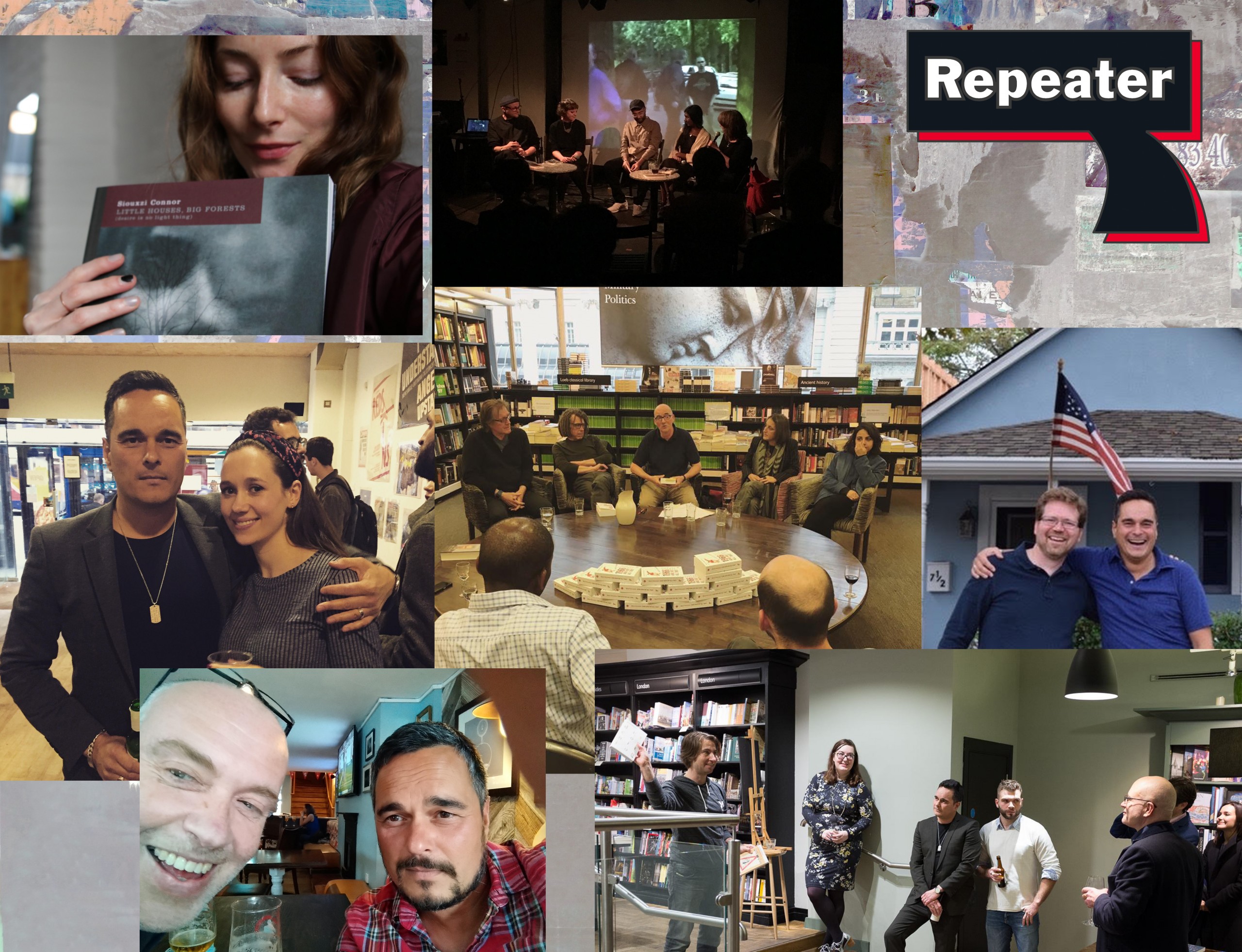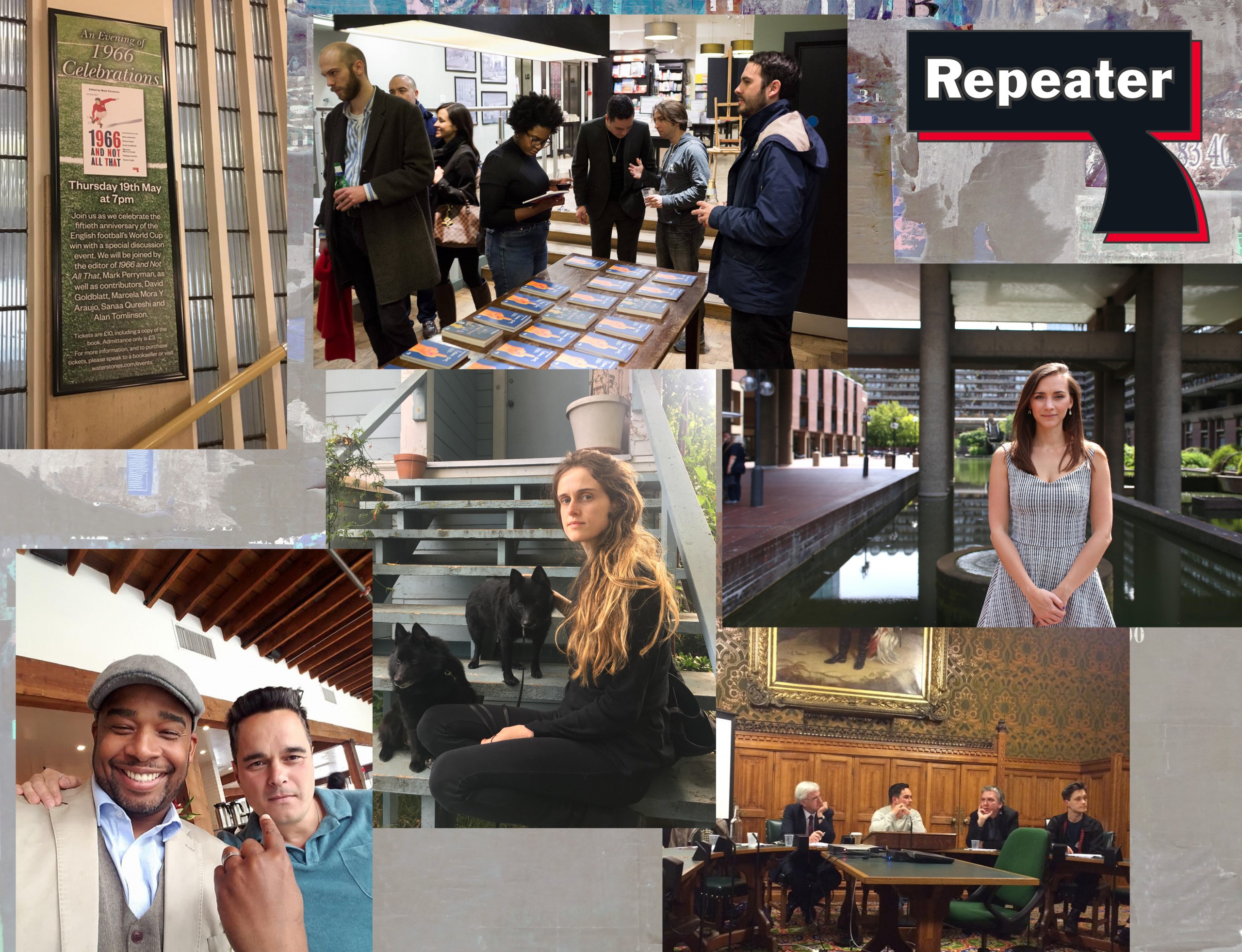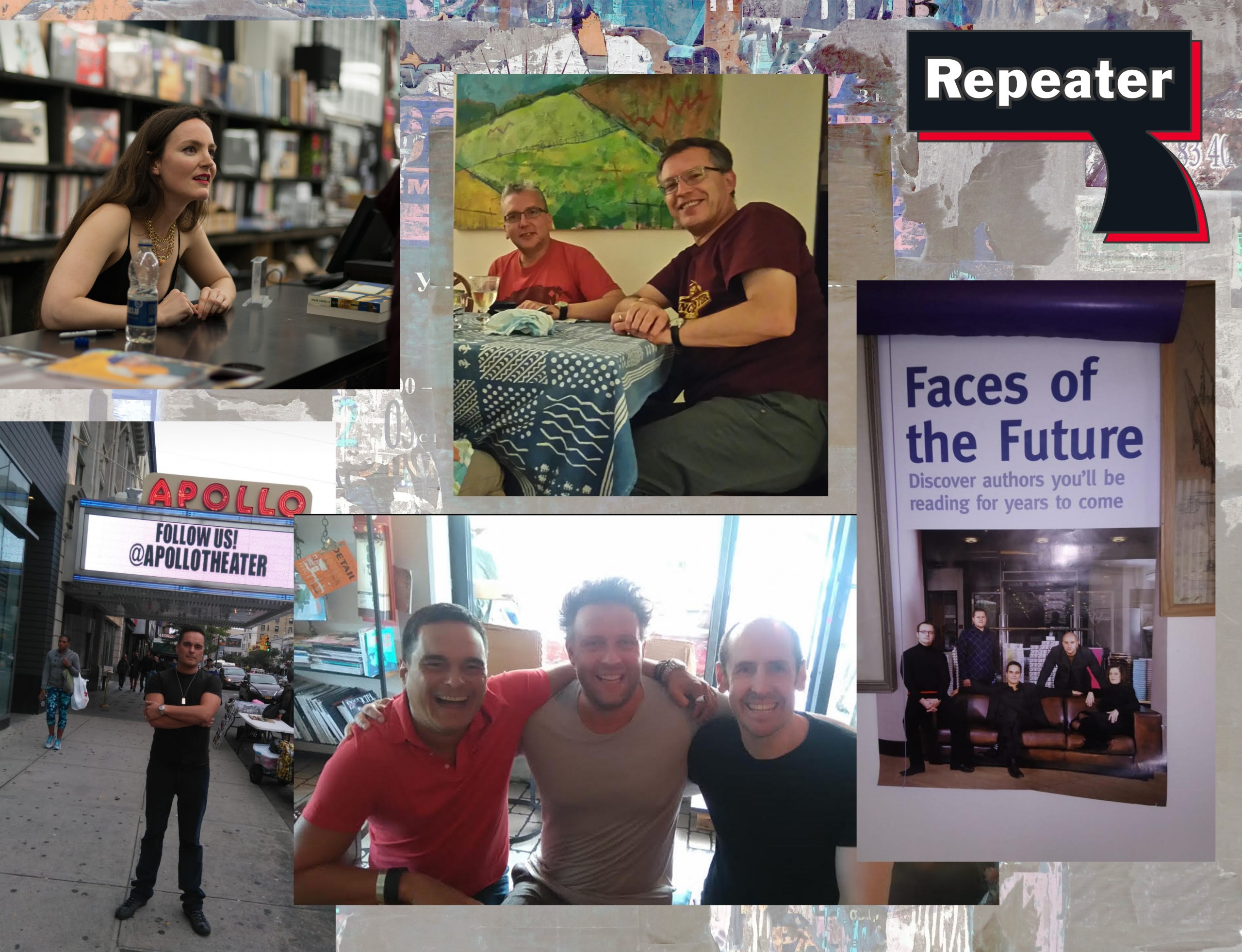 Extending a huge thanks to everyone that's supported us and our titles from the beginning, and here's to many hundreds more.
All our best,
Team Repeater